An email signature is an important element than the name and position used for sending emails for identification. This email signature is represented at the end of the mail. An email signature consists of a name, email address, business contact information, and website URL. It is the user's wish to attach the signature while sending an email. The importance of having an email signature is it represents the company's brand, acts as a digital business card, personal association, and brand recognition. Users can add their desired elements to email signatures, like name, contact information, title, company's name, social links, logo, photo, legal requirements, etc. The following are the top ten email signature software tools with their traits.
Gimmio:

Gimmio is one of the most powerful software tools used for generating email signatures. This is an open-source tool with the most advanced features of creating email signatures. This application is utilized by many web design agencies or organizations. There is also a paid version of this tool. The features of the Gimmio application include an advanced dashboard, premium email signature templates, promotional banners, endless customization, premium technical support, social media icons, most advanced email signature creator, and many others. The Gimmio application is compatible to work with Android and iOS devices as well as Microsoft Windows, macOS, and Web-based operating systems.
Signature Creator:

Signature Creator is yet another easier and an open-source software tool for creating email signatures within less time. Users can create unique signatures using multiple styles and drawings. This tool is compatible to work on Android devices. There are more than 90 varieties of styles for creating signatures. There is a pen used for drawing. Users can manage the thickness of the pen and also can set more than 400 colors of that pen. Using the same colors, you can also set the background color or can add an image as the background. You can save your work, share it on the social platform, or export it into image or document.
Wisestamp: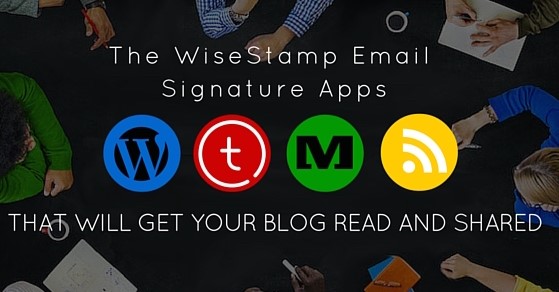 Wisestamp is another most-used signature creator application. This application is specially designed for professionals, freelancers, and small business owners. More than 1,200,000 professionals trust this application to create unique and interesting email signatures. It has a wide variety of templates, designs, and colors. This application can be integrated with all other Google apps, and it acts as a cloud-based solution. The features of this software tool include setting a consistent signature throughout the company emails, segmenting signature by department, location, or role, have full control over the design of the signature, no technical knowledge is required, etc.
MailSignatures.com:

One of the most trusted software for creating a signature is MailSignatures.com. This application can be integrated with various other applications, like Gmail, Outlook 365, Exchange Online, Exchange Server, Thunderbird, and Outlook. It has got a large number of built-in templates that can be used for creating signatures. This application includes personal data, company data, graphics, style, and social media links in each signature it creates. As there are built-in templates, users do not require HTML knowledge for designing templates. Additionally, this tool offers a provision of customizing the readymade templates according to the needs. MailSignature.com has multiple signature tools in it. It incorporates CodeTwo Email Signatures, CodeTwo Exchange Rules, CodeTwo Exchange Rules Pro.
Newoldstamp:

Newoldstamp is a fully-featured email signature software tool. This software tool is specially developed for small as well as medium-sized enterprises. This application can create an interactive email signature, manage all email signatures of your team in one place, make interesting email signature banners, track email signature performance, edit the existing signature templates according to the needs, and create distinct signature templates for every company, department, or location. The features of this application include an advanced email signature generator and editor, central signature management, integration with G-Suite, Exchange, Microsoft 365, signature banner management, signature analytics, and has a mobile-friendly interface. The price of this software starts from $24 per month.
Exclaimer:

Exclaimer signature generator software is easy to use and is the most popular application. This software is an open-source tool, and anyone can use this application for generating bizarre signatures. Exclaimer software can be integrated with all email clients, like Outlook, Gmail, Thunderbird, Apple Mail, etc. As this tool has an easy to use interface, beginners can also create an interactive signature with a large set of built-in templates. You just need to pick your favorite template, create a design, ass social media links, and promo banners. Your email signature will be ready with just a few clicks. More than 75 million people trust this application, and it is used across more than 15 countries.
MySignature:


MySignature is a powerful signature generator application best suited for small as well as large-sized businesses. This software is an online signature generator application that can be integrated with Gmail, Outlook, Apple Mail, Thunderbird, and Office 365 clients. There is no need for any technical skills to generate an email signature. This tool is compatible with any device, but only the requirement is a good and reliable internet connection. It has a large library of built-in templates and colors for designing signatures according to the business needs. It requires fields like the name, company, position, phone number, Skype, etc.
Designhill:
Another easy to use and an open-source signature generator is the Designhill software. This application creates more interactive and well-mannered signatures with professional looks. Once the user creates a signature, he or she can share it in the form of a PDF. The best advantage of using this application is it creates any email signature within 60 seconds with just a few clicks. Users can add multiple social media links, disclaimers, banners, etc. It also acts as a meeting scheduler. It incorporated dozens of templates that are ready to use. Designhill application can be integrated with Gmail, Outlook, and Apple Mail clients.
Honeybook: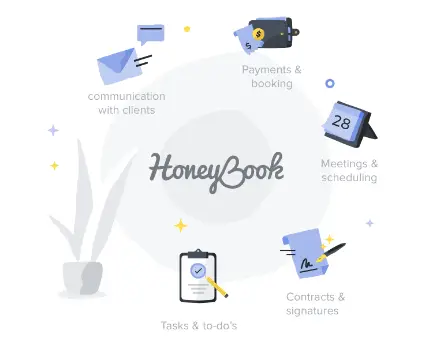 Honeybook is another open-source email signature generator. This software is an All-in-One application that can manage projects, book clients, send invoices, and all other business management work. Users can create free email signatures with built-in templates, color, etc. The fields that the user can add in the email signature are name, title, company, email address, address, phone number, and website. Additionally, they can also add a social media platform or link an URL. There is a built-in free invoice generator, specially developed for small businesses. This application offers a provision of generating signatures in less than 30 seconds.
Xink: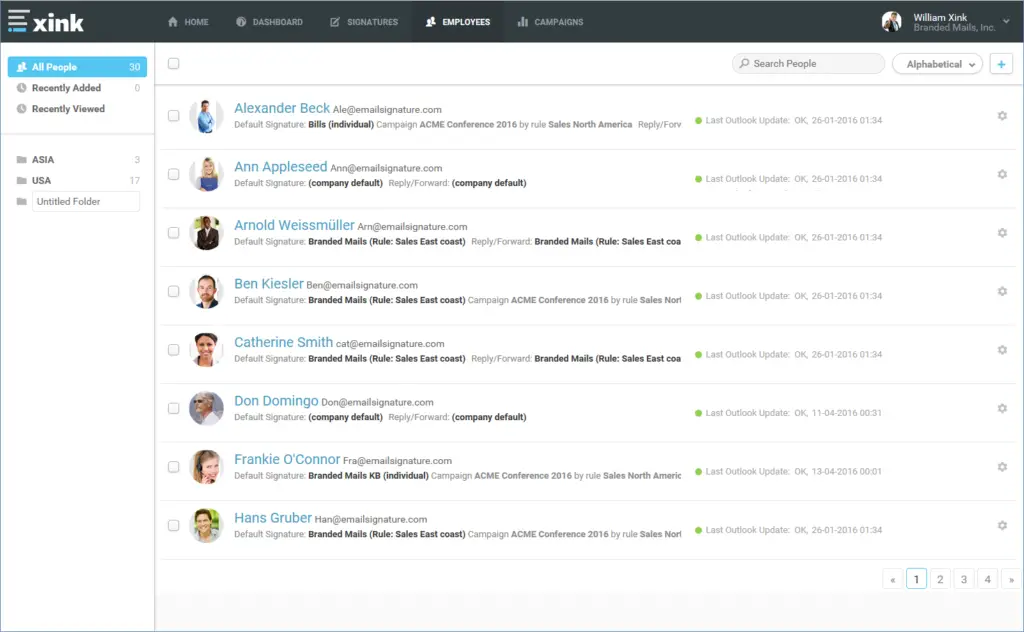 Xink is an excellent email signature generator tool. It is easy to use and has a user-friendly interface. This application can be integrated with G-Suite, Outlook, Office 365, and Mail. The best part of this application is it is GDPR compliant. Several built-in templates are available to create a unique and interactive signature. Also, it includes promotional banner campaigns. It offers a free trial period for new users. For more than ten years, Xink has served as the most trusted signature generator application. Xink is an easy to use and quick solution for signature management. This tool serves as a fantastic solution for an email signature.