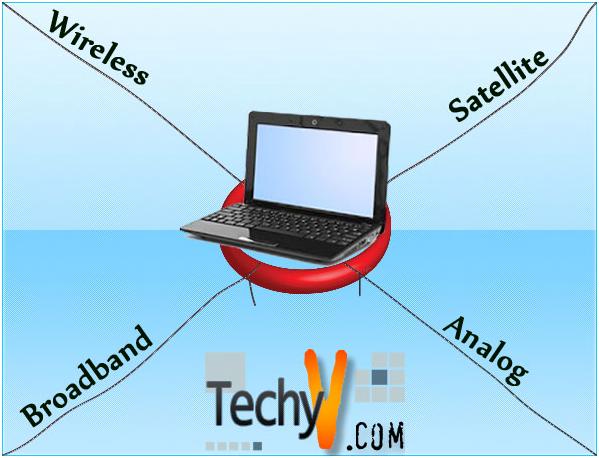 INTERNET CONNECTIVITY: BRIDGING PEOPLE
The proliferation of internet usage these days can be found anytime, anywhere, static or mobile. The surfers are utilizing different ways to connect to the internet according to their needs.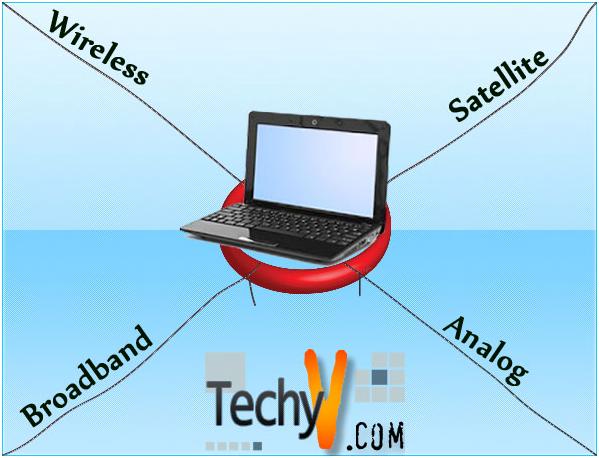 There are four ways to connect to the internet:
A. ANALOG. It is also called a narrowband and is commonly called as dial-up internet connection and it varies in speeds from about 50 bytes to about 60 Kbps per second. It is the slowest connection available especially if there are many users accessing on the network, and the user has to wait until a dial-up link is being made.
Using a dial-up connection, the user can hook up to the Internet using a telephone line and an Internet service provider. This method is generally considered the cheapest, but it will provide the user the slowest connection speeds. This is only suitable for those occasional Internet users who does not need a fast or consistent connection.
B. BROADBAND. It is a method where Internet connections are made with the use of fiber optic cables rather than telephone lines. In telecommunications, a wide range of frequencies is available and is enough for the quantity of information which is to send at any given period of time. In broadband, you have a road with 5 or 6 lanes, allowing you more vehicles to drive at the same time as compared to a narrowband where you have one-lane road intended for only one vehicle at a time.
1. DSL (Digital Subscriber Line).In this form of connection, the user has to subscribe to a cable-television/Internet service. DSL connection is typically very fast and offers a speed of up to 70 times faster compared with dial-up connections. The user is connected to the Internet constantly  every time and has to open a browser window to access the Internet, for there is no log-on procedure to complete.
With DSL, the telephone and internet data lines are combined in the connection  wire, so users can connect to the Internet using the same telephone line even when they are talking on the phone. Therefore, phone calls and web surfing is possible at the same time and users won't hang up with callers in order  to access the Internet.
There are two common types of DSL; these are the ADSL (Asymmetrical Digital Subscriber Line)and SDSL (Symmetrical Digital Subscriber Line).
(i) ADSL works by means of normal telephone lines. The speed of ADSL  varies, but it is in between the range of 128 Kbps to 5 Mbps. If you are downloading data, it is much slower than uploading, typically about 56 K to 1 or 2 Mbps. The fastest ADSL connection can have a speed up to 89 times faster or more.
(ii) SDSL is comparable to DSL service, for it is provided by a telecom  company using your existing telephone lines, but, in SDSL the downloading  speed is the same as the uploading speed. Example, if your downloading speed is 1 Mbps you will also have an uploading speed of 1 Mbps. But, in SDSL connection there is a need of an additional phone line for this service to work well.
2. Cable. Cable connection uses the line of a cable TV. It is also uses the cables being used in watching TV without affecting the signal of your TV. It can be as fast as 27 Mbps. This service is available in residential areas but not in business. It is also called a shared media, if many people are using cable line at the same time; the speed performance of each user will decreased.
C. WIRELESS. It is one of the most modern type of Internet connections. Like wireless telephones, it transmits data from one to the other. It uses radio frequencies and you remain  connected to the internet as long as you are inside the area of coverage. Wireless' speed varies specially when downloading data, from 128 Kbps to about 2 Mbps.
1. WiFi. (Wireless fidelity). The term WiFi, refers to any wireless local area network (WLAN) products.
This wireless networking device uses radio frequency technology (RF) to provide wireless high-speed Internet and networking connections. When the current of the RF is supplied to an antenna, an electromagnetic field is produced then it is capable to broadcast through space. In order to hook up to a wireless network connection, computers and devices must be equipped with wireless network adapters.
2. Bluetooth. An open wireless technology standard used to exchange data in short distances (by short wavelength radio transmissions) from permanent and mobile devices. Some use their mobile phones as a wireless modem to connect their laptop to the internet.
Bluetooth is designed to provide simple wireless networking for personal consuming gadgets, including mobile phones etc.
Unlike Wi-Fi, Bluetooth is slower, a little more limited in range, and supports very fewer devices.
3. WiMAX (Worldwide Interoperability for Microwave Access). It is a telecommunication's protocol that provides permanent and fully mobile Internet access.
WiMAX was designed in June 2001 to promote consistency and interoperability of the standard. It is a "standard-based technology" that enables to deliver wireless broadband access to the last mile as a substitute to cable and DSL".
4. INFRARED. Between the visible and microwave section of the electromagnetic spectrum Infra red light is located. Heat and thermal radiation's are the principal source of infrared radiation's and any heat object transmits radiation's. The hotter the object, the more it emits infrared radiation.
D. SATELLITE. This internet connection needs a satellite dish. This dish has a special hardware device which sends and receives signals from earth to a satellite. It is more expensive as compared to other connections as it requires higher fees compared to other connections. The speed varies from 128 kbs to about 2 Mbps. It is also referred as Internet over Satellite (IoS).
Aside from the connections mentioned above, internet networks can be built using either wired or wireless technology.
1. LAN (Local Area Network). A number of computers are sharing the same communication line. Typically, it is useful in sharing resources like files, printers, games or other applications found inside the server with numerous computer users connected to the server. Likewise, the connected devices are also sharing the resources to the server especially in a small area (i.e. within an agency or school building).
2. WAN (Wide Area Network). A network covering a large geographical area, the most common example is the Internet. It is not limited to a specific place, but it might be restricted within the boundaries of a state or country. A WAN connects a number of LANs, and may be limited to an enterprise (a corporation or an organization) or can be accessible for the public. The technology has higher ground speed and it is pretty expensive.
Two types of WAN: the public WAN which is the internet and the private in which two or more LANs are connected with each other. Example of a private WAN is a company having an offices in Texas, Kansas and Las Vegas and they have a LAN connection at each office. When they communicate using a telephone line, they are forming WAN.