Looking for the ways to enhance your brand recognition and boost sales? Any expert will say that you should start by creating a clever logo. Every day, we see dozens of emblems on clothes, products, electrical appliances, etc. without even realizing it. For example, your smartphone logotype is the first thing you see in the morning when you switch off the alarm. If you think about it, logos are everywhere!
How a logo affects your customers and sales
Imagine that you're having a really bad day. You've come late to work because you've had a row with your neighbor. Your boss isn't happy with your recent report. It's raining but, you've forgotten your umbrella at home. Things couldn't get worse, right? On your way home, you drop by the supermarket to buy some bulgur for dinner.
On the shelf, you see several packs of bulgur from different manufacturers. Which brand will you buy? According to the research done by Marike de Vries from Radboud University in Nijmegen (the Netherlands), the chances are that you'll prefer the brand you already know. This is a question of psychology.
A person feels safe when they see something familiar. Now let's switch from the consumer's to the manufacturer's point of view. How do you as a producer ensure that your brand is instantly recognized by the customers? The answer lies on the surface. You need to create a smart and catchy emblem to represent your brand identity. This is how you put your business on the map and dominate your market niche.
How to create a memorable logo?
Designing an emblem is easy. Designing a simple yet memorable emblem that reflects your company's goals and values is a more challenging task. It requires a deep understanding of your brand personality and the industry you're involved in. Furthermore, you must think about the specifics of each surface (packaging, promotional gifts, marketing materials, etc.) you're going to apply your logo on.
For example, you've decided to place your logo on a big billboard downtown. How are you going to catch the attention of your target audience (passers-by, people on a bus, etc.) When it comes to corporate designs, you only have seconds to make the first impression. Think about famous logos that are stuck in your memory. What makes each of them memorable? We've come up with a couple of useful tips on crafting a corporate design that won't escape the attention of your target audience:
1) Strive for uniqueness. A one-of-a-kind logotype is similar to no other design and therefore instantly identifiable.
2) Focus on colors. If you're an international company, be sure to do some research on the color code which is considered appropriate in each of your target markets. The color palette that appeals to your customers in Country A may drive away your audience in Country B.
3) Go for simplicity. A clean logo with no excessive details is easier to memorize than an intricate design cluttered with graphic elements. Think about the iconic emblems used by BMW, McDonald's, Google, and other established brands. These logos are so simple that it takes just a few seconds to sketch them!
4) Think about how your corporate design will look in different contexts, including packaging, business cards, website, etc.
5) Get feedback. Before using your logo, you must find out how your potential customers respond to your design. Select a group of people (control group) that fit the description of your ideal customer. Show them 2-3 versions of your logo. Collect feedback and determine the winning design.
How to create a logo with an online logo maker
Nowadays, lack of design skills is not a problem anymore. If graphic design is not your strength, online logo generators are at your service. We've prepared a concise DIY tutorial on creating a great logo online. See how easy it is!
1. Go to the Logaster website and click "Create a Logo"


2. Enter your company name to be displayed on your emblem and select your industry.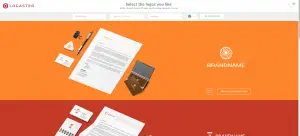 3. Logaster will generate dozens of logos custom-made for your business. Feeling overwhelmed by the variety of options? Enter the keywords to narrow down your search.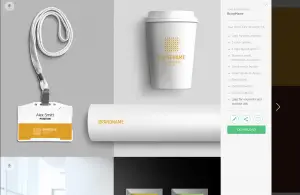 4. If you're not entirely happy with your selected logo, you can change its icon, colors, text, and font.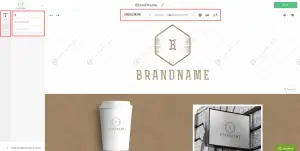 5. Once your design is ready, download it to your hard drive. The available formats include PNG, JPEG, SVG, and PDF.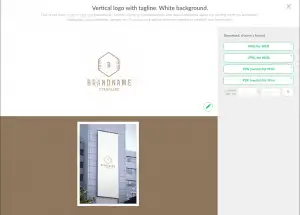 Only by understanding the true role of brand identity in your company's growth you can create a logo that will be both visually appealing and effective. Remember that an emblem is one of the few business assets that work for your brand success 24/7.