Event planning is one of the most complicated and tough jobs to do as it takes a lot of time and planning to make an event go flawlessly. It involves a large number of people doing different tasks for the occasion. Co-ordination plays a big role in event planning and management. For easily managing everything, planning software is developed, which helps you to track the progress of your team and check which tasks are complete and which are left.
Here are ten software which is best for event planning.
1. Planning Pod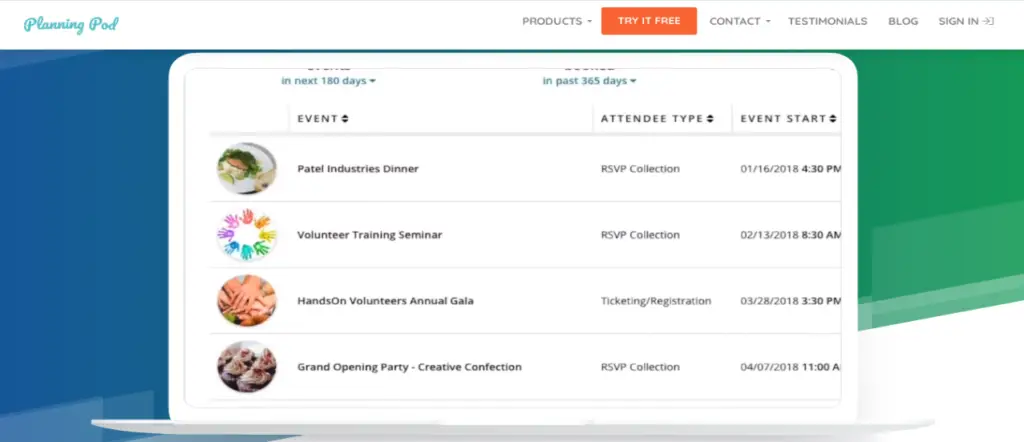 Planning Pod is an event management software. With Planning Pod, you can not only manage events, but you can also manage venues and floorplan. More than 20,000 event professionals use this software to save over 62 hours/month. You can plan events like seminars, classes, conferences, corporate events, galas, meetings, school events, weddings, etc. It provides features like one place for tracking your tasks and occasions, easily share your ideas with your team members, works anywhere you want, reduces mistakes and oversights, data security and privacy, reporting and dashboard, customer support resources, etc. The pricing starts from Rs.1400 and goes up to Rs.4900/month.
2. Event Bank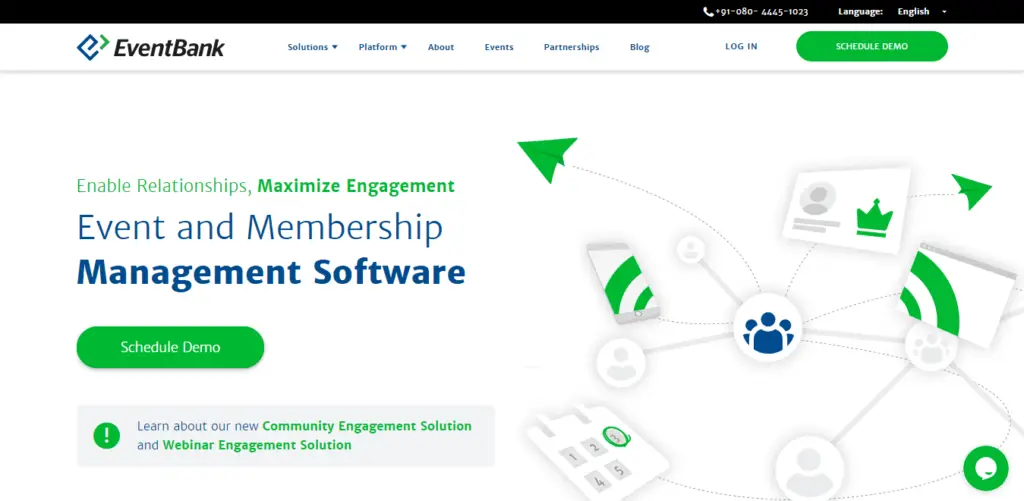 Event bank is event management with three products for planning and management. Organizations like National Geography, pico, Deloitte, etc. use it. You can plan your event, create it, promote it, manage it, engage with customers, and follow up on the occasion. It is easy to use the software, with excellent customer support. It provides features like badge printing, check-in tools, Event Bank manager app, multi-currency support, multi-session management, multi-session tracking, networking, smooth check-ins, cloud backup and recovery, sophisticated operational security, and many more.
3. Eventbrite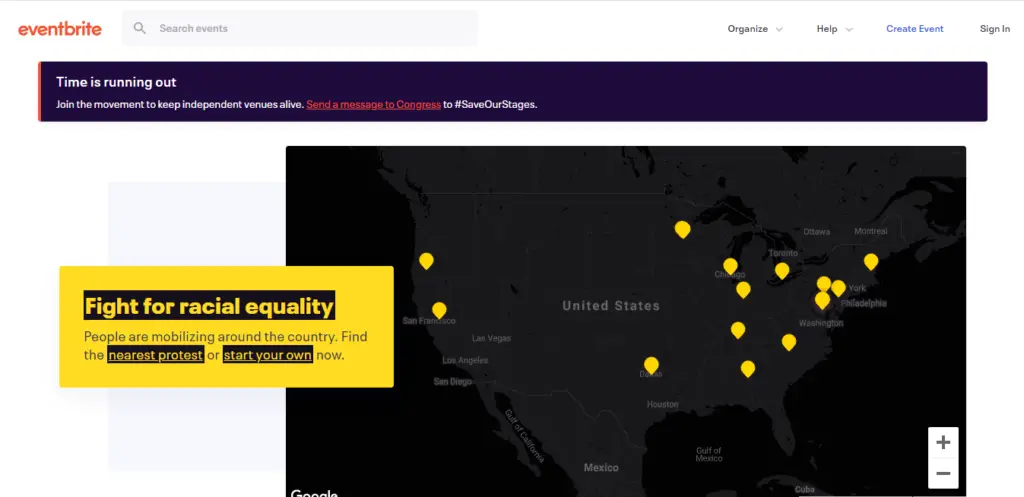 Eventbrite is a US-based event management website for events like virtual events, online webinars, online classes, online yoga, virtual runs, virtual conferences, etc. You can sell tickets for your occasion, manage who came and who does not with the check-in app, take online RSVPs, etc. It provides features like a dedicated app for organizers, free tickets are always free and never changes, receive online payments with Eventbrite payment processing, manage your sales in real-time, reach out to the audience with social media integration, mobile ticket scanning, and many more.
4. Trello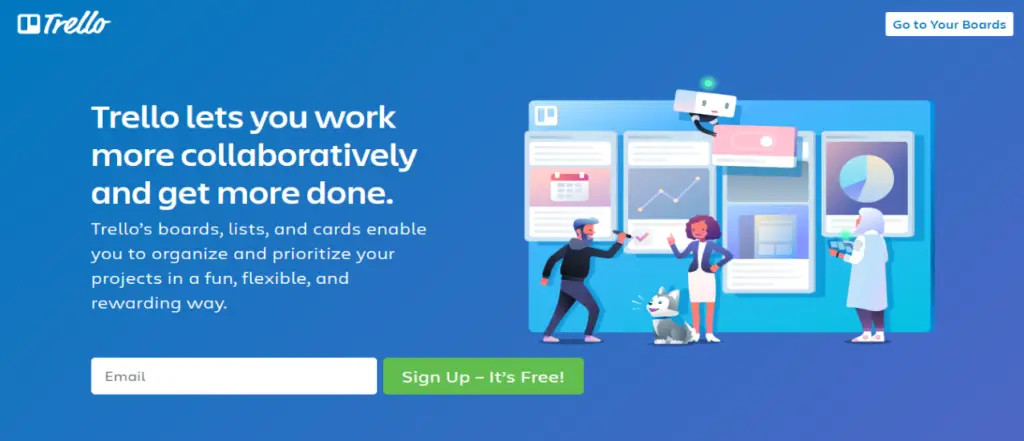 Trello is a web-based event management platform developed by ATLASSIAN and one of the most popular platforms. It provides high flexibility with boards, lists, and cards. These tools help you to organize and prioritize your tasks and work more efficiently. You can work with different teams at the same time easily without any trouble. In the cards, you can add comments, attachments, due dates, etc. so that you don't miss any important thing. It is also AI-powered and will do the majority of your work like remove tedious tasks from your to-do lists with Rule-based triggers, custom card, and board buttons, calendar commands, and due date commands.
5. Whova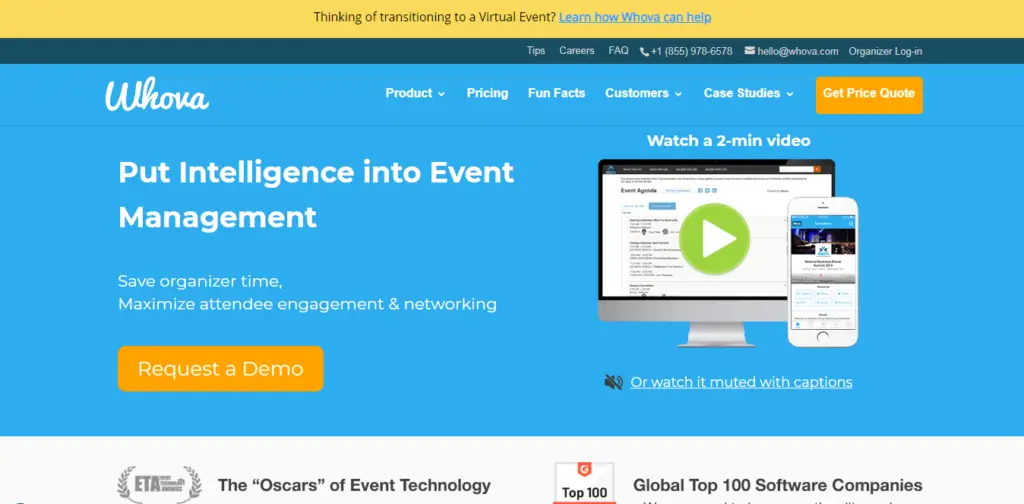 Whova is also an event managing software for events like virtual conference, mobile event app, online registration, etc. Decrease the efforts of the organizer and increase the engagement of the attendee and make the event more exciting and fun. Organizations like HBO, American Express, Accenture, Ford, LEGO, University of Chicago, UN, National Science Foundation, etc. use it. It provides features like Speaker center, Name badges, check-in and session attendance management, live polling and survey, social wall, analytics, and post-event reports.
6. idloom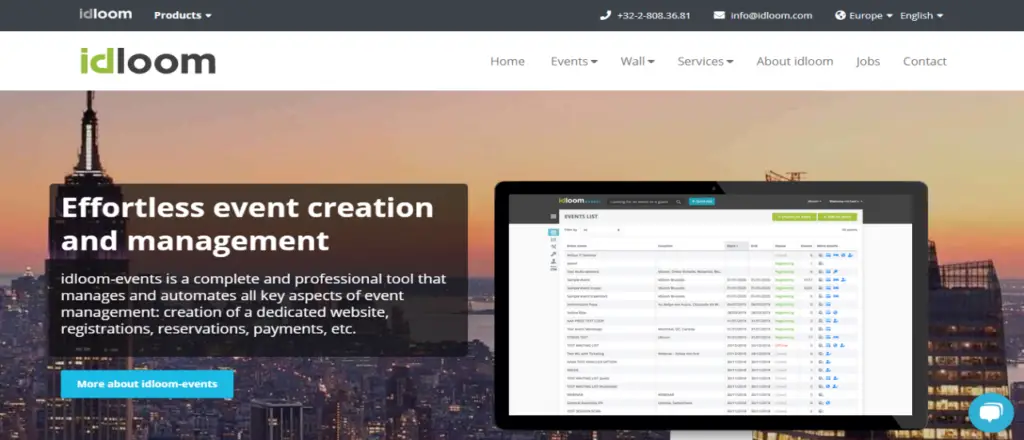 idloom is an easy to use event management platform. Various features provide high flexibility for managing tasks. It offers features like idloom-events, wall, consulting, website creation, search engine marketing, newsletters, payment processing, automatic invoicing, badge creation, monitoring. With these features, you can take registrations for your event and manage it effortlessly. With idloom-wall, you can combine the traditional practice with the power of social media to work more effortlessly and efficiently.
7. Cvent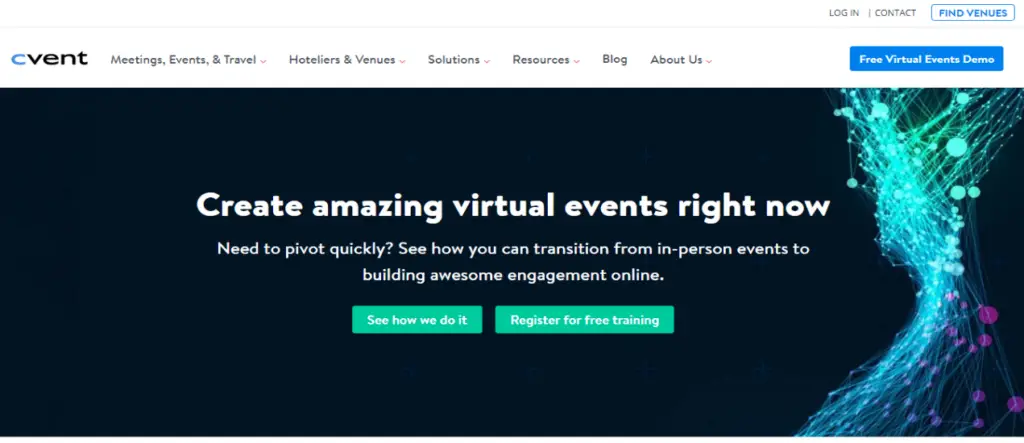 Cvent is an event management platform developed Cvent Inc. It provides management solutions for events, conferences, meetings, onsite solutions, surveys, and venue sourcing. You can navigate around every aspect of your occasion; you can increase the attendance and engagement, efficient and influential reporting, strategic integration, 24/7 customer service, target your buyers, gain performance insights, manage everything from one place. It provides features like Mobile event app, on-site check-in and badging, room block and travel, content management, appointments, event insights, and many more.
8. Tripleseat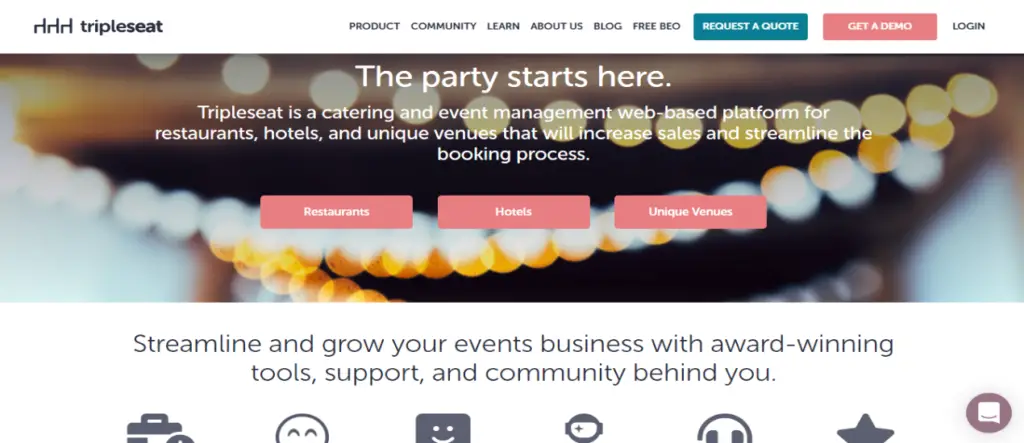 Tripleseat is a web-based event management platform for catering and events. Restaurants and hotels use this software for organizing programs. It provides features like lead form, customizable BEO, proposal and contract documents, PCI compliant payments, eSignatures, reporting, live support team, CRM tools, Tripleseat booking network, automatic tasks, and reminder, Guest portal and messaging, booking calendars, etc.
9. Bitrix24

Bitrix24 is a web-based event management application. Bitrix24 is a free platform with up to 5Gb of online storage. It provides features like CRM, tasks, and projects, Chats and video calls, online store, contact store, administration, sales center, support, product catalog, unlimited contacts, quotes, custom stages, emails from CRM, CRM access log, automatic dialer, Analytics and reports, sales and marketing automation, data import/export and integration and many more. The pricing starts from Rs.0 to Rs.8953/month. With a wide variety of tools, you can increase your productivity, decrease efforts, and increases efficiency.
10. Socialtables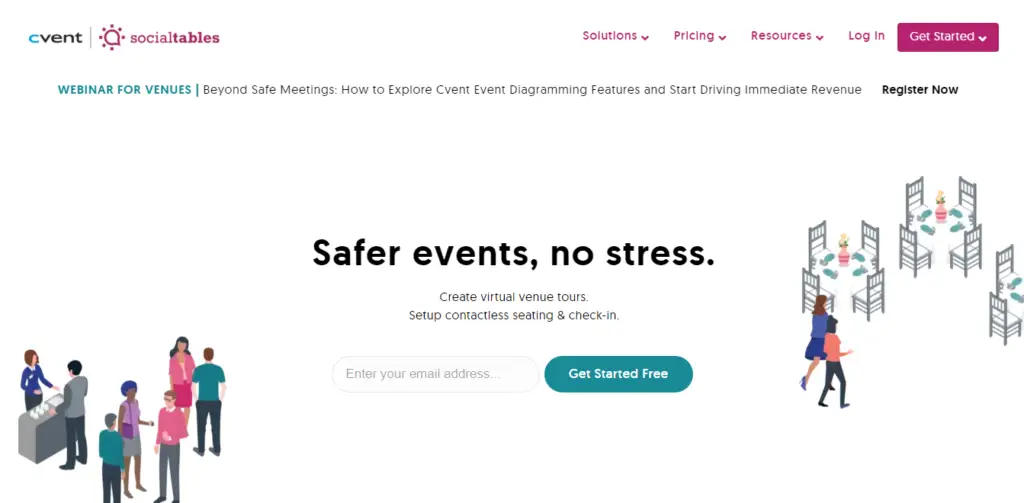 Socialtables is the event management software developed by Cvent. It offers tools and features for events and functions. You can create virtual tours, set up contactless seating, and check-ins. It provides features like event planning, diagrams, and seats for floor planning, event sales software, sales and catering CRM, improved communication with Real-time collaboration, commenting, and file storage, generate more leads from your website, analytics, full-service CRM, etc.