The Article contains 10 features along with a description. When a User buys a phone, he/she should satisfy with the existing features in it. Present existing features of Samsung F12 below.
1. General
These specifications will seamlessly provide a smooth flow of control and smarter operation. A slim set with a pragmatic view on the screen will provide a better experience for you as a user.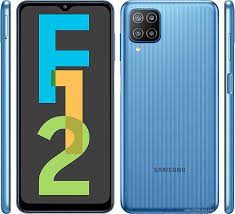 2. Display
5 inch, IPS LCD Screen
720 x 1600 pixels
269 pip
Corning Gorilla Glass
90 Hz Refresh Rate
Water Drop Notch Display
The Screen resolution will have a longer span and will deliver a wonderful experience on screen. Due to the 90 Hz refresh rate, the touch response would be amazing. The IPS LCD  is a very protective display with clarity.
3. Camera
Samsung has exclusive camera features in all models. This also has AI built-in camera set up to usher clear pictures on your screen. The AI in-build camera set up has Main camera (48 MP F2.0)+ Ultra-Wide Camera(5 MP F2.2)+ 2* Macro Camera(2MP F2.4). The Rear camera is 8 MP.
4. Technical & Performance
The Processor is Samsung's  Processor having a frequency of 2 GHz will make a super outcome. The memory setup will boost performance and productivity, however, the dedicated memory slot will have a longer span.
5. Connectivity
4G, VoLTE
Bluetooth v5.0, WiFi
USB-C v2.0
This will provide a hassle-free connection to the network and will perform better. Connectivity needs to be better in a phone. It has the VOLTE features, which provides the 4th generation technology and has a wonderful set of productivity.
6. Battery
This will create a conducive environment but 0-100 percent charge will take 2hr 45min. This offers a compactible battery with a fast adapter, which ensures readiness.
7. Affordable
4GB, 64GB -11,499/-
4GB, 128GB – 12,499/-
The price for respective specifications is affordable. Affordability makes the business and marketing process faster. A user can attract to a product. This is affordable as of its features compared to other phones.
8. Beautiful Sensors
Fingerprint sensor
Accelerometer sensor
Ambient light sensor
These sensors will usher smoothness and readiness in figuring out the screen. The world now needs a smarter solution to all problems. The fingerprint is one of them. It ushers a beautiful experience with his exclusive features.
9. Technology
Android 11
ONE UI 3.1 CORE
GSM
The upgraded technologies will offer a beautiful ambiance. Particularly GSM (Global System For Mobile Communication) has provided a wide range of transmission up to 1800 MHZ. It used the Narrowband TDMA (Time division multiple Access) methods for speedy transmission of Data.  The User Interface design is with a core fragmented environment, which creates a good ecosystem between the UI and OS.
10. Safety & Security
Its safety is made stylish with a host of cool features. The security features were dedicated to protecting the device. Upgraded security is required for today's world. A protected phone is more convenient and easier to use.