Have you been waiting for hours to get your mobile completely charged? Well, this might be a daily issue for the ones who have phones that drain the battery quickly. To resolve this case, using a fast charger might be the right choice. Fast chargers are devices that give power supply to mobiles and other compatible gadgets faster than the regular ones. If you wish to buy one, have a look at the following top 10 models of fast chargers to consider buying:
1. ANKER POWERLINE LIGHTNING:
The Power Lightning Cable from Anker is ideal for both iPad and iPhone. It is durable and affordable with a power line that charges your Apple devices faster. Anker PowerLine is the first-ever charger with a bulletproof Kevlar Fiber. The cable is five times longer than the regular chargers.
2. SAMSUNG GENUINE MICRO FAST WALL CHARGER:
The Samsung Genuine Micro Fast Wall Charger has a 5 foot Micro USB with a USB-C adaptor. The charger brings your battery from 0% to 50% in about 30 minutes. The device is flexible enough to allow users to charge their phones by a USB from computers or through other USB wall outlets. One can even transfer files from the computer and mobile.
3. RAV POWER ULTRATHIN CHARGER:
Rav Power is a sleek and unique charger that gives up to 45 W powers. The ultrathin charger works on Gallium Nitride Technology. The device is compact for folding its prongs. The cable also charges Nintendo Switch, MacBook Laptops, and PixelBook. One can make use of the Rav Power device even at nights, as it won't produce light that disturbs sleep.
4. AUKEY USB-C PD CHARGER:
While using the Aukey USB-C charger, one does not require multiple charging ports. The built-in safeguard protects every smart gadget from high voltage current, excess charging, and overheating. One may even rapid charge from 18 W power supplies. The foldable plug allows users for easy portability and storage. An additional USB-C is a requirement for charging Apple devices with the lightning cable.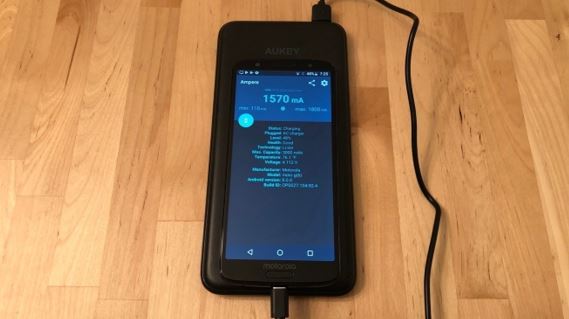 5. NEKTECK 60W TYPE-C WALL CHARGER:
The NekTeck 60W Type-c Wall Charger does fastest charging for MacBook laptops and iPad Pro tablets. NekTeck results in two times quicker charging, comparing to a device's regular charger. The cable charges from 0% to 65% in an hour.
6. VOLTA 2.0 MAGNETIC CHARGING CABLE:
The sleek 5A charging Volta 2.0 Magnetic Cables are from Samsung devices. Volta has a standard USB connection on one end and three magnetic connections as USB-C, Lightning, and micro USB on the other. The device is compatible with Android, Apple, and other USB techs. The magnetic cable comes with a protective case that is ideal for travel. The outer layer of the cable is from ultra-strong military-grade nylon with reinforced anti-fray protection. Volta 2.0 Magnetic Cables are available in different colors.
7. ANKER POWER PORT SPEED PD 30:
The portable and foldable prongs of Power Port Speed PD 30 are from Anker to charge all the test devices. The output of Power Port is 30 W, ideal for faster charging. While plugging Anker Power Port, it produces a blue LED light as an indicator.
8. SAMSUNG FAST CHARGE CAR CHARGER:
The well-built fast charging adaptor is from the Samsung Galaxy Company. During wireless charging, the device and its battery turn a bit hot, but instantly the charger will stop its functioning. The excess charges do not affect the gadget in any way.
9. MU ONE INTERNATIONAL CHARGER:
The ultra-slim and high-tech design of Mu One International Charger has Gallium Nitride technology giving 95% power efficiency. The output of MuOne is 45 W. The charger is suitable for many common smartphones, tablets, and small USB devices. The design is perfect with a three-prong British plug.
10. FUSE CHICKEN UNIVERSAL:
Fuse Chicken Universal fast charges iPhone XS and Pixel 3. The cable has 6,700 mAh batteries. The device comes with replaceable plugs that are ideal for the US, UK, EU, and AU. The all-in-one Fuse Chicken Universal charger has a built-in power bank with 18 W output.