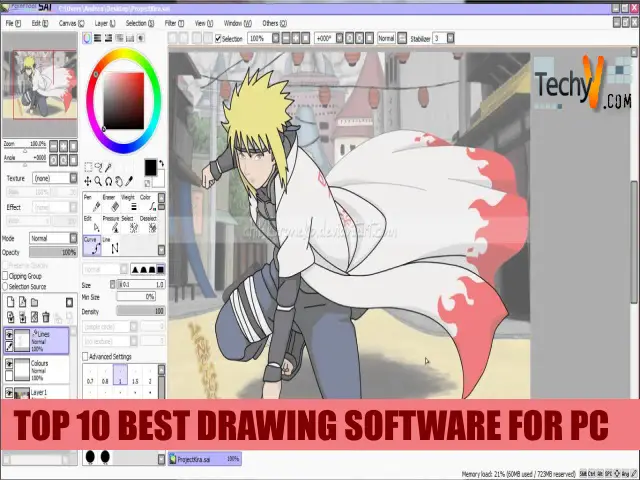 Drawing Software is a software tool that is used to draw any design or create art on that particular software. However, several computers that have built-in drawing software tools. For example, the Paint Program is a built-in software tool on many computers. But, if users desire to install the other drawing software, several software tools are available with revolutionary features. Several advanced tools are utilized by engineers and architects. Drawing software tools have made the work of many engineers and architects easier and quicker. These tools save paperwork, time, and cost. The following are the top ten drawing software tools with their characteristics.
Microsoft Expression Design 4:

One of the best drawing software tools is Microsoft Expression Design 4. This software is an open-source tool. It is specially used for vector and raster graphics. Microsoft Expression Design 4 is specially developed for Microsoft Windows operating systems. It has multiple advanced features. To install this software tool, your computer requires 1GHz or faster processor, 1GB RAM, 2GB hard-disk space, a higher resolution with 24-bit color, and a DVD compatible drive. Another most important requirement is the .NET framework 4.0. It can import Windows Metafile (WMF), Enhanced Metafile (MTF), and Enhanced Metafile Plus (MTF+) files.
Microsoft Paint 3D: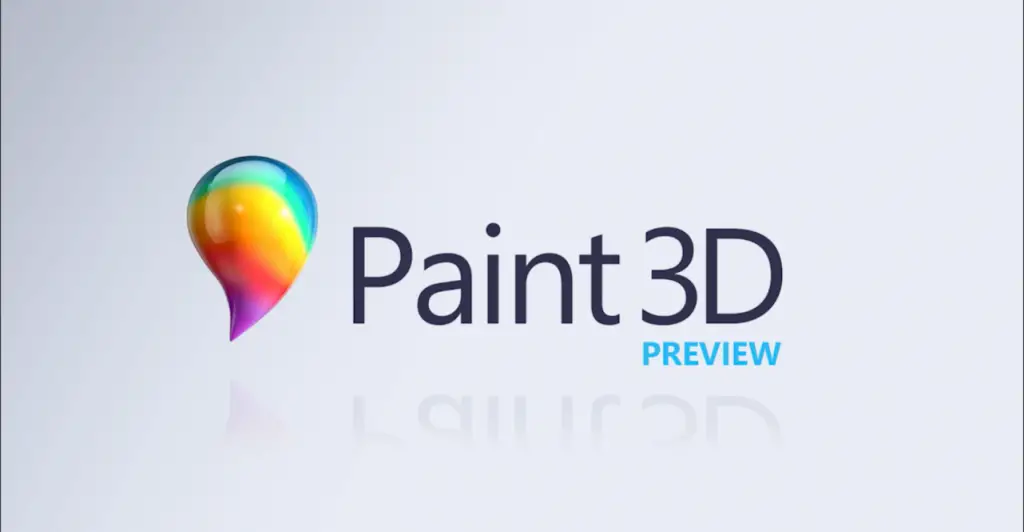 Microsoft Paint 3D is a fully-featured drawing software tool. This tool is compatible with Microsoft Windows 10 operating systems. Users can create 2D as well as 3D objects and also remix models. Additionally, beginners can also use this drawing tool with ease. It incorporates multiple brushes, shapes, texts, and effects to make your design more attractive and interesting. There are a lot of art tools, like a marker, calligraphy pen, oil brush, watercolor brush, pencil, eraser, pixel pen, spray can, and many other tools. It also has a crop tool to crop images. Users can insert various stickers, images, shapes, textures into a 3D model.
Clip Studio Paint:

Clip Studio Paint is another best drawing software tool that has versatile features incorporated in it. This tool is compatible with the users, who love to draw and paint. It has more than thousands of customizable brushes for painting. Additionally, users can use this application for concept art, character art, animation, comics, and manga. There are two editions of this application, Clip Studio Paint Pro and Clip Studio Paint EX. Both versions offer a free trial period for a specific number of days. The price for Clip Studio Paint Pro is $49.99, and Clip Studio Paint EX is available at $219.00.
Krita: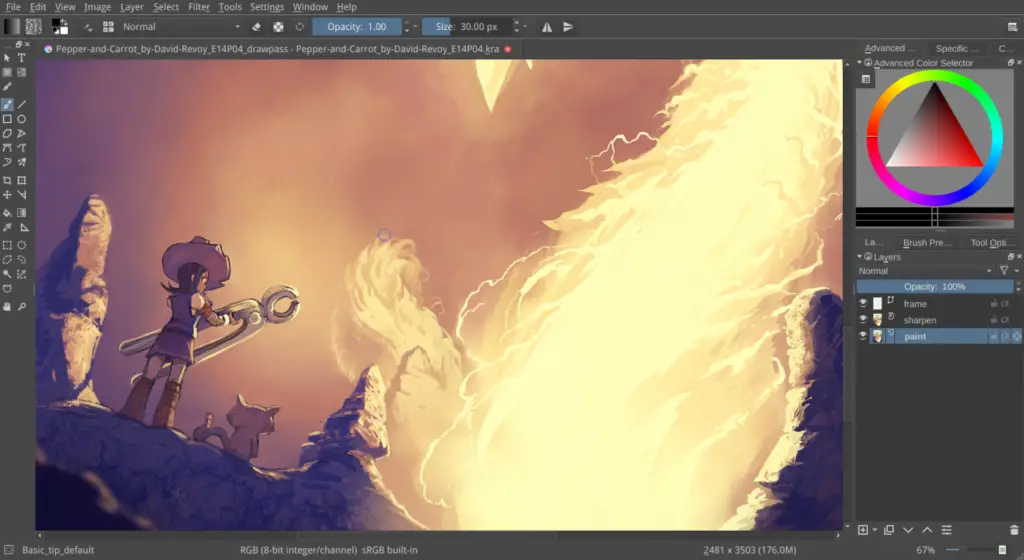 Krita drawing software tool is quite different from other applications. This application is specially developed for image creation and image manipulation. It incorporates all basic tools used for designing and painting. Additionally, it offers an OpenGL based canvas with multiple canvas filters. It supports a large number of file formats, like BMP, jp2, jpeg, ora, pdf, png, raw, tiff, and xcf. It has a special alpha channel that supports the number of color models ranging from 8-bits to 32-bits floating-point per channel. Several layer types can be used, like group layer, paint layer, filter layer, clone layer, etc. It has raster tools, vector tools, guidance tools, canvas tools, and selection tools.
Vectr:

Another most powerful drawing application is Vectr. This is an open-source, cross-platform program that assists users, like project managers, software engineers, social media specialists, and bloggers, to create effective designs. It is easy to use and has a user-friendly interface. Vectr drawing application is compatible with Microsoft Windows, Linux, macOS, and web-based operating systems. It can be utilized by all sizes of businesses and freelancers. This application has multiple revolutionary tools, like pen tool, shape tools, arrange elements, align elements, pathfinders, fills and strokes, and gradients.
MediBang Paint Pro: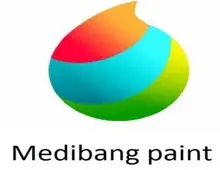 One of the fully-featured and powerful drawing tools is the MediBang Paint Pro tool. This is also an open-source drawing tool with extraordinary features. It is specially designed for comics art. The MediBang Paint Pro tool has more than fifty brushes, like GPen, Mapping pen for inking, Watercolor brush, etc. The best part is it has layers., snap guides, etc. As it is specially created for comics art, it has comic panel creation and comic page management tools. It is a cloud-based application that enables users to open files on computers, tablets, or smartphones. It incorporates more than 800 pre-made tones and backgrounds.
Gravit:
Gravit is a powerful graphics tool used for creating designs for marketing materials, websites, icons, UI designs, presentations, and social media. It is compatible to install on Microsoft Windows, macOS, Linux, and Chrome OS operating systems. The only requirement is you should have a strong and reliable internet connection. The Gravit drawing software tool is created by using web technologies, like WebGL, HTML Canvas, and JavaScript. It can be utilized by professionals as well as beginners. The Gravit application supports various importing and exporting file formats. It has advanced vector editing capability. Also, it has smart shape tools, brushes, paths, select tools, pointer tools, etc.
Tux Paint:
Tux Paint is a drawing software tool specially developed for children of ages between 3 to 12. This application is the most-used tool in schools throughout the world. As it is specially designed for children, it has easy to use and a user-friendly interface. It incorporates multiple fun sound effects, brushes, shape tools, etc. It is compatible to install on Microsoft Windows, Linux, and macOS operating systems as well as Android and iOS mobile devices. This drawing application is an open-source tool licensed under GNU Public License. There are several tools, like a paintbrush, rubber stamps, line tool, fill, shape tool, text and label tools, magic tools, etc.
Penbook: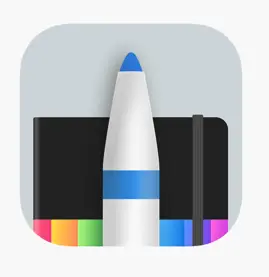 Penbook is another popular drawing software tool compatible to work with only Microsoft Windows operating systems. This application is an All-in-One software tool. It enables users to take notes, design sketches, etc. Users can choose from a large set of virtual backgrounds. You can also import images or PDF documents into your projects. This application is available at $9.99. It has lots of ruled and squared paper stationery for writing, stationery for planners, checklists, and calendars, creative stationery types like penmanship, calligraphy, and sheet music, drawing stationery like perspective and isometric guides.
Sumo Paint: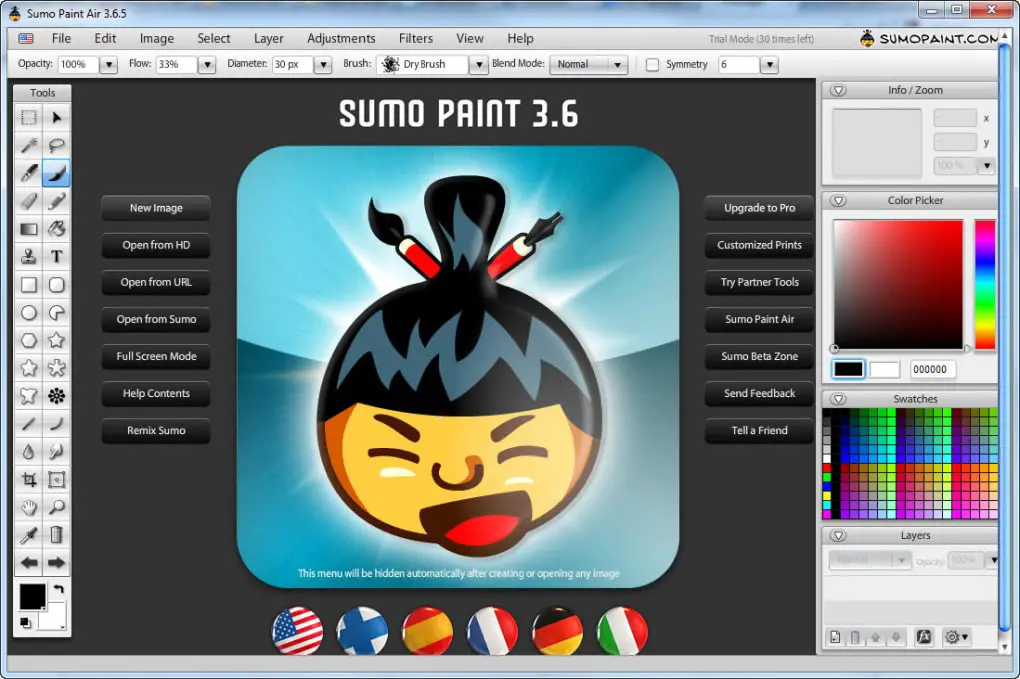 Sumo Paint yet another powerful and fully-featured drawing application. This is the best photo editing and drawing online tool. It has more than 300 brushes in its gallery, including animation brushes. Additionally, it incorporates a large set of shape tools for creating innovative shapes. As it is an online editor, you can share your work and get feedback from others. It also supports the development of symmetrical creations using symmetry points. It also supports non-destructive layer effects, including drop shadow, inner shadow, glow, bevel, etc. Additionally, it has 3D brushes, ink tools, color picker, gradient fill, bitmap fill, text tool, levels adjustment, clone stamp tool, layer support, etc.