Microsoft Edge: A Brand New Browser for Better Web Experience
This week, Microsoft launches their newest browser called, Edge; a project that was previously called as Project Spartan. Microsoft announced the official name of this latest browser during the Microsoft Build conference and stated that this will have some new features that are envisioned to replace the old Internet Explorer.
Edge' logo got the legacy of the classic 'e' bounded with an orbiting swirl of the Internet Explorer logo. On IE logo, the 'e' was motionless while the rotation happens around it. In the logo of Edge, the orbital ring was discarded and the rotation becomes part of the 'e'. The stroke on the 'e' shows an opening or an aperture that makes it more readable for smaller devices such as mobile phones. It is reported that Edge will be the only browser that will come pre-installed to Windows mobile devices and will become an optional download for your desktops.
To be able to get your hands on Edge, you need to have the latest build of Windows 10 Technical Preview. Remember that the latest build 10074 of Windows 10, Edge was still called as the Project Spartan, so we can expect more changes arriving very soon.
Edge was 'built for doing' and integrated with 'note taking and sharing'. It can support extensions designed for Chrome and Firefox with few variations. It is also the very first browser that has direct integration with Cortana, a digital voice assistant from Microsoft which is similar to Google Now and Siri. For beginners, Cortana in Edge won't talk to you. When typing some keywords to the address bar or choosing any topics on a website, Edge will start making actions and serve related information like the weather, maps and more. This is probably the best feature of Edge; it is way too fast to ask the Cortana for a definition of a term than to open a tab and use any search engine.
When clicking on the open book icon on Edge, it will launch the reading view. This can be adjusted that will fit the user's preferences. You can change the text size and multiple viewing styles can also be enabled.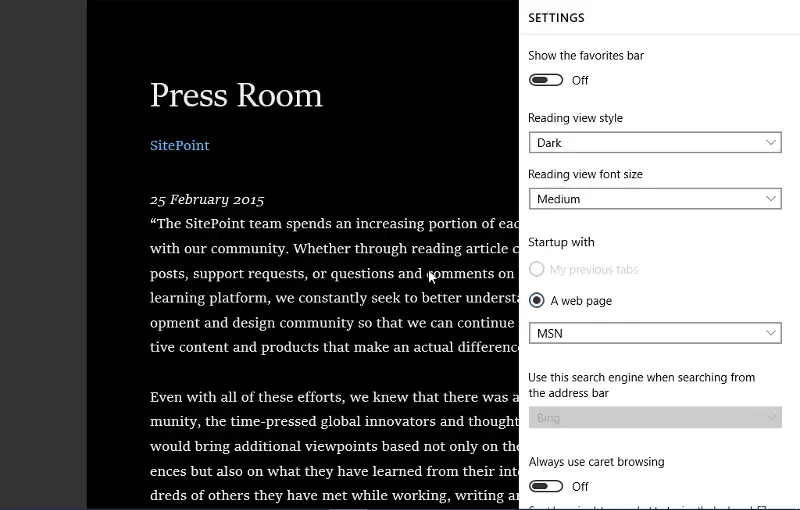 When bookmarking a webpage, user can also add it to their Favorites or to the Reading List. If you will visit a page repeatedly, you can add it to your Favorites. But if you will bookmark it just to read it later, you can add it to the Reading List.
If you are using a pen tablet or a touch screen monitor, you can enable the feature called, Make a Web Note. It can turn the webpage as a real book. You can doodle on the webpage, highlight certain items or make some snippets. User can also share this through OneNote or just add it to the Reading List. Edge's behaviour is similar to Chrome. However, it doesn't support HTML5. In terms of the JavaScript performance, Edge is slightly faster than Chrome. Another thing that is missing on this latest browser is the Browsing History. But surely, this will be added in the future builds. There is also no way to see your download history. As of now, Adobe Flash Player is the only add-on that Edge has. You cannot add any new add-ons yet. Hopefully, many new features will be added to the list.
Conclusion:
It is early to compare Edge to other prominent browsers like Firefox or Chrome, but surely, it feels like a contemporary browser that can add worth to its users. It is stable, lightweight and can handle complex webpages in an instant.