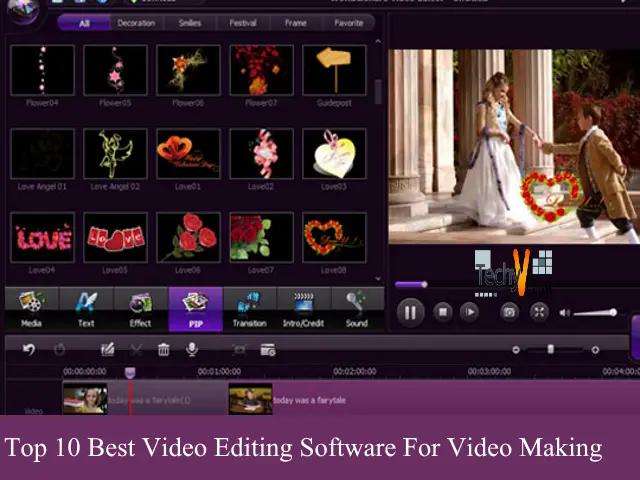 If you are looking for software to edit videos on your desktop, then you have come to the correct page. Most of them are trying to use software and don't want to pinch your pocket. Using these editing tools, you can edit more professionally than paid software. It has a lot of features than software used on your mobile phones. Using editing software tool you can outrun the competition and can do much more. Here you are going to see the top 10 best free editing software.
1. VSDC Free Video Editor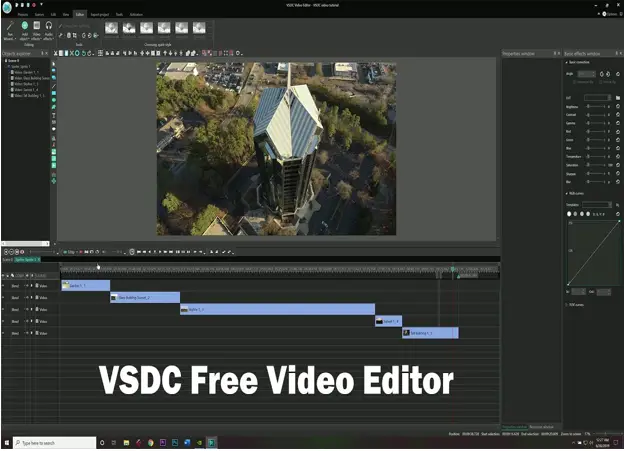 If you are looking for features, then this is what you need. It includes color correction, audio editing, visual editing, filters, and much more. The learning curve is not so steep. You can use it as your regular editing tool, which supports various formats. Animations, sprites, transitions, watermarking, blending, overlaying, masking are the features it offers. If you want to improve the quality of your shaky clips, then this is the right choice. If you want more features, then you must avail of the pro version, which is better for professional use. It is a non-linear editing tool that is supported by Windows.
2. Movie Maker Online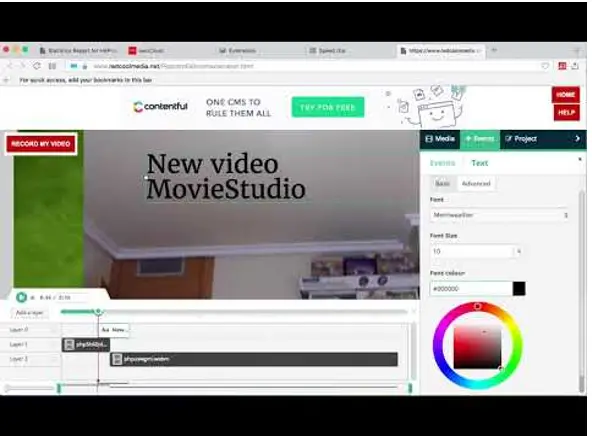 It is one of the best free editing software available everywhere. So what does that mean? It is one of the editing software which is available on your browser. Many of the editing software must be downloaded and run locally, but this doesn't work that way. You can use it from any computer. It has an in-built library through which you can download stock images for making your movie. Your computer specification doesn't matter even if it is old. With its features, you can crop clips, edit videos, add filters, etc.
3. Shotcut

This has tremendous features includes audio filters, video editing filters, etc. The supported format includes FFmpeg, 4K, ProRes, and DNxHD. Originally it was designed for Linux, but later, it evolved to other operating systems so you may find the interface troubling you at first. An intuitive feature is one can include video files into a project directly instead of a video library. Resolution and frame rates are matched. You can adjust the balance, bass, and treble using the audio filters stated above.
4. Lightworks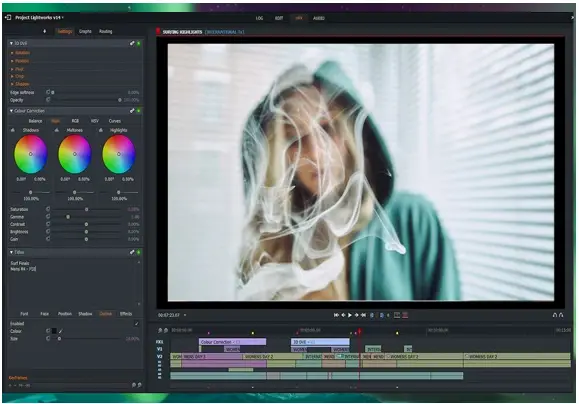 If you want to work with your team members then this is your go-to. Luckily it supports a variety of video and audio formats. Windows, Linux, and Mac OS support this. Though this is hard to learn, you can make use of tutorials to save your time. You can create high-quality videos with precise trimming. It saves your time by importing new content and allows you to edit at the same time. If you are using multiple cameras, then using multi-cam feature syncing clips can be done with ease. It can export videos to YouTube and other platforms.
5. Openshot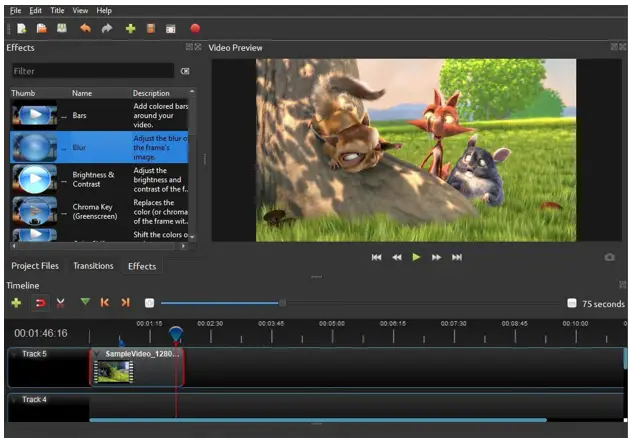 Its intuitive user interface helps beginners to create videos easily due to its drag and drop feature. It is available for Windows, Mac, Linux users. You can add video, audio, image files to your project due to its hassle-free drag and drop feature. Even it has a video effect like chroma key compositing for green-screen effects, gamma, hue, and much more. It is one of the best tools for trimming, resizing, scrolling, frame stepping, audio editing, and real-time editing. Also, you will get to customize the title card, and you can do animated videos without any trouble.
6. Hitfilm Express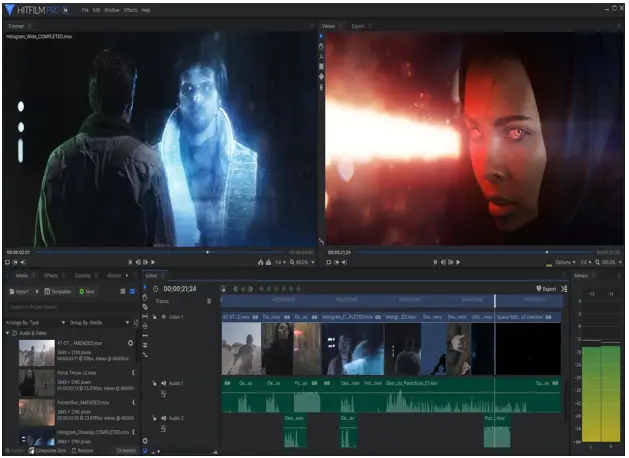 It was designed by FXHome Limited who is having ties with software companies, Hollywood studio, and You Tubers. It has a strong community through which it offers a lot of features with more than 400 presets and effects, free video tutorials. It is available for Mac and Windows. It is professional due to its steep learning curve. It is a time saver with which you can make transition effects, composite shot, video time-line, trimming options, fine-tuning, and much more.
7. DaVinci Resolve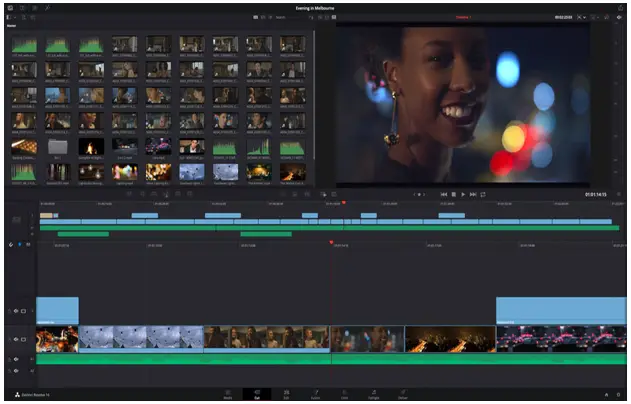 It is feature-packed software available with advanced video editing features. Windows, Mac, and Linux versions support this. It is compatible with a lot of file formats along with H.264 and RAW. It runs on both online and offline. It has features like cutting, trimming, timeline navigation, auto-editing and syncing, picture-in-picture effects, stabilization, and much more. Additionally, you have quality motion and speed changes and conversion of frame rates for realistic rendering.
8. VideoPad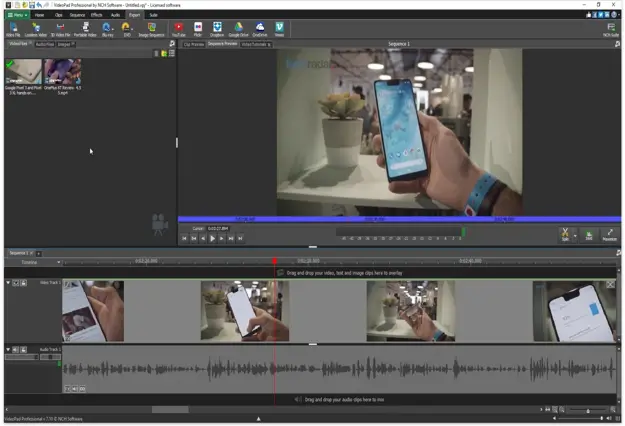 It has a lot of features just for beginners to lay their hands-on. It is available for Windows. It has features that include tuning colors, overlaying text with images, and much more. It allows users to have multiple displays enhancing the editing process. Users will have full control over it. You can customize traditional effects. Also, it has optimally opened up many ways for exporting to Facebook, YouTube, etc. It can create stable videos with shaky clips, and has a sound effects library. Even users can enable 3d editing features for more advanced projects.
9. iMovie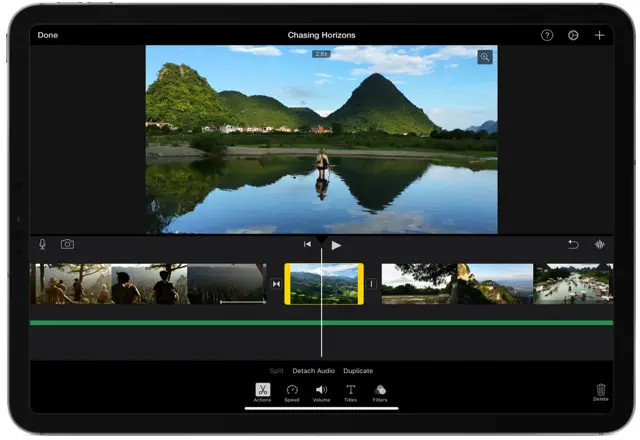 It is one of the best video editing, software for Mac users. If you want to learn the basics of video editing then this is what you seek. It has a drag and drop interface. It has features like video trimming, audio editing, etc. It is also among those which support split-screen and can create videos with 4K resolution. Also, it has the cloud services with which you can use on other devices. It supports speed controls with which you can make action sequences. Even it has voice-over recording, and stylish features suitable for sci-fi movies.
10. Avidemux

It is video editing software available for Windows 7 and later versions. You can edit videos, and other functions like cutting, trimming, filtering, and encoding. It supports input formats, which include AVI, MPEG, MOV, and MP4. The output format includes AVI, MPEG, DIVX, XVID, MP4, etc. If you are a new user then this is what you want, and it has an encoding option too. Also, it has a user-friendly interface that offers you more control.