Does iOS 5.0.1 prove to be a game changer for Mac or not
On November 24 Mac has launched the newest update for iOS 5. The coming of iOS 5.0 turned out to be a nightmare for Mac products such as iPhone and iPad's. Although the interactive interface is better, the multi-touch response failed to achieve the user's satisfaction.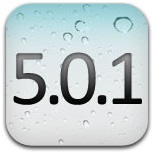 The flaws which are present in iOS 5 are as follows:
The battery gets drained easily, resulting to make iPhone and iPad's battery life cut into half so instead of 10-hours battery life, it will run for 5-hours only which is a total adversity for Mac users.
The cloud mailing system of Mac does not work for most devices.
There is no multi-tasking gesture support with this feature for iPad user. This one is exclusively for iPad 2 users only.
Many times, the documents does not sync correctly through the cloud which becomes very tiring for users to comply.
When it comes to voice recognition feature, it does not understand the accent of Australian users.
iOS 5.0.1 Features and Improvements:
This iOS update offers significant improvements to the previous iOS 5.0. This update is about 44.6MB in size. It is all due to the new delta that operates in iOS 5. The marks for the iOS 5 update size is smaller than to the previous version which has 39-55MB in range and it can also be updated via Wi-Fi connection as well as downloading it from the iTunes store.
The features and improvements which come with iOS 5.0.1 update are as follows:
1. Remove Quick battery discharge bug
This update addresses the most important issue from all which affects the productivity of iOS 5.
In iOS 5, the battery life of iPhone and iPad drains too quickly than the previous version of iOS. Mac has resolved this major issue for iOS update.
2. Enables Multi-tasking feature for original iPad
Mac has finally enabled the support of multitasking gesturing which is formerly available only for iPad 2 users. Now, they can enjoy using their five-finger gestures which give more flexibility in user interaction. You can easily switch in different applications by gesturing left to right or vice versa which will leverage the touch experience to entirely new level with the previous iPad devices.
3. Better voice recognition system for understanding Australian accent
Good news for Australian people this update enable Mac iOS to understand Australian accent. Now it makes very less mistakes in understanding Australian accent.
4. Syncing of iCloud Document have improved
You can finally save your time syncing your documents via iCloud since the iOS 5.0.1 significantly improves.
5. Security holes fixed
This time security hole regarding "Smart Cover Bypass" have been removed. With the security vulnerability, user can bypass the login security code with the help of magnetic smart cover. In this update some small security also fixes.
Conclusion:
This security update proves to be a game changer for iOS 5. The big question is will it provoke the burned users of iOS 5 to adapt the updated iOS 5.0.1 or just stick to their current version. What do you think?