Create your movie that could be as good as a Christopher Nolan or a Disney movie, with the best movie editing software. While you could enjoy the free trial version of some of these programs, you could always pay and upgrade according to your requirements. While selecting the best one for you, we have kept in mind your experience level, system requirements and overall comfort. Let's begin, shall we?
| | | |
| --- | --- | --- |
| SOFTWARE | COMPATIBILITY | FREE TRIAL |
| 1.    Adobe Premiere Elements | Windows, Mac OS | Yes |
| 2.    Adobe Premiere Pro | Windows, Mac OS | Yes |
| 3.    Cyberlink | Windows | Yes (30-days) |
| 4.    Apple iMovie | Mac OS | Yes |
| 5.    HitFilm Express 14 | Windows, Mac OS | Yes |
| 6.    DaVinci15 | Windows, Mac OS, Linux | Yes |
| 7.    Corel VideoStudio Ultimate | Windows | Yes |
| 8.    VideoPad | Windows | Yes |
| 9.    Filmora | Windows, Mac OS | Yes |
| 10.  Final Cut Pro X | Mac OS | Yes (limited-time offer) |
1. Adobe Premiere Elements
It is one of the best movie editing software that is easy to use. It is a great choice for beginners. It isn't as complex as Premiere Pro but it has excellent features. It has motion-tracking and smart-toning to make your editing process easier.
Pros –
• New AI features
• 4K support
• Video stabilization
• Guided Edits
• Face detection
• Smart searches in the media library
Cons –
• No 360-degree support
• No VR support
• No multi-cam support
2. Adobe Premiere Pro
It is a professional movie editing software. It is developed by one of the best names in the industry. Downloading is simple and it is popular among Windows 10 users. It has fine-tuning tools to make your movie a unique one, and auto-sync system when you have multi-angle shots.
Pros –
• Automatic features
• Industry-standard video editing
• Impressive workspace layout
• Stock audio assets
• Lumetri color panel
Cons –
• Expensive
• Features could be overwhelming for beginners
3. Cyberlink Power Director 18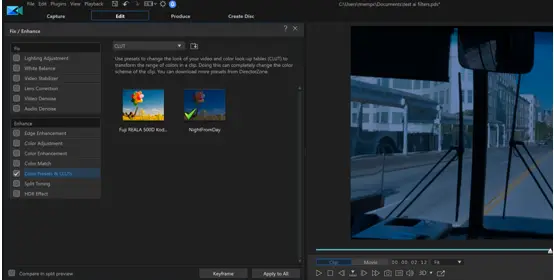 It is a software for experienced filmmakers. It is your low-budget Hollywood movie starter pack. The multitude stabilization, video correction tools and motion-tracking features will give you a full-fledge professional movie editing feel.
Pros –
• Square 1:1 ratio aspect is convenient for social media uploads
• Track-order flexibility
• Motion-graphic tiles
• 100-track timeline
• Multi-cam editing
• Refreshed interface
Cons –
• Not user-friendly for beginners
• 4K editing, library preview, video scrubbing features are available only for the Premium pack.
4. Apple iMovie
The list is incomplete without Apple iMovie as it is the most popular movie editing software for a Mac OS. It has built-in trailers and themes. It is pre-loaded in your device if you are Mac user. It is user-friendly with many features and editing options.
Pros –
• It has good audio tools
• Interface is intuitive and user-friendly
• Supports 4K resolution
• It is good for beginners
• Free
Cons –
• Only for Mac OS
• Does not have multi-cam, motion tracking, 360-degree feature
5. HitFilm Express 14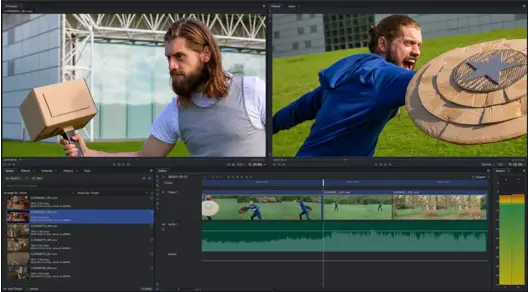 It has features like 3D effects for your movies and music videos. It is free of cost, but for some more upgraded features, you have to pay. It is popular for YouTube video editing for professionals.
Pros –
• Interface is customizable
• Drag and drop effects
• More than 180 visual effects
• 2D and 3D effects composting
• MP4 H.264 export
• Many types of import formats
Cons –
• Downloading process is confusing
• To switch to upgrades, you need to pay
• Powerful system requirement
6. DaVinci Resolve 15
This software is a professional cross-platform with powerful graphics to get the best out of this editing experience. It has Fusion application. It uses Fairlight, that enables you to mix up to 1000 channels.
Pros –
• Color correction feature is great
• Collaborative working
• Audio post-production
• Intuitive interface
• Cross-platform for Mac, Windows, Linux
Cons –
• Cannot directly export to social media
• Learning curve for powerful features
• Better suited for finishing footage
7. Corel VideoStudio Ultimate
It is a well-designed interface. It is great for beginners and many options for professionals, too. It is an affordable software that doesn't lack in features.
Pros –
• User-friendly for beginners
• Good features like 360-degree VR video support, 4K-video support
• Split-screen feature
• Supports broad 3D-text
• Easy to learn
Cons –
• Too basic for professionals
• Some advanced features are tough to understand
8. VideoPad
It is a simple but great video editing software. It has a number of YouTube choices as well as Facebook, Flickr, Dropbox, and Google Drive.
Pros –
• Supports 360-degree camera editing
• Easy to learn
• Works on Mac OS and Windows OS
• Master edition gives you unlimited tracks and plugins
Cons –
• Certain features are not available on the free program
• Mac OS runs differently than free Windows OS
9. Filmora
If you are just starting, the free version is sufficient. It has strong video-editing tools for enthusiasts. If you are a professional, opt for FilmoraPro with advanced features.
Pros –
• Intuitive interface
• The library of royalty-free sound effects
• Ability to record your own media
• Great for beginners
Cons –
• All videos will have water-mark
• Pay for the unlimited plan
10. Final Cut Pro X
It is one of the best video editing software for Mac. It also makes use of your iTunes collection. It is best for professionals.
Pros –
• Powerful editing
• Attractive interface
• For Covid-19, the trial period is extended to 90 days
• Multi-cam editing and color-balancing
Cons –
• Expensive
• Only for Apple users