GRC software is known as Governance Risk management and Compliance software. It is a publicly-held enterprise that manages IT-related operations. It has some regulations to ensure that the software meets compliance and risk standards. It has some major components like IT policy management, Vendor risk management, Incident management, and many more.
1. AuditBoard
Auditboard is a GRC software that helps to audit and analyze risks. Connect with your team and stay on top with work from anywhere. Launch risk assessment and view remediation status. Share your final audit report with everyone using this software, and use this simple platform to gain 360-degree visibility of your compliance programs. Customize your workflow and view the details like automated evidence requests. Collaborate digitally with your team to make reports.
2. LogicGate Risk Cloud

LogicGate Risk Cloud is a GRC software that manages risk accurately by identifying and monitoring business risks. Make documentation of the risks and plan actions accordingly. Optimize your GRC process using this software and customize applications. You do not require coding to use this platform. Use the drag-and-drop interface of this software to map your complex risk-management processes. This software contains pre-built process applications built for risk and compliance control.
3. SAI360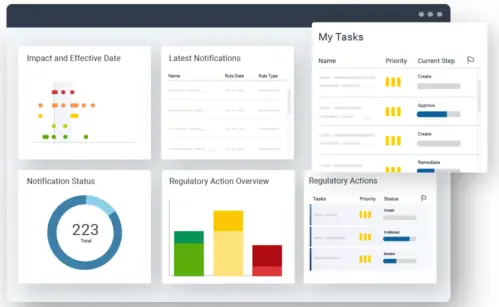 SAI360 is the first cloud software that helps to navigate risk in your organization. Grow your business using this software as you can protect your valuable assets using this software. Manage all your work strategically and be efficient. Create or modify new processes to automate audit and compliance activities, and configure dashboards to visualize and analyze data. Integrate framework with API to integrate with enterprise systems.
4. SAP GRC

SAP GRC is software that strengthens the governance, risk, and compliance of a company. It mitigates risk by viewing current threats and future threats. Automate everything to manage cyber threats and controls. This software uses artificial intelligence and embedded analytics to manage risks across enterprises. Control key processes and get insights on how risk drivers can impact your business.
5. Apptega

Apptega helps businesses of any size to automate their compliance efforts. Monitor the performance of the program and choose any framework like CCPA, HIPAA, and many more. Collaboration and budgeting are much easier using this software. Get guidance and support from the support team if you need it. This software provides policy management, IT risk management, and operational risk management. Auditing is much easier using this software.
6. Camms Risk

Camms Risk is a GRC software that will help you to make the right decisions for your business. This software offers an integrated solution to all your governance, risk, and compliance problems. This software is flexible, and you can use it easily. Maintain safety at the workplace by dealing with hazard actions to meet compliance. This will make sure you maintain your health.
7. Convercent

Convercent is a GRC software that works on a cloud platform. This software allows employees to speak up and engages them by delivering messages throughout the company. Promote your brand by making it profitable using this software. Distribute policies to your target companies as you will get their follow-up automatically through the policy manager in this software. The helpline is available to get help anytime. Use the online learning program of this software and learn how to use it.
8. VComply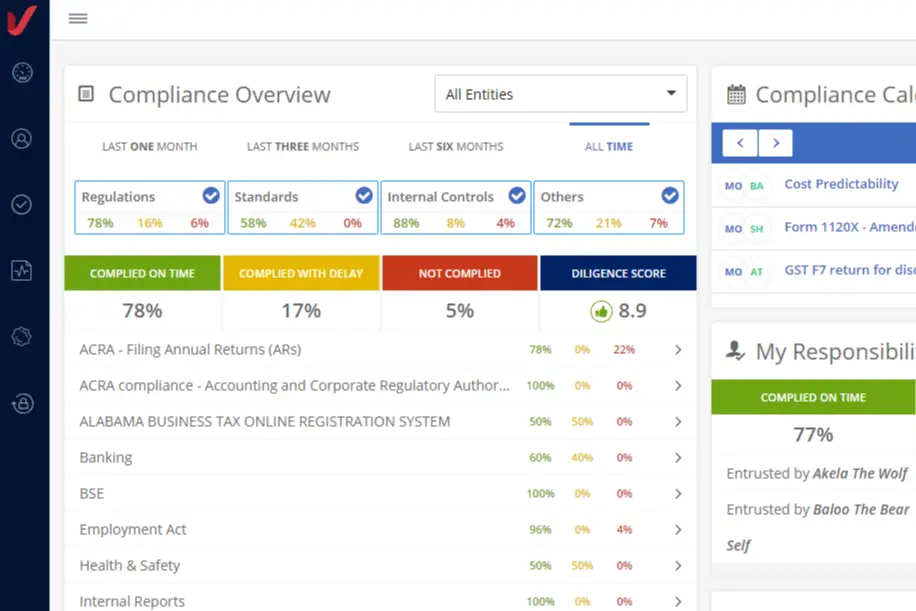 VComply is software that revolutionizes the way enterprises manage their GRC. Monitor the data collection process in your organization by taking surveys using this software, and resolve issues using this software. Manage all your policies in this centralized platform. Get automatic reports on the work performed. This software maintains privacy by suing the SHA and RSA algorithms.
9. RSA Archer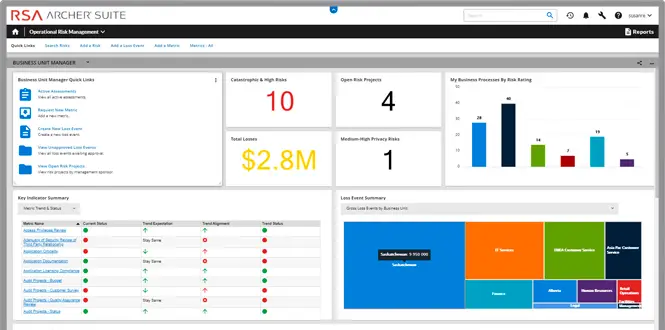 RSA Archer is a GRC software that allows you to manage work easily. This software improves collaboration as it enhances visibility by applying the same policies to manage all risks. Get a self-guided tour on how to use this software to use it to get effective results. This software consolidates information from many regulatory bodies so that you can come up with a regulatory compliance program.
10. Zebsoft

Zebsoft GRC takes control of your business as it combines all the risk management principles into a single platform. This GRC control system is based on the cloud, and it acts as a communication system. The enterprise risk management(ERM) in this software will help in the growth of your business. This software is easy to use and will keep you informed of the things to do.