The term, Financial Consolidation, implies collecting all financial data from multiple businesses or entities within a particular organization and combining it into one for reporting purposes. Financial Consolidation is carried out in a particular process. The first step is to collect data, like assets, equity, revenue, accounts, etc., and mapping them into charts. After that, accounting rules are applied to the data, like U.S. GAAP or International Financial Reporting Standard (IFRS). The last step is to represent the resulting data to multiple stakeholders. Several financial consolidation software is available in the market. The following are the top ten among them.
1. Budget Maestro:

Budget Maestro is one of the most popular budget planning and financial consolidation software tools. This application is based on the cloud. It is trusted and used by more than 10,000 customers. This software allows users to automate various business activities, like planning, forecasting, reporting, analyzing, etc. It is best suited for small as well as medium-sized companies and businesses. The features encompassed in this software are commendable. It mainly focuses on budgeting, what-if scenarios, forecasting, defining drivers, spread methods, mass assumptions, customizable dashboards, etc. It allows users to seamlessly integrate with General Ledger.
2. Prophix: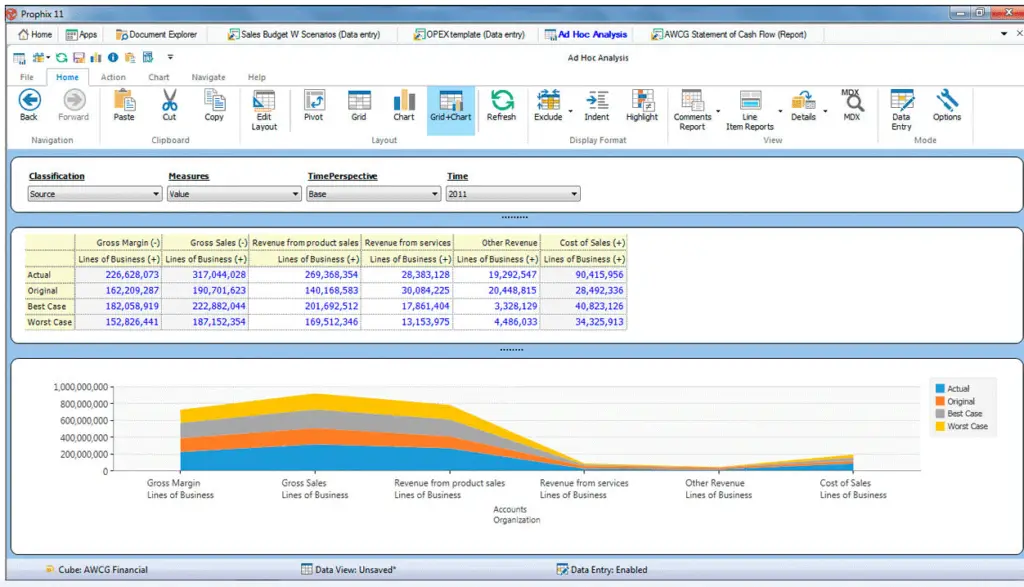 Prophix is yet another one of the most trusted financial consolidation applications. It allows users to transform their ways of budget and report planning. The key features incorporated in this application include budgeting and planning, reporting and analytics, consolidation and close, workflow and automation, and virtual financial analyst. The Prophix application automates collection and accuracy and enhances the process of financial consolidation. The feature of budgeting and planning enables users to improve budgeting accuracy, reduce risk, and automate leverage to increase productivity. Users are provided a provision of creating dashboards, and it has an easy to use interface. The virtual financial analyst feature automates repetitive tasks and reduces workload.
3. Rephop:

Rephop is easy to use, and powerful financial consolidation application used widely by many businesses and enterprises. The features of the Rephop application assists users in managing finance more efficiently and effectively. This application includes features, like planning and forecasting, multiple planning models, data import, intergroup transactions, historic eliminations, currency translation, financial consolidation, and close process, standalone and group reporting, AD HOC consolidation reports, and many other features. It enables users to design customized layouts for reporting. It comes with four packages, Startup, Basic, Complete, and Full. The Startup is available at $425 per month, the Basic at $850 per month, the Complete at $1500 per month, and the Full at $2200 per month.
4. deFacto Planning: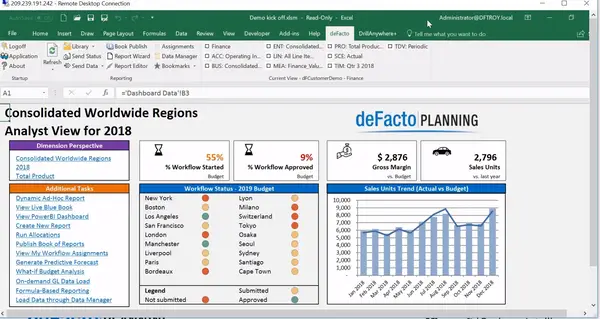 deFacto Planning is one of the top financial consolidation software tools used across the globe. This application offers multiple financial features, like budgeting, planning, forecasting, reporting, consolidation, analysis, and predictive analysis. This application is cloud-based and is also compatible with the hybrid environment. deFacto Planning software is developed on Microsoft technology and uses various other applications, like Excel, Office 365, and SQL Server. It is specially developed for medium-sized and large-sized businesses and enterprises. It supports Web Browser and Microsoft Windows 10 operating systems. Users can predict the future perspective based on finance, tax, sales, supply chain, operations, and many other components.
5. OneStream XF:

OneStream XF is another financial consolidation and corporate performance management (CPM) software tool. It is best suited for medium-sized and large-sized enterprises. This application is used and trusted by many companies across the globe. The features of this application include financial consolidation, what-if scenarios, complete audit controls, business insights, cash management, guided workflows, financial analysis, financial reporting, multi-currency support, business planning, data quality monitoring, resource management, budgeting, forecasting, planning, profit/loss statements, GAAP reporting, many others. This application delivers 100% transparency into data, metadata, and process changes. You can have a live demo of the OneStream XF software.
6. Workday Adaptive Planning:

Workday Adaptive Planning is a web-based software tool used for budgeting, forecasting, and consolidation purposes. This software is developed for almost all sizes and categories of businesses and enterprises. Users get multiple perks and advantages of using Workday Adaptive Planning software. This software supports multiple models, like budgeting expenses, forecasting revenue, workplace planning, capital planning, SaaS account modeling, sales planning, and academic calendar planning. Additionally, it has a customizable dashboard, drill-in functionality, report sharing capability, supports multiple built-in visualization formats, predictive analysis, a snapshot of external data, multi-data source reporting, data warehouse, etc.
7. Host Analytics:

Host Analytics is another powerful financial consolidation software tool. It is now referred to as the Planful. It is the cloud-based application used for performance management, planning, budgeting, forecasting, consolidation, etc. The features of this application include structured planning, dynamic planning, consolidation, reporting, etc. Many organizations use the Host Analytics application due to its commendable benefits. It enhances productivity, speed, and accuracy in the financial management process. Additionally, it also eliminates manual processes, builds rolling forecasts, drives strategic planning, conducts AD HOC analysis, improves collaboration and workflow, etc. It is specially developed for medium-sized businesses and companies.
8. LucaNet:

The most flexible and comfortable application for financial consolidation is LucaNet. This software incorporates multiple advanced features and functions in it. It offers a reliable representation of step consolidation, automated procedures across all consolidation steps, system-supported quality assurance, support continuous workflow, matrix consolidation, presentation of changes in the consolidation, foreign and group currencies, multi-currency conversion and translation, easy maintenance of structures, charts, accounts, etc. This application is an All-in-One software for financial management purposes. It also offers automation, data transfer, traceability, security, self-service solution, user-friendliness, and easy to use.
9. FinAlyzer:

FinAlyzer is a cost-effective and easy to use financial consolidation, analysis, and reporting application. The feature of financial consolidation includes a grouping of accounts, currency translation, period difference, intercompany eliminations, journalism casting, automated minority interest, and goodwill. In the management reporting feature, it includes reporting of P&L, balance sheets, cash flows, segment-wise profitability, automatic cost allocation, etc. In alerts and goals, it offers KPIs and management dashboards, trends variance analysis, drill-down analysis, etc. It is best suited for medium-scale and large-scale businesses. In short, it is a financial management information system.
10. SoftLedger:

SoftLedger is the most-used financial consolidation and accounting software tool. This application allows users to connect with the bank and get all information on cash flows, accounts payable and receivable, financial analyzing, and inventory management. The other features include expense management, expense tracking, multi-currency, bank reconciliation, fund accounting, cash management, receipt management, financial accounting, fixed asset management, collection management, etc. This software comes with two packages, Base and Growth. The Base package is available at Rs. 3,240 per month and the Growth package at Rs. 21,240 per month. As it is a cloud-based application, it is easy to use anywhere. It is ideal for SMEs, agencies, and start-ups.