The Collage making software allows you to group the number of photos in one frame. These types of applications help to add photos, fonts, and videos to your pictures and videos. These tools provide so many templates, backgrounds, and many more features. For making the best collage, you have to choose the right software to make your work more beautiful. Top 10 Collage making applications:
1. Fotor
The collage-making tool offers all the features that you need for your work. It supports photo editing, photo effects, portrait retouching, graphic design, and HDR. It allows you to edit the pictures, to create designs, and to make a collage. It is compatible with Windows and Mac OS. It also works as a mobile application. It gives tutorials and guides to beginners. It provides hundreds of fonts, filters, stickers, design tools, exposure, brightness, contrast, vibrance, saturation, zooming, cropping, undo/redo, rotate, and many more. It helps you to share your images on social media sites. You can manage nine images in one frame.
2. PicCollage
The photo editing software helps to add photos, fonts, and videos to your original pictures and videos. It allows you to use its so many features includes 10,000 stickers, 500 templates, 1000 backgrounds, 50 fonts, draw/doodle on collages, watermarks, and more. You can share your edited images on social media sites like Facebook. It helps you to create digital greeting cards and add a watermark in its free version. While accessing the application, you can also import your photos from your Facebook account.
3. Photoscape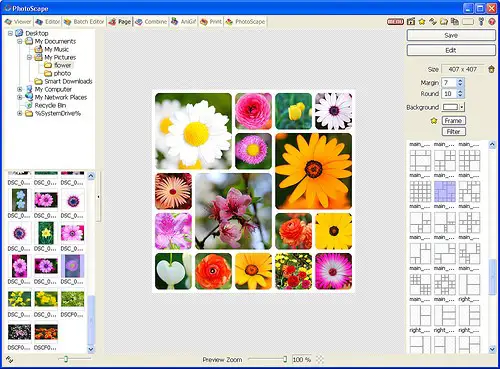 The collage-making application helps to merge the photos to form bigger images. You can add balloons, bubbles, frames, brightness, contrast, and make an animated gif slideshow. It's amazing. The software includes a photo splitter, RAW converter and color picker, face search, batch editor, viewer, screen capture, rename, and so on. It is available for Windows, Mac, Linux operating systems. If you are using Windows 10 or Mac, you can download PhotoScape X. Its website is available in English, Portuguese, Espagnol, Turkce, Japanese, Chinese, and Korean.
4. Collagerator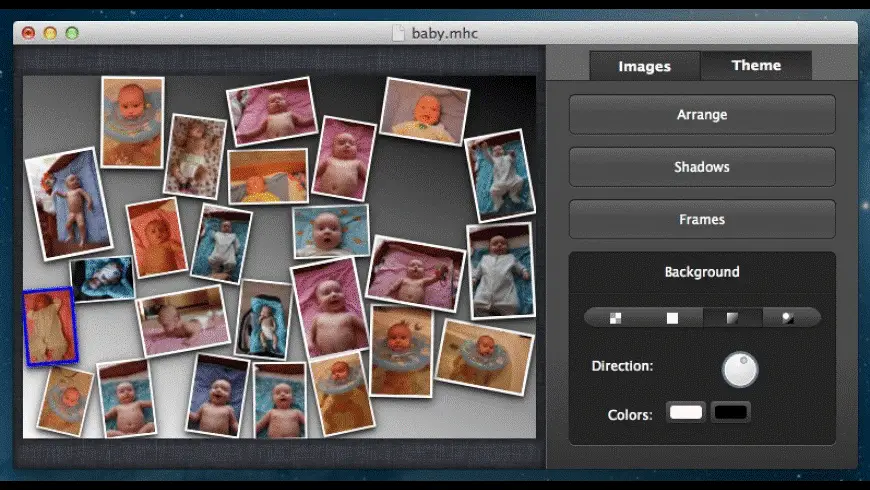 The tool has mainly made for making beautiful collages and photo mosaics. You can save them in multiple formats. It offers features include shadow effects, templates, frames, background, and easy interface, enlarge/reduce images, and many more. You can use its printing options such as post size, greeting cards. It also has a drag-and-drop option. You can even upload your collages on your Facebook profile.
5. Shape Collage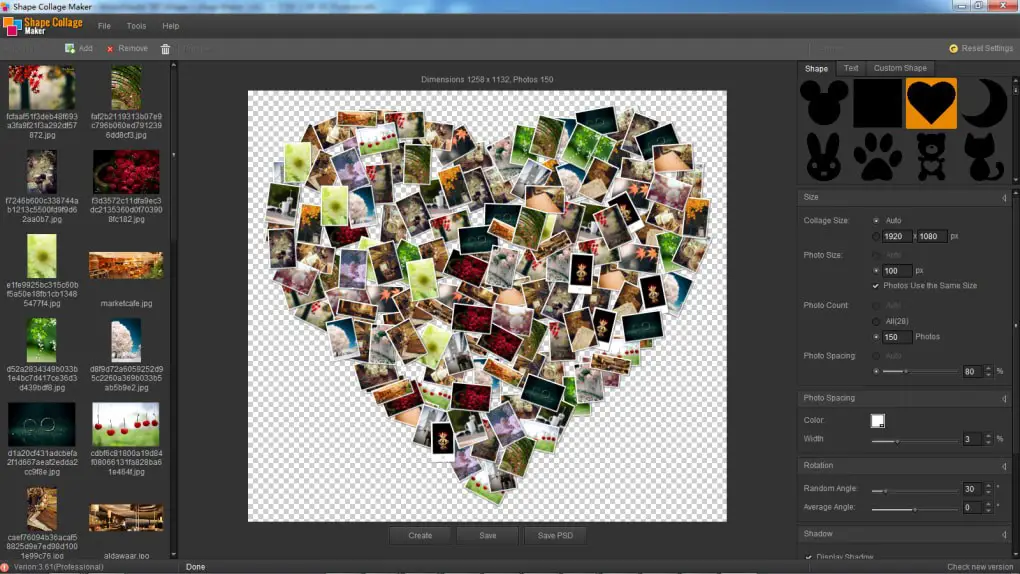 The collage-making software comes in the market. Just Go and Download it. It helps to make cards, posters, wallpapers, and billboards. The tool is available for the users who are operating Windows or Mac, or Linux operating systems. It allows you to edit your collages and make them in any shape. It offers drag-and-drop importing. While using this application, you can work on JPG, PNG, and PSD files. It doesn't have a trial version, ads, and spyware. It supports multiple languages includes Dansk, Deutsch, English, Spanish, French, Italian, Magyar, and many more.
6. CollageIt
The collage maker tool provides fifteen templates to the users. It offers built-in features includes resize images, crop images, increase/decrease width margins, shadow effects, photo grid, Collage Templates, photo frames, random layout, free and pro versions. It helps to add a watermark on your collage and even share your designs with social media applications. It allows you to create photo albums, posters, and scrapbooks. It is compatible with Windows and Mac OS. Its PRO account costs $29.90. You can download your edited photos in JPEG, PNG, PDF, PSD, and so on. You can even share your collages through emails and upload them on Flickr and Facebook.
7. Picture Collage Maker

The software has used for making digital scrapbooks, posters, calendars, greeting cards, photo collages, event invitations, family albums, comics, layout, disc cover, frames, etc. It allows you to use its 150 different templates. It provides features includes clipart, mask, frames, move, rotate, crop, drag-and-drop option, resize, wizard tutorial, font types, backgrounds, shadow, adjusting the angle, color fill, and more. It supports JPEG, BMP, TIFF, GIF, and PNG file formats. It gives a trial version for a month. You can even share your designs through emails.
8. Posterist
The collage maker has specially made for Mac users. It helps to create collages, posters, greeting cards, invitations, calendars, frames, scrapbooks, and so on. You can make your designs in minutes. It is for both non-designers as well as for experts. It offers over 140 designed templates, over 30 free elegant templates, 100+ premium templates, and six styles modern, classic, art, holiday, 3D, and creative. It supports flip, mirror, rotate, crop, replace, edit text and adjust the font, style, color, and more than 20 filters. You can save your designs in PDF, JPG, PNG, TIFF, and BMP file formats and even share with your friends through emails, messages, Airdrop, Twitter, Facebook, and Flickr. It offers a trial version for 30 days.
9. MemoryMixer 4
The collage-making software helps to make collages, backgrounds, frames, borders, slideshows, movies, scrapbooks, and more. It gives online tutorials. It offers features includes crop, resize, rotate, reposition, info button, backgrounds, PDF output, paper fill, photo templates, canvas sizes, designer content, photo shapes, color matching, drop shadows, photo editing, and darken.
10. PhotoMix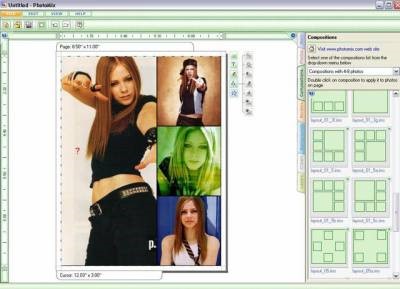 The collage-making tool has made along with blank canvas in 2005. It has developed by fCoder Group, Inc. It helps to save your files in JPEG, PNG, and PDF formats. You can share your designs with your family through emails and social media sites. It offers an easy interface. It allows you to create digital scrapbooks, collages, and calendars. It is available for the Windows Operating system. It supports graphics, borders, text, Retouching & Optimization, UNDO feature. It also offers a free version.