Photo Collage software allows you to make a collage of your pictures. It allows you to post multiple photos at a time on social media. Create stunning collages using stickers and text using photo collage software. You can put many pictures of a person together or pictures of an event to make your collage.
1. Pic Collage

Pic Collage is a free collage software available in the App Store and Google Play. Choose a card to personalize your collage and customize your collage layout. Freestyle collages are known to establish your creativity. Choose from five hundred templates, thousand backgrounds, and fifty fonts available. You can include many stickers in your collage too. Add text and draw doodles on your collage with the help of this software. Share your collage on various social media platforms like Pinterest, Instagram, and Facebook to let the world know about your creativity.
2. Diptic

Create a live photo collage using Diptic photo collage software as you can add live photos into your collage. Customize your collage using various layouts available and re-use your customized layout again. You can add filters, captions, and color to your borders to make your collage unique. You can combine nearly nine photos in a collage, and this includes combining videos too. Modify the thickness of the border and around the borders to make your collage look nicer. Adjust the brightness, hue, and contrast of your pictures using this application. You can zoom into individual images and mirror them to use in your collage.
3. Moldiv

Moldiv is a collage maker software. Beauty camera is available in this software to include beauty filters and motion graphics to your pictures. Professional editing tools are available in this software to slim your face or enlarge your eyes. Edit your photos and create a fantastic collage at the same time. Stylish frames of more than three hundred designs are available. Various magazine-style layouts are available, and you can adjust the collage aspect ratio. Magazine preset is available for stylishly editing your photo. Save your collage to the maximum resolution to get clarity in pictures.
4. PicPlayPost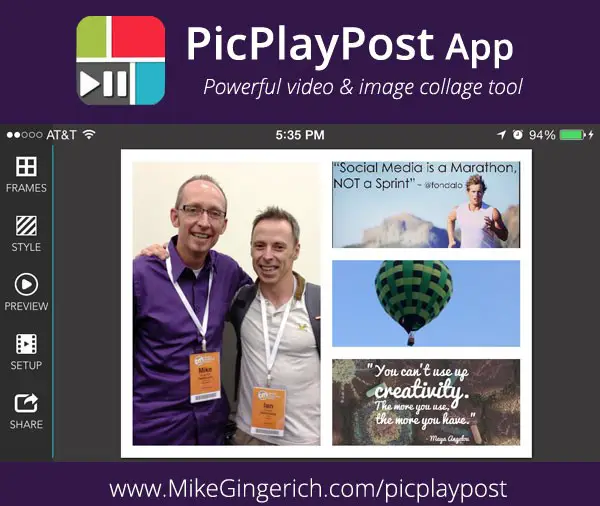 PicPlayPost is a collage maker software that will help you to arrange your pictures in a collage nicely. You can add music or animated text to your collage. Change each component in the template to get your customized collage. Create a slideshow of images with transitions using this software. You can add up to nine photos and videos to make your collages. This software supports all media formats like photos, live photos, GIFs, and videos. Post your collage in social media easily using this application.
5. PicsArt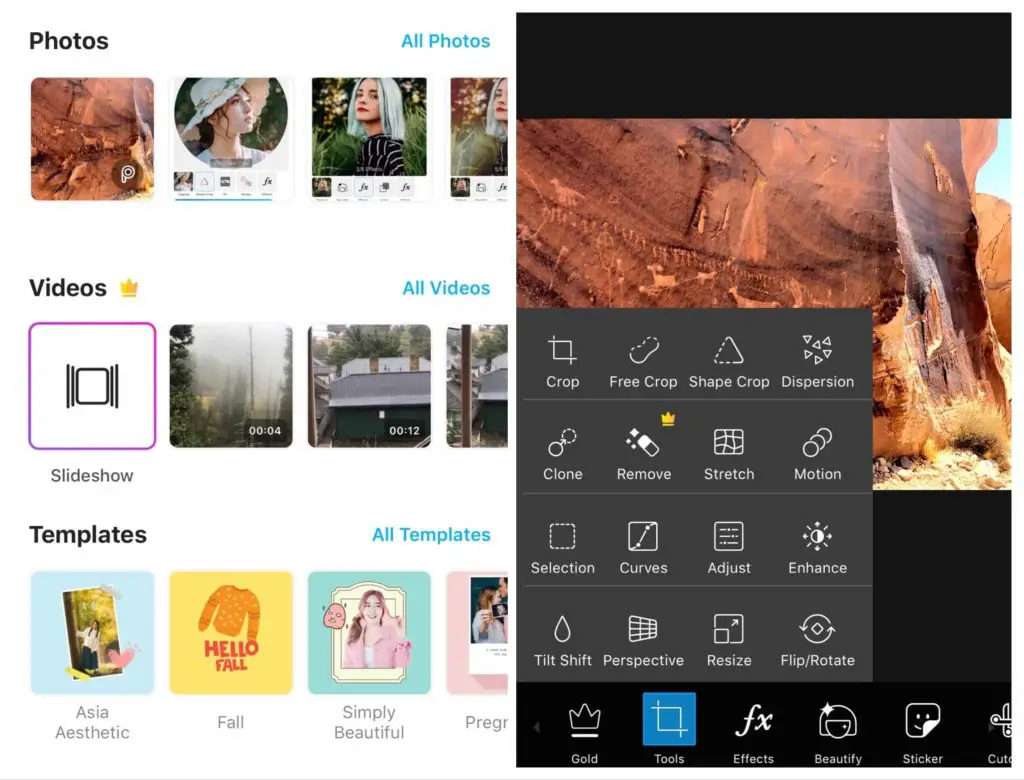 Edit your pictures and make collages on your mobile phone using PicsArt. Add stickers to your collage using sticker maker and doodle on photos to create unique collages. Use the photo grid available or freestyle collage to make customized collages. You can even create memes using meme generator in this application. Use story templates to make stories with your collages to post on Instagram. Make your clipart or create live stickers to add to your collage. Various photo editing options are available in this application, such as turning pictures to cartoons.
6. PiZap

PiZap is a collage maker software that is available in Windows and MAC operating systems. This software is ideal for social media platforms like Facebook, as you can post your collages easily onto it. Pick a design and make changes to your collage; Upload pictures from your computer or social media platforms like Instagram and Flickr. Add fun stickers and filters to your collage. Set background color and adjust spacing for your collage using this application. You can add a drop shadow option to your pictures and add filters to them too.
7. Pic Stitch

Pic Stitch is a collage maker software with over 300 layouts to choose from to make your collage. Various photo aspect ratios are available in this software for sharing your photo. Customize photo borders in the easy-to-use interface of this software. High-resolution export options are available to save your collage to photo album. Add text overlays to your collage by selecting color and font style for your text. You can even add background and shadow effects to your collage.
8. PhotoGrid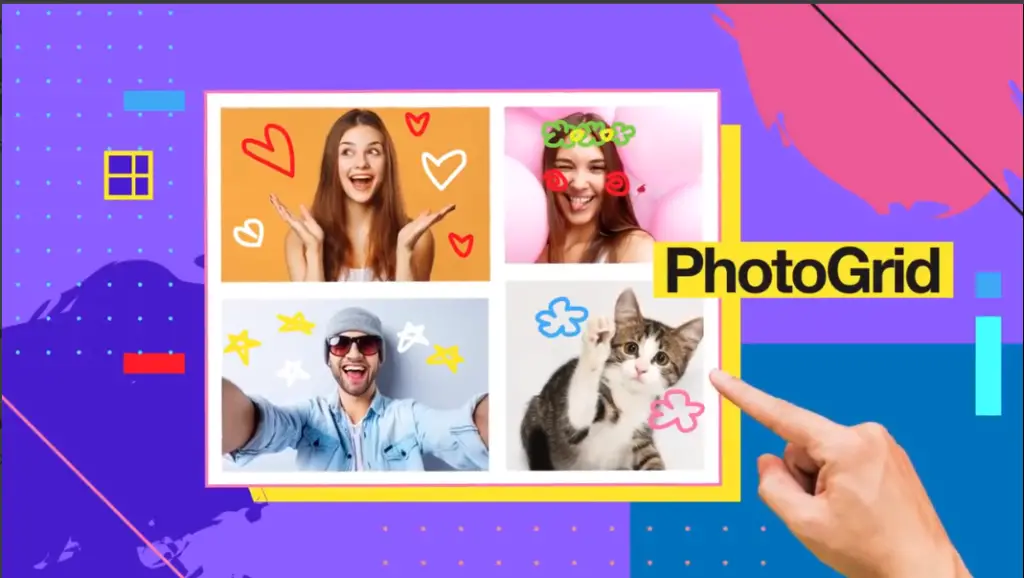 PhotoGrid is a collage making the application available for free in the App Store and Google Play. A real-time selfie camera is available in this software to include animated filter effects to photos. Crop your pictures if you require and resize them to fit into your collages. Face recognition technology allows you to remove blemishes and even out skin tone in your selfies. Customize your watermark to add to your collage to make it unique. A gallery wall is available n this software for you to discover new ideas to create collages.
9. LiveCollage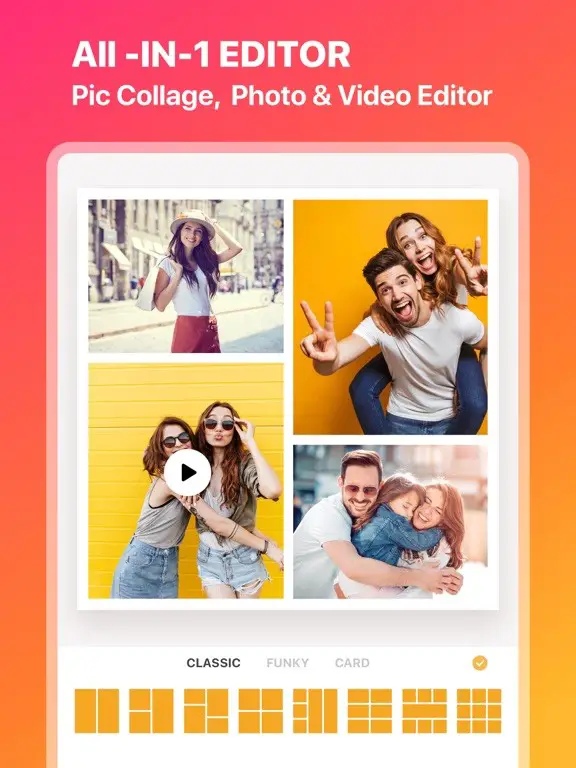 Livecollage is a collage maker with thousands of layouts. You can create freestyle collages or use the templates available. Erase backgrounds and add filters to your images using this software. Make changes to the facial feature of a person like there chin and nose. Use the icons available to make changes to your collage. Create custom canvas sizes that you can always use. Templates of specific formats for social media platforms like Instagram and Facebook are available. There are even 3D style templates available in this software.
10. Adobe Spark

Create free photo collage using Adobe Spark. Add images, graphics, and text to your collage. Choose from the layout options available or make your customizable layout from scratch; Upload photos from your photo album or social media platform into this software. Crop your images and rearrange them to make your collage. Use colors in some photo frames. Use icons and stickers to make your collage fascinating. Save your collage in the project folder in this software such that you can pause the editing and continue again. Download your collage when it is all ready and print it to include invitations or post it on social media platforms