The use of technology has exceeded appallingly over time. A machine is capable of doing different tasks. Looking at the brighter side, there are technologies which can help you to stay fit.
Fitness trackers, one may also call it an activity tracker. It is a wearable device or band that is designed for tracking and examining various fitness-related metrics. These wearable devices or machines are synced to a computer or smartphone. It helps in monitoring and analyzing physical activities and has the following functions:
Encourage physical activities;
Measure heart rate;
Provide insights into sleep patterns; and
Encourage healthy eating and lifestyle.
Top 5 Fitness trackers/bands
Moov now
It talks to you through your workout with real-time audio training for cardio boxing, running, cycling, bodyweight and advanced swimming tracking available. It examines your tendencies, tracks your progress and helps you to achieve your fitness goals.
Design: It is a flat and rounded device that can be placed on a black silicone bracelet. It is waterproof and dustproof.
Pros:
Automatic activity tracking: Moov now automatically tracks your activity and the intensity of your workout. It also helps in tracking your sleep at night and calories burned throughout the day.
Comfortable to wear: The silicon strap is soft and has a low weight. The holes in the device enable you to adjust it on your wrist and ankle.
Long battery life: There is no need to recharge your device every day due to its efficiency. The battery of the band can last up to six months until you change it.
Cons:
Diversity in taste: Not everyone tends to like the design of the band due to varying tastes.
No display: The device must be operated through your smartphone. Then you will have to continually look at your smartphone for the updates.
Samsung Gear Fit 2 Pro
The band/device has built-in GPS. It is durable and swim-ready, the Gear Fit 2 Pro syncs with fitness apps and also plays your music.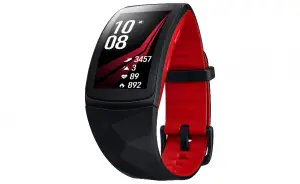 Design: There is a small change in design. The strap has a faceted pattern, and the display is protected by Corning Gorilla Glass 3. Gear fit 2 pro is light weighted and very comfortable to wear.
Pros:
Automatic activity detection: Gear fit tracks various activities like squats, crunches, swimming, walking, running, etc.
Sleep monitoring: It calculates the quality of your sleep established on the movements and BPM.
Heart rate tracking: Gear Fit provides you a precise measurement of your pulse rate.
5ATM waterproof and ability to track swimming.
Cons:
Battery inefficiency: The device comes with a 200 mAh battery, which can be used for 2 to 3 days without charging. However, you receive approximately 8-9 hours of usage time with GPS and Heart rate sensor turned on.
Difficult for IOS users: The configuration process is a little complex for IOS users than for Android users.
TomTom Spark 3
It is a watch presenting GPS, multiple sports modes, activity tracking and heart rate sensor. Also, it has route exploration for the first time.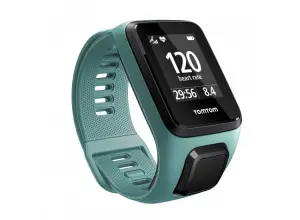 Design: The band was changed. The inner strap is softer than before, and there are more textures on the device to help remove sweat. The watch is lightweight and very comfortable to wear.
Pros:
Built-in heart rate monitor: The person is no more obliged to wear an uncomfortable chest strap and can measure calories burned precisely.
GPS: It allows the users to measure the exact distance covered as well as use the Route Exploration feature to explore new paths.
Water resistance: The multisport mode lets the user swim up to 40 meters (130 feet) underwater.
Cons:
Headphone sound quality: The quality of the headphone sound is indifferent.
Connectivity: The device may cause trouble while syncing to your smartphone and sending data to the smartphone app.
Huawei Band 2 Pro
Huawei Pro enables the user to tracks and monitors their daily activities. The band has unconventional GPS positioning without using the smartphone.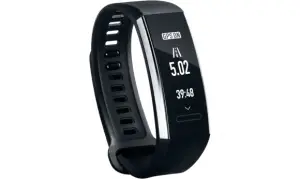 Design: The straps of the device is made up of stainless steel and is changeable. The band comes with an AMOLED display which can display the smartphone's notification.
Pros:
Battery life: The Band 2 Pro can easily last well through a week's time with tracking sleep and day-to-day activities.
GPS module: It also includes GPS with a finite touch interface for simple navigation on-the-go.
It provides a detailed analysis and evaluation of data.
Cons:
Low brightness: Notification cannot be seen on screen due to the inefficiency of brightness.
GPS location: The GPS location is not accurate. One may get confused while finding ways/routes.
Garmin Vivo smart 3
Garmin is lean and comfortable to wear. It monitors wellness of the user with all-day stress tracking and relaxation-based breathing timer.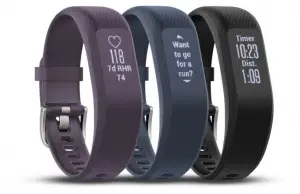 Design: Garmin is tough, although comfortable. It is waterproof and subtle looking-wise. The weight of the device is 21kg which does not even let you notice that you are wearing something.
Pros:
Rep counting: It gives you sufficient of base tracking metrics like steps, sleep, calories burned and distance covered. The accuracy of tracking is satisfactory.
Controls music: The device controls music with just a simple screen tap.
Cons:
No GPS: The device cannot connect to GPS which is a negative point as other competitors offer GPS.
Plain design: The design of the watch is simple and subtle which can prove to be less captivated.