Android is an Operating System owned by Google. Today most of all mobile phones have android as its O.S. Android has released its several updates from its very first version to its latest Android 9.0 Pie. Android provides a customizable and friendly user interface. Still, there are some features that you may not know. We have collected ten hidden tips and tricks you probably don't know.
1 Split Screen
You can run two apps at the same time in android. Double tap the overview button and you can run the two recent apps you have been using. There is one more way of doing that. Tap the overview button and choose frequently used apps. Hold the title bar of the apps and drag it to the left or right of the display.
2. Changing volume settings independently

Yours have a different volume setting for notifications, ringtones, calls, alarms, and media. You need to change separately for each of these actions. Just press the physical volume button present on your phone and adjust the volume of the currently running app. If no app is running, then your ringtone volume will be changed. Doing so will open a pop-up box showing volume setting. Adjust accordingly.
3. Screen Recording
You can record whatever your mobile phone displays. There are many apps available in the Google play store. You can install them and can start recording the activities on your phone.
4. Blocking background data
Apps running on the background consumes data which can be an issue. Android provides you a way to deal with it. Go to settings and select data usage. Then you can adjust the data accordingly.
5. Changing the display font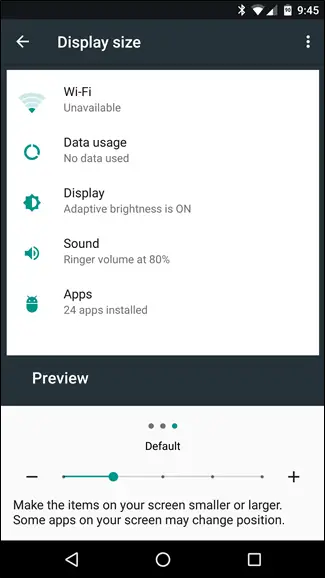 You can adjust the font size by zooming in or out. However, some of the apps will not support this action. Android lets you change the display size of your smartphone,
Go to settings
Select display
Click display size
Change accordingly
6. Casting Android screen
You can display your mobile phone's screen on to a bigger screen like a PC or a TV. Go to settings and select display option. After that click on the cast. Choose the device. In this way, you can cast your mobile phone's screen on to a PC or any bigger screen.
7. Screen pinning
It has always been a tough situation when you lend your phone to your relative and also want your secret remains undisclosed. Screen pinning may help you in this situation.
Go to the security menu
Click Screen pinning
Turn it on
8. Recovering lost notifications
Tap anywhere on your home screen. Choose Widgets. Now select settings and drag it to the home screen. A list will appear in front of you. Choose the notification log and tap the icon to open notification's history.
9. One-handed mode
There is a one-handed keyboard system available on your android phones. Open the keyboard and hold the backslash key. Drag it to the right-hand icon. Now you will enable single hand mode.
10. Choose default apps
Android lets you choose default apps for messaging, browsing, viewing photos and so on. Whenever you try to open something, your phone automatically asks for an app. Here you can choose a default app that will automatically open that file.