Last Thursday, Google introduces a new and interesting app called Datally, which allows the user to monitor and save their mobile data consumption. The app is available on Google Play Store for Android devices running Android 5 Lollipop or higher. It will take 16MB of space on your device after installation.
Datally will let you view your data usage on an hourly, daily, weekly, or even monthly basis and you will also receive recommendations on how you can save more. Turning the Data Saver feature on will help you save data since it is blocking the background data usage and will track down your consumption in real-time. Datally will notify you when a public Wi-Fi available in your current area. During its trial, a user has saved 30% of data when using the app.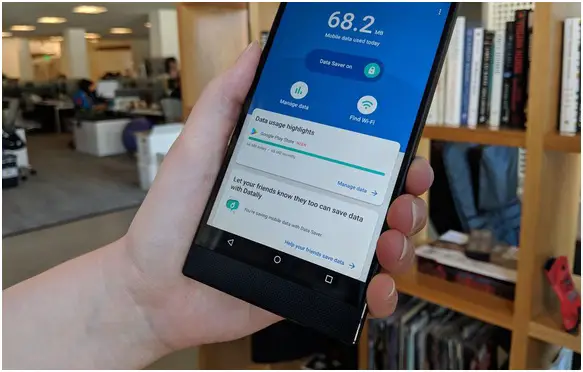 The features of Datally are most common. Its capabilities are also available in Android settings, but putting everything in one place makes it a lot easier to find and use them. Also, some Android phones with built-in data management feature sometimes hide this feature under many layers on the Settings page, which some users are unable to find easily.
Datally is an updated version of the Triangle app, which uses a similar feature. It helps in identifying and blocking apps that are using more data. There are three components on the Datally homepage and this includes Data Meter, Data Saver, and the Manage Data section. The Data Meter is where you can view your daily data consumption, while the Data Saver allows access to the data saving tool. If you want to see the breakdown of all the data you spent daily, weekly, and monthly. It also lets the user allow or block any app they choose from consuming mobile data. However, if you want to unblock the app, you may need to switch the Data Saver mode off or you will need to return to the app management page and allow that certain app to use mobile data, which is pretty annoying.
Another highlight of Datally is its bubbles feature. This tool is hidden but it provides real-time data consumption in a single session and it then shows further details on the home screen through a bubble-shaped pop-up.
If you are about to reach your monthly data cap and you wish to switch to Wi-Fi network, Datally can help you find public Wi-Fi hotspots available in your present vicinity. The downside is, the app cannot rate if the Wi-Fi network is safe or unsafe to use.
It is just a data management app that still needs to be monitored by the users. It is specifically helpful to users who are experiencing slower mobile networks or have a monthly limited data cap.