Keyboard is a very standard input method for most Android devices. Even after the advent of speech based gestures and word-to- word dictation most people prefer using keyboard for their daily use. As many other functionalities in Android, there are a lot of different keyboard apps available on the Play Store. A good keyboard can drastically improve your overall Android experience.
Keyboards apps come loaded with a lot of great and not-so- great features to improve the way you type. Often new emojis , stickers, predictive text-writing are introduced in them. We have taken a list of top keyboards for you.
1. SwiftKey
SwiftKey is the most popular keyboard on the Play Store. It has a host of features and an unmatched predictive writing. SwiftKey's 'fluency engine' powers the predictive writing. SwiftKey has also comes with auto-correct, gesture typing and cloud syncing to all your devices. SwiftKey keyboard is now free with paid custom themes for it. It also has a very transparent privacy policy regarding all your data. SwiftKey is also great for multi-lingual typing and allows you type in multiple languages without changing the input in settings.
2. Google Keyboard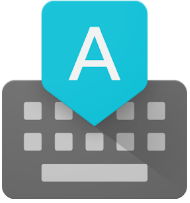 A clean, no-frills simple keyboard for an average user. Google keyboard has a clean layout and offers a bevy of customizations like light/dark themes, borders over keys, key pop etc. The gesture typing has also improved in Google keyboard over the years. However, it is still not up to the mark in auto-correct and word prediction. It has a huge library of built-in emojis.
3. Flesky
Flesky is a highly customizable keyboard which is has a different approach than other keyboards. Its top row is customizable and different types of extensions can be added to it with different functionalities. They keyboard is primarily based on manual tapping. Flesky can be resized according to your needs and has a custom-theme maker which allows you to completely customize your keyboard.
4. Swype
Swype was the first keyboard to introduce the typing by swiping over different letters. Unsurprisingly, it is very well in typing by the swipe method. The 'Swype Key' along with other keys offers a range of different functions. 'Swype key' and A will select all text etc. It also has word-prediction, cloud syncing etc. swipe keyboard is not free it costs 0.99$ on the Play Store.
. . . . . . . . . . . . . . . . . . . . . . . . . . . . . . . . . . . . . . . . . . . . .