Microsoft 2019 was announced last year as a successor to the Office 2016 and it was also said that it would be a non-subscription version. Microsoft has said that they will prospect the Office 2019 with a Perpetual license. And this standalone Office will only run on Windows 10.
Users are allowed to use this version of Office in perpetuity which means it has no expiration date and users can run it for life. It includes the usual Microsoft Word, Excel, the Outlook client apps, PowerPoint, SharePoint and also Skype for Business.
The general manager of Office, Mr. Jared Spataro, said that they would release it in the middle of 2018. He also said that it would receive the mainstream support of 5 years and extended support of 2 years after its purchase.
Microsoft hasn't released any special features yet but the big requirement of Office 2019 is Windows 10. It will not support on any OS other than Windows 10. It also specifies some certain versions which will be able to support it. They simply said that the old software would not be benefited from this innovation.
In a modern sense, they simply put their feet on the accelerators to move on from the decade-old software and to look forward to doing something new with their inventions. Office 2019 will not come with the old MSI installer as there will be a Click-to-Run installer instead.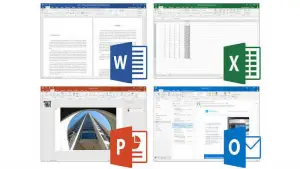 There will be a new inking feature in Office 2019. There will be features like tilt effects, pressure sensitivity, and the replay. Excel will get new formulas and charts. PowerPoint will get features like Zoom and Morph. Office 2019 is moving to the cloud which means you can now upload your files directly into the cloud.
They haven't confirmed the price yet but it is for sure that they will bring it with a very reasonable price and it will be available from the starting of the second half of 2018.