Now a days anyone is hardly using the papers. Most of us are using documents on the system for various purposes of writing, editing, saving text. This has become the most important tool which is available on systems of different Operating systems. This is the minimum needed application we expect from a computer. Though there are many numbers of such applications for managing documents, we highly prefer Microsoft word document, as the name itself suggests it is provided by the Microsoft Company. There is also a course called MS office, by which you can understand its importance. This is the basic computer knowledge provided to anyone. Though we use it daily we are not aware of most of the features provided by it as we only use basic features or operations of it such as changing the font, color, properties of text, inserting images, links, charts, aligning, finding, replacing, etc. Today we will observe some of its hidden features you are not aware of.
Be Distraction Free
As it provides many features it displays them to the user as a toggle, or pop-up. But sometimes users want peace. The regular users don't need those toggle or pop-ups in the middle of the text. Undisturbed peace and the editors that are free from distraction are available in this MS word's visual clutter. But if you want you can hide it and view it again according to your preferences by using the keyboard shortcut which is Ctrl + F1
By clicking on Auto-hide Ribbon by clicking on Ribbon Display Option, you can tweak it.
Though it was included in word of 2010, in 2013 the word has got its Distraction free reading as a more specialized feature. This read mode works very well on the laptops, tablets which are also touch-enabled tablets. Even here is a shortcut which is ALT + W-F where F & W needed to pressed at a time.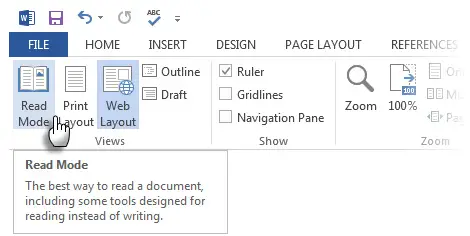 If it is difficult for you to remember these shortcut keys, you can always opt for display buttons which are default. Go for Read Mode in View on the Ribbon menu.
You have Read Mode button to the right on the status bar.
You can make images, tables, charts and other graphics fill the screen by double click on the mouse or tapping two times on your mouse to zoom in.
Reorganize With The Outline View
There will be important lines in your text which needs to be highlighted from others. For productivity of your writings, main ideas need to be outlined well. Nearly by 50%, productivity of the document will be increased if you use the Outline View properly.
On the ribbon, go to View. You can reorder the headings of various levels, and text blocks to tune the complex documents of an organization with the help of Outline. With controls of demoting and promoting of selected text, a special bar is brought by the Outline View. To hide or display the text, use these controls