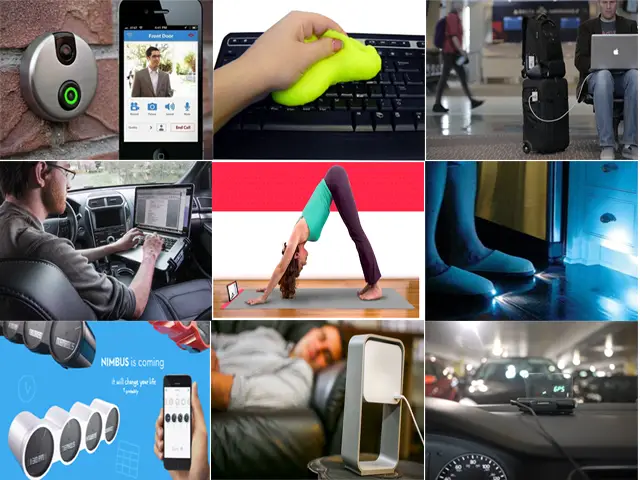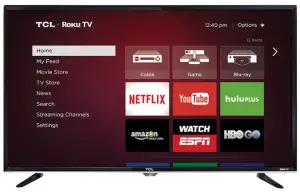 A Smart TV is a perfect hybrid of the Television and the Internet, and an essential one to have. Most people's viewing needs have greatly expanded into the world wide web, and almost everyone needs their regular dosage of YouTube or Netflix. Smart TVs encompass all of this plus help you browse the net easily on a bigger screen, making it easier to view and read web content.
Top 5 picks:
Sony: Android TV
Panasonic: Firefox OS
Samsung: Smart Hub and Tizen OS
LG: Web OS
TCL, Sharp, Hisense, Haier: Roku TV
Other affordable options include Micromax and Vu.
If all these options are still over your budget or if you are more of a laptop person, Chromecast is a more economical and handy option. It is a USB device that you can simply plug into the HDMI port of your television to connect it to the internet!
2. Portable Charger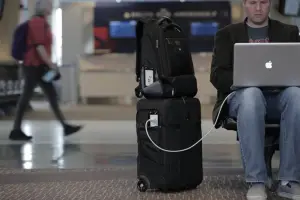 Almost all gadgets require frequent charging to keep running. After all, you do not want your phone to run out of juice in the middle of an important message! There are a plethora of Portable Chargers available online. Make your pick depending on the power it provides and the price and size that is convenient for you.
Top 5 picks:
Anker PowerCore
Aukey Solar Charger
ASUS ZenPower
AmazonBasics Portable Power Bank
Anker PowerCore+ Mini
Another great option for students are the Charging Backpacks like the HP Power Backpack, MOS Pack, AMPL Smart Bag, etc., which have a built-in battery to charge your laptops, tablets or phones on the go!
3. Smart Yoga Mat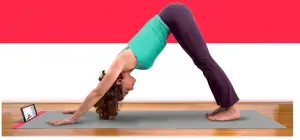 Increasing awareness about the importance of daily exercise has made everyone a little more health-conscious. When it comes to daily exercise, yoga is an option that appeals to people from all ways of life. The Smart Yoga Mat is a great interactive tool to do precisely the same, in a fun and correct manner!
The SmartMat, developed in 2015, can be purchased on their official website and is the best Smart Yoga Mat available. It can be synced with a SmartMat app on your phone or tablet and keeps track of your movements, correcting the wrong ones and suggesting new ones, all of this customized to your own body type. The mat can track your balance and alignment and acts as your personal yoga guru! The app keeps track of your personal profile and accordingly updates information suitable for you.
Although an expensive gadget, the SmartMat priced at $447 (approx Rs. 30355), its pre-order is priced at $297 (approx Rs. 20169). A good way to think of this gadget is an investment towards your health. Besides, in the long run, medicines, or even yoga classes for that matter can cost way more.
4. Laptop Stands:

Today's generation uses the laptop so extensively that it has resulted in some of medical concerns such spinal deformations and recurrent headaches. This is mainly due to the posture we use our gadgets in. It is very important to use our laptops and phones in a correct posture, keeping them at or slightly above eye- level. Old- age desktops reported much lesser cases of such ailments due to their elevated structure. This is why a stand is a very important addition to your shopping cart. There are several stands that can be bought, each of different sizes, materials, weight, and for different purposes. There are even stands for those of you who use the laptop while lying down. Some of them are equipped with led lights and cooling fans. So choose yours wisely.
5. Windshield Display GPS: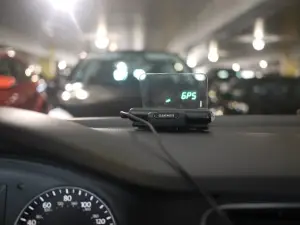 HUD( Heads-Up Display) is the perfect technology for every car owner. This GPS gadget helps the user navigate easily without having to look into a tiny phone display or turning on the annoying voice guide in the app. The HUD also displays any notifications when synced with your phone and displays your car stats on your windshield so you can drive with your eye on the road!
One of the leading companies 'Garmin' has introduced HUDs at affordable prices however much cheaper alternatives are available in the market.
6. Nimbus Smart Dashboard:

A simple yet highly efficient addition to your bedside table, this Wi-Fi enabled a dashboard is a state-of-the-art gadget. With 4 dials, this acts as your personal assistant in many cool ways. You can customize the dials to display any stats that are important to you, such as notifications from your phone, a clock and timer, traffic updates, weather reports, etc. and even your Fitbit stats!
7. S+ Sleep Tracker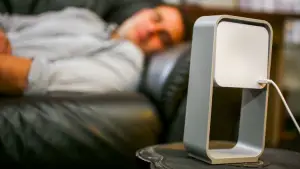 Speaking of trendy bedside-table gadgets, here's another really sleek looking one. The S+ Sleep Tracker, by ResMed, is the world's very first non- contact sleep tracker. A good sleep cycle is quintessential to a healthy lifestyle, and this gadget will help you do just so. This sleep sensor assists you in understanding your sleep patterns by monitoring your sleep and then generates personal feedback and suggestions for improvement.
8. Doorbell Camera App: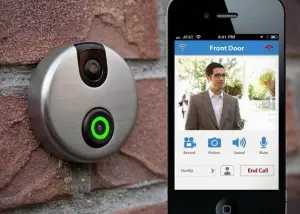 As the name suggests, this doorbell camera app is synced with your doorbell and displays a notification with the footage from the door. This app is especially useful if you have a huge house with many doors where it may be difficult to hear the doorbell from far away. Using this system, you can choose to either let the person in or dismiss the visitor. Some doorbells also have the option to take pictures or record videos and save them. Along with being a great surveillance app, this app is also great to avoid your creepy neighbor without having to get up!
9. Light- Up Slippers: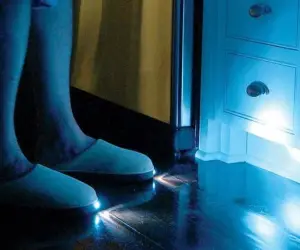 Everyone has felt thirsty in the middle on the night. It can be very frustrating to stumble around in the dark and even more frustrating to turn on the lights. This is why these light-up slippers make a surprisingly needful buy. These slippers are comfy, light and highly handy in-house wear. With no need to manually turn the lights on, the footwear is equipped with a weight sensor and illuminates as soon as you wear them!
10. Electronics Cleaning Putty: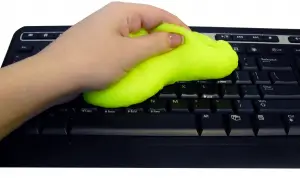 This slimy substance is anything but dirty. This putty is a flexible substance that can take the shape of the electronic it is cleaning to get into the crevices for better dirt removal. We understand how important it is for all you gadget freaks to keep your possessions as new and updated as possible, so we highly recommend this as our last (but not the least) product that is a must buy!