Samsung has released the new W2017 flip phone. A premium flip styled phone that runs on Android! These luxury items don't usually have a lot going on inside, but this phone has some pretty beefy cameras. So does it justify its price of over $2000?! Let's take a look.
The phone is made out of a solid metallic frame, possibly magnesium. But it still manages to sport wireless charging as the back isn't made of metal. It's 15 mm thick and weighs 208 grams. A physical overview is similar to a regular flip phone, but interestingly, there's a fingerprint sensor on the rear! That's a first for a flip phone, right?
I mean, this flip phone even has the Galaxy S8 and the Note 8 beat in terms of the fingering scanner placement. It is much more ergonomic and is a lot similar to the new Galaxy A8+ of 2018.
The phone has a 4.2 inch 1080p AMOLED display packed with 545 pixels per inch. That's pretty dense, even for a regular smartphone, let alone a flip phone. You will definitely get some crispy content from this mini display. Oh, and there's also that always-on secondary display too!
The rear camera is Sammy's own gorgeous 12-megapixel sensor with f/1.7 aperture. The front camera is a 5-megapixel sensor. Something tells me, it's the same one from the S8. If that's the case, this will be an amazing camera phone, no doubt about that.

The W2017 runs on Android marshmallow. It's interesting how you can make use of the number pad along with it. You can work on the touchscreen of course. Also, you can use it as a classic flip phone! This is something which some of the legacy phone purists will surely appreciate.
The specs on this phone are plain overkill for its seemingly compact and innocent looks! A beefy quad-core Snapdragon 820 chip, clocked at 2.15 GHz, along with 4 gigs of RAM, make this the most powerful flip phone ever made!! The storage is 64 GB and can be expanded up to another 256 GB! So it's like a beastly new engine inside an old classic exterior.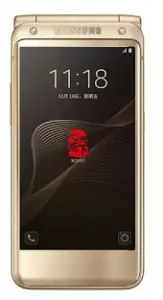 The battery included on this phone is a 2300 mAh unit. The relatively small battery pack might prove to be sufficient for that tiny AMOLED display. It also takes 2 Nano sim cards and has great LTE capabilities with support to, pretty much all major frequency bands.
All these things considered, is this phone worth the price? Well, yes and no! If you belong to the majority of regular smartphone power users, you will obviously find a lot more for your money elsewhere. With the mid-range market getting crowded and needless to say, immensely competitive, luxury commodity devices such as this one have a hard time getting any significant attention from the average consumer in the market. But that's the thing, isn't it! This phone is not meant to be under the average consumer's radar.
So, if you belong to that class of premium gadget mongers, and are looking for a seamless combination of classic style and modern hardware, you'll probably feel right at home with the Samsung W2017.