These days, people become inclined on using portable gadgets such as Smartphone, tablets and mobile phones. And everyone is fond of gaming, taking pictures and videos, listening to music and use of social media sites which makes the battery life of their devices to run very low. Battery life has become a major issue for most Smartphone, tablets and mobile phone users. So manufacturers presented a portable battery power supply to extend and make the life of their devices usable for a day or two, depending on its usage. The following are the five external battery packs that are recommended for the above mentioned activities:
1. Anker Astro 3E External Battery (Black)– Consist of 10000 mAh of capacity and charge your iPhone device  up to 5 times or equivalent to 40-hours of talk time, your Samsung Galaxy S3 can charge up to 3 times and your iPad once. It has special circuits that are specifically built for Apple and Android devices and allow the user to charge their phones at the same time with full speed. You can purchase it on Amazon for $39.99 sale price.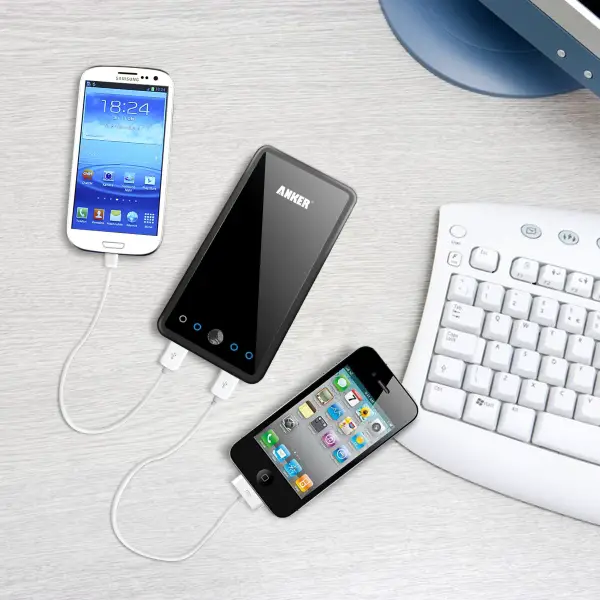 2. Lumsing 1100mAh 5X Portable Charger – It has a 11000 mAh of capacity and high quality Li-ion battery cells, which is more constant than the Li-polymer battery. It supplies the iPhone 4 battery life of up to 600-700 percent, Google Nexus 7 200-250 percent, iPad Mini and Kindle Fire HD  200 percent and Galaxy S3 400-500 percent. It has 5 USB Output designed for charging your devices. It is capable of charging your 2 tablets and 5 Smart Phones all at the same time. It also consists of 4 Integrated LED Power status indicator to inform you how much power is left. You can purchase it on Amazon for $34.99 sale price.
3. New Trent PowerPak Xtreme 12000mAh NT120R – It has a 12000 mAh of capacity and packed with dual USB ports to keep your devices running 24/7. The first USB port is for tablet and the other one is for mobile phone. One of the best feature of this is that. It is drop resistant and water proof which is best for extreme situations and locations. This is best for travelers and adventurers. You can purchase this for $59.95.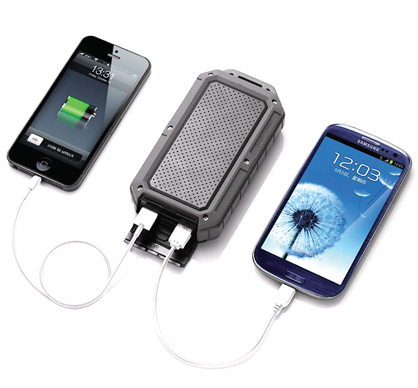 4. Anker Astro Pro 14400mAh Multi-Voltage External Battery – This is presently available at sale price of  $59.99 and users can get 14400 mAh of capacity. With its capacity level, it can charge your netbook or equivalent of seven charges using your Smartphone. It supports Android and Samsung Galaxy Tab devices. It has two USB ports and can charge your Apple devices, Samsung or Android devices. An output plug port is also present which can be switched and set to charge your netbooks. It utilizes Lithium Polymer battery and this is a huge sized battery pack so it is best for travelers.
5. Anker Astro E4 – It features 13000 mAh of battery capacity and brings 6 times charges to many Samrtphones and 80% to iPad 3 and iPad 4. It also has a built-in flashlight in case you are in a dark location. You can avail the sale price at $43.99. It is available in colors white and black and it can both extend your battery life multiple times. It can charge a Smartphone three to six times depending on the battery size. It comes with two parallel high-speed USB ports and connective adapters to make sure that it will be compatible with most devices.
Aside from the five battery extenders mentioned above, there are many PowerBanks available in other brands. Since the regular batteries from our portable devices meant to last for a day or two, depending on the usage, this battery life extenders are becoming popular especially for people whose always on-the-go and the backup battery is the best solution for them.
Tips for choosing your own Power Bank:
Power Bank comes in different kind of milliamp hours (mAh). Remember that the higher milliamp hours, the better and the longer talk and standby time it can give. For example, if your device' built-in battery is 10,000 mAh, if you will purchase a Power Bank with the same milliamp hours, the effect is you are doubling your device' battery life. Also, the higher mAh you have, the thicker and heavier it could be. However, it is also costly.
Power Bank also comes in two different types: the case type and the encased battery unit. The case type can be attached to your mobile phone and saves space in your pocket or pouch. This case-specific Power Bank will allow you to charge only on specific devices. This is not recommended if you have other devices that needs recharging. While Encased battery units are more convenient to use since it allows you to charge different devices or charge two devices at the same time.
So to be able to choose the right battery life extenders, you need to check on your usage and how many devices you will use for this purpose. Always check on the compatibility of your devices on the Power Bank that you will purchase.