Help desk software is a computer program that keeps track of user requests and deals with issues that customers face. This software makes customer care services efficient. Help desk software allows all agents to stay on the same page and makes communication easy.
1. HelpSpot

HelpSpot is a help desk software that filters data that enters this software. This software categorizes everything for you. This software supports email exchanges. This software supports unlimited customers and is fully customizable. See trends using this software and compare any data stored in this software. This software has a customer self-service portal. It updates reports easily and tracks business hours accurately.
2. Mojo Helpdesk

Mojo helpdesk helps to track everything and get it in control. This software fixes bugs and fulfills the requests of employees and customers. Request a demo for this software and start using it. This software centralizes requests and cuts down on incoming requests as it has a built-in knowledge base. This software helps to organize everything automatically as it contains automation. This software has a contact ticket portal that allows users to log in and create tickets.
3. C Desk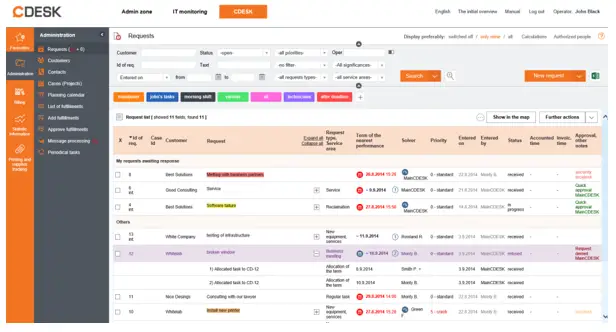 C Desk is a helpdesk solution that manages all service requests of an organization. This multi-location application uses centralized management of services. This software creates service requests department wise. Link service requests to another service request so that multiple people can work together to have transparent links. You will receive notifications when there is an overriding of SLA.
4. HelpDeskZ

HelpDeskZ is free helpdesk software that offers quality support. This software receives customer doubts and answers issues quickly. Decrease the number of support requests by creating your knowledge base to increase your productivity. This software offers you good quality products at the right price. Categorize tickets into a group using this software. You can ensure a consistent response to common questions in this software by creating pre-format replies. Perform bulk actions like assigning and deleting many tickets in a single click.
5. Faveo

Faveo is a helpdesk ticketing system. It cost-effectively performs ticket management. Organizations can set up a knowledge base using this software. Share information with customers using this software. Customize this software to a large extent to fit your business requirements. This software offers unlimited agent usability. Integrate email addresses with the ticket generation system easily. All customers are dedicated to an account manager, which shows this company gives priority support to its customers.
6. Hiver

Hiver allows your Gmail to deliver good customer service. This helpdesk software is simple and delivers service quickly. Start a free trial of this software to learn how it works. It offers you everything you require to solve customer issues. This software streamlines customer communication as it has a feature of shared inboxes. Prioritize customer issues with email tags as the tag will help to filter emails. Get control of how your team can access information in a system. Delegate emails and alert someone if they are trying to reply to the same email you are viewing.
7. Zendesk

Zendesk supports sales and engages the customer as a helpdesk software. View a demo on how to use this software. Many business people use this software to provide support to their customers. This software provides self-service and ticketing services, and it puts email, chat, and voice in a single platform to integrate them. Prioritize tickets and create a personal connection with customers. Provide a personalized solution to complex issues.
8. Vision Helpdesk

Vision Helpdesk software simplifies customer support using customer service software tools, and it contains a satellite help desk and service desk software. This centralized software collects all customer support requests and manages them in one place. Set SLA and workflow rules using this software that automates the flow of your ticketing software. Get alerts in your email account to get notifications on tickets.
9. HESK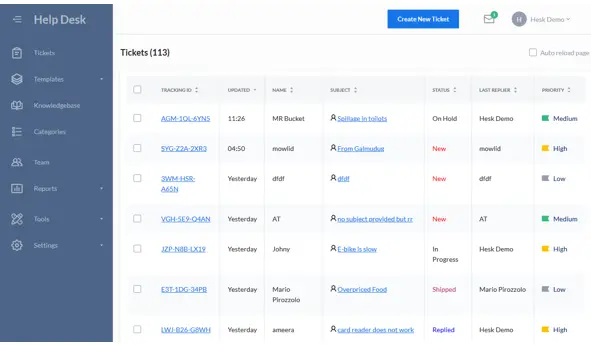 Hesk is a helpdesk software that is simple and user friendly. This software contains an integrated knowledge base. Download this software and start using it. Use this software to track and resolve customer issues. Provide your customers with a faster response by using this software. This software has a cloud help desk available too. Each ticket contains details that allow customers to clarify their doubts. You can attach files and modify the status of tickets using this software.
10. NABD System

NABD System is a help desk that offers customer service solutions. It delivers customer support via multiple channels, and it is a platform that gives customers a positive experience and engages them through mobile. Speed up the resolution process as agents will only get the information they need to solve the problem. Increase your productivity using the unified dashboard in this software. This software is available for Windows, Mac, and Android users. Get live support and training to use this software.