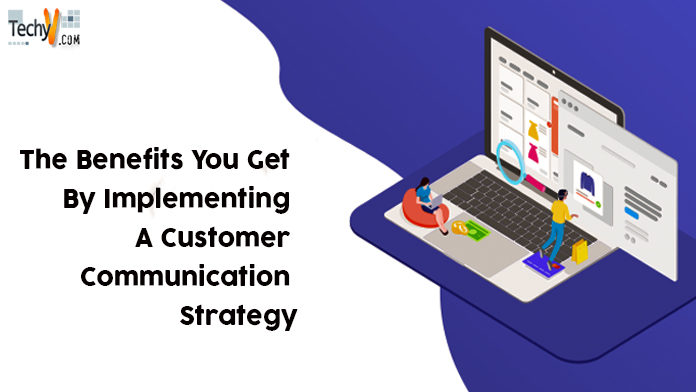 Your company is on the lookout for ways it can incorporate new business tactics.
Many of those tactics apply to aspects such as your sales and marketing strategies. But what about your communications strategy? How are your messages sent out to your customers?
Without a proper plan in place for it, you risk having a negative perception of your brand.
Putting a plan into action will help you see measurable results. Here are several benefits you'll witness from having a customer communication strategy installed in your business. Consider all of these when deciding whether or not to create one.
1. Better Customer Experience
The customer experience is everything to your business. You can list out all the guarantees and marketing campaigns that you'd like, but nothing speaks to your business more than your customer's satisfaction (or lack thereof).
It's not enough these days to simply push your communications through several channels and assume that your clients are seeing it. There needs to be a more tactical approach than that.
In other words, your company needs to be communicating and engaging with clients through their preferred outlets.
For example, you might find that a majority of your clientele are more responsive to your communications through email.
Investing in assets such as CCM software can help your business identify what those channels are and prioritize communicating through them.
2. Becoming a Consultant, Not a Solicitor
This is huge for your business. It takes finding the right balance between building a relationship with your clients in order to sell them.
Customers in this day in age can sniff a solicitor from a mile away. If it feels as if your employees are merely reading their sales pitch from a piece of paper, your customers will notice and, quite frankly, they'll hang up.
It's up to you to integrate a customer communication strategy that separates your sales team from all others in your industry.
While other companies try to pick up the phone and sell right away, your company nurtures the relationship with their clientele. This will result in building customer loyalty, higher sales conversions, and building your brand identity.
3. Encourages Each User for Your Business
The companies that invest in customer communications management software (CCM software, for short) are the ones that see a substantial return on investment for both the software and their employees.
Most businesses slow themselves down by having a business structure that requires users to run to IT for help on their software.
Meanwhile, a CCM software puts the power in the hands of each user. They can create and edit several things to make customer communication more efficient for their day to day needs.
This can be anything from editing a piece of digital collateral to reorganizing their email campaigns.
You'll see a significant return on this style of customer communication in two ways. First, your company will have less of a burden and strain in its IT department. Second, your brand's communication will be faster than any others in your market.
4. Optimizing Social Media Campaigns
There are several social media outlets that your company can benefit from building a brand presence.
Platforms such as Facebook, LinkedIn, Twitter, Instagram, etc. all have a place in your business's communication tactics with both customers and prospects.
However, each of them is different. Twitter is designed for you to send out quick tidbits of information and communicate with your clientele in fewer words.
Facebook, on the other hand, isn't shy about giving your company several assets, such as messaging clientele and having access to client info virtually for free.
Because all of these platforms are different, your customer communication strategy has to identify the best way to use each of them.
Whether you only have 1 to 2 social media accounts or use all of the previously mentioned platforms, your strategies will dictate whether or not your efforts are successful.
5. It Encourages Collaboration Within Your Company
What's the one thing that can bring your departments together faster than anything else? A strategy for communication.
Each employee of yours is fixated on the client to some capacity. Meaning they have valuable input on how to build your communication strategy moving forward.
Companies that go through their day to day operations without a customer communication plan are wasting valuable in-house talent.
However, with a customer communication strategy in place, all of your company's content will be produced in collaboration. That's not to say that each bit of content has to be approved by all departments before going out, rather the opposite.
If your sales team feels that a few tweaks to collateral would be beneficial on their end, they have the power to do so. All they need to do is get approval from yourself before doing so.
More importantly, a structured customer communication strategy gives you control. It allows you to oversee the brand overall, without having to do everything by hand.
No matter what alterations are done in collaboration with other departments, you still have the final say on whether or not the content is approved.
Build Your Customer Communication Strategy Today!
Now that you've seen several benefits that you'll receive with a proper customer communication strategy, it's time to integrate one for your business.
Remember, it's important to have your entire in-house team on the same page. This new strategy is a way to encourage collaboration for the sake of the customer.
Be sure to browse our site for other articles relating to client communication, as well as other helpful business topics.