The WiFi hotspot, nowadays, has become a common technology used for the internet connection. The WiFI hotspot allows users to connect to the WiFi network through computers, mobile phones, etc. This software tool is being used widely in businesses and many other organizations. The Wifi Hotspot software allows users to connect to the WiFI through special wireless devices like modems, routers, etc. Through these modems and routers, users can access the internet connection on mobile phones, laptops, or computers. There are three different types of WiFi Hotspots. They are Private WiFi Hotspot, Mobile WiFi Hotspot, and Pre-paid Hotspot. The price, speed, range of all these types of WiFi hotspots may vary. Let us see the top ten WiFi Hotspots tools with their features.
Connectify Hotspot

Connectify Hotspot is one of the most-used WiFi hotspot software tools. Features of this software are more powerful and user-friendly. This tool has a fully-featured virtual router; users can easily create a WiFi hotspot and connect any device to that WiFi, share any type of internet connection, bypass device restrictions, secure sharing, monitor network usage by device, supports multi-language, emojis, and Unicode. Through this software, the hotspot is automatically secured with WPA2-PSK encryption. Connectify Hotspot tool is available in ten distinct languages. Additionally, it gives a good signal range and efficiency to its users.
mHotSpot

mHotspot software tool is a more popular WiFi Hotspot software tool. This software tool is compatible to work with Microsoft Windows operating systems. Through this software, users can share the internet connection with other devices like computers, laptops, android phones, iPhones, etc. Features incorporated in this tool are it allows users to connect up to ten devices at the same time, set hotspot name with a password, less storage required, share LAN, Ethernet, 3G/4G, types of internet connection, allows seeing the details of connected devices, extends WiFi range, customize the number of devices to stay connected, etc. This software is overall smooth, efficient, and reliable.
My WiFi Router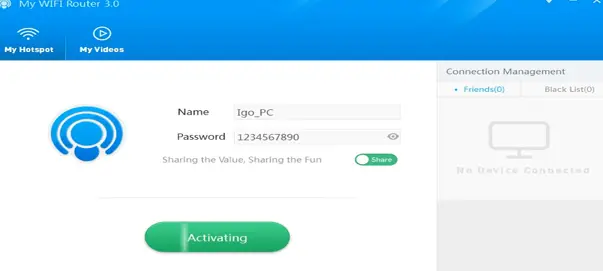 My WiFi Router is another powerful and effective WiFi Hotspot software tool. This software tool offers easy to use and a user-friendly interface to its users. There are features incorporated in this application. This software provides a better provision that lets users control who can connect to the network. Additionally, the user can add his or her name and a password to the network; users can block any unwanted device, sharing files & videos have become easier due to My WiFi router with good and reliable internet speed, etc. Due to its stable network, heavy videos get transferred to others within minutes.
MyPublicWiFi


MyPublicWiFi software tool is easy to use and simple for creating a WiFi network. This network enables users to record and track all visited URL pages on the Wifi Hotspot. Additionally, this tool also provides users with the name, IP address, device name, and MAC address of connected devices. This software tool has a very simple interface and has a strong and reliable range. There is a feature called Bandwidth Manager. This feature controls the download and upload rate of hotspot clients. This tool is available in twelve distinct languages. MyPublicWiFi is best suited to create WIFi Hotspot temporarily in hotel rooms, meeting rooms, etc.
MaryFi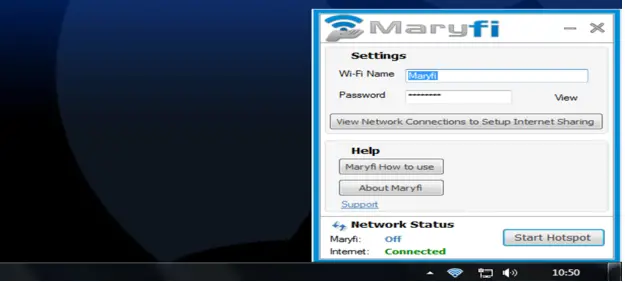 MaryFi software tool is another top WiFi Hotspot software tool that offers easy to use and a user-friendly interface. But, this tool is compatible to work with only Windows 7 operating systems. Using this software, the internet connection can be shared through devices, like modem, cellular, card, routers with other devices, like computers, laptops, mobile phones, etc. There are no clutters in this software and has a simple interface. It also provides access to shared files across multiple devices. This software takes Wi-Fi from one single device and shares it with other multiple devices.
HostedNetwrokStarter

HostedNetworkStarter is yet another top WiFi Hotspot software tool. This tool allows users to easily create an internet connection using wireless devices, like modem or router, and shares it with many other multiple devices. This software is highly portable. It can be stored in various storage devices. HostedNetworkStarter WiFi Hotspot software tool is efficient and easy to use. This tool gives detailed information about errors. All the devices connected to the Wi-Fi are presented in the form of a list. Users can provide the desired name to the Wi-Fi and a password.
OSToto Hotspot

OSToto Hotspot software is easy to use and a user-friendly software tool. The best of this software is that it does not require any router. It can create an internet connection with a PC or a laptop. Previously, this software was known as 160WiFi. Additionally, the installation time for this software is not more as compared to the others. This software takes only a small part of your screen, letting you do other chores on the PC or laptop. This tool allows users to maintain a list of blocked devices. Apart from this, this tool is simple and effective.
Baidu WiFi Hotspot

Another freely downloadable WiFi Hotspot software is Baidu WiFi Hotspot. This software allows users to create an interwork network from computers itself. Like OSToto Hotspot software, this software also takes very little time to install. Baidu WiFi Hotspot software is available in six distinct languages, including Portuguese and Spanish. This software also enables users to send and receive files from mobile devices at a faster speed. Additionally, it has an easy and efficient interface and offers good and reliable WiFi signals. Even if the multiple devices are connected, the speed of the WiFi signal won't degrade.
Virtual Router

Virtual Router is one of the top WiFi Hotspot software tools. It is available freely and is compatible to work with Microsoft Windows 8 and Windows 7 operating systems. Through this software, users can share the internet connection using a modem, router, LAN with wireless devices like PCs, laptops, mobile devices, Netbooks, wireless printers, etc. Additionally, this router can be used anywhere, like home, office, school, bus station, airport, etc. The best feature of this software is it does not consume more memory. Virtual Router has simple, easy to use, efficient interface. Like all other applications, it also uses WPA2 encryption.
Antamedia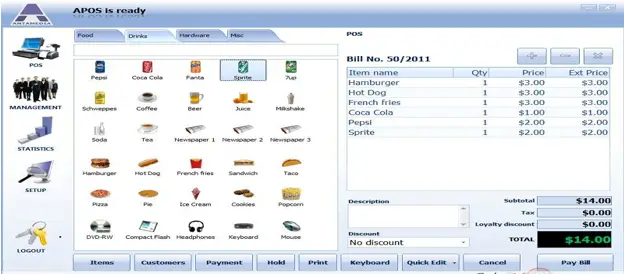 Antamedia is a company that first developed the Wi-FI for PCs in the year 2006. The WiFi Hotspot software provided by this company is Hotspot V5. There are a wide variety of features incorporated in this software. This software can be installed on PC, has easy installation, one-time payment, live support for installation, configurable free access, social login, collects user data, sets up marketing campaigns, etc. Also, it connects access points and routers, customizes splash pages, limits user internet access, engages users with video ads, etc. Additionally, it provides a free trial period of fifteen days.