The Bible Study Software helps to study the Bible. These types of applications have advanced features. Let's see at the Top 10 Best Bible Study Software:
1. Accordance: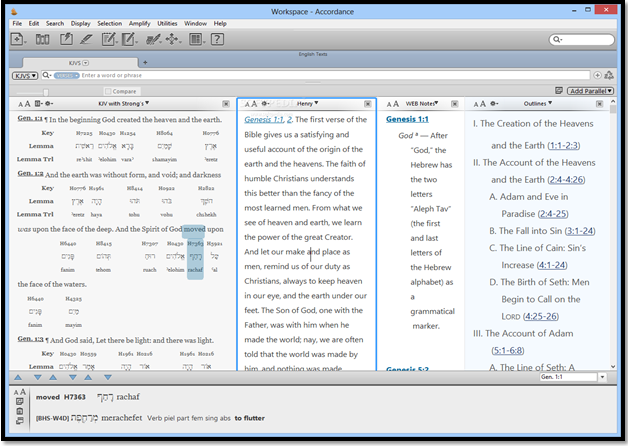 The software has designed for both students and experts. The software is compatible with Windows, Mac, iOS. You can access this application through your mobile phones (Android phones and iPhones). It supports original language tools, interactive 3D maps, a dynamic interlinear, and drag-and-drop graphical searching. It offers an internal word processor, visuals, graphs and charts, Stacks, and keyboard shortcuts. The product's cost starts at $60.
2. Olive Tree:

Olive Tree, a free Bible software is available for Windows OS, Mac OS, Android, and iOS. There are three parts of Olive Tree: "Study Center," "Bible Study," "Toolbar." The "Study Center" contains notes, a resource guide, lookup, and parallel. The parallel sub-option supports the opening of two book windows at the same time. The "Bible Study" includes menu, library, devotionals, store, quick settings, search, and bookmark. The Resource Guide offers maps, charts, images, videos, tags, topics, commentaries, my notes, sermons, outlines, and many more.
3. E-Sword: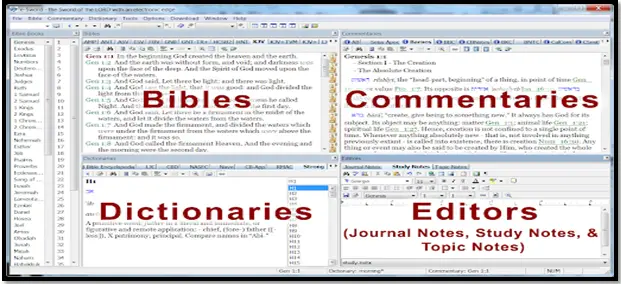 The free Bible software offers versions, dictionaries and commentaries, tutorials, manuals, and training demos. The software has a collection of premium books. Its new Pocket PC version is known as Pocket e-sword. It has a user-friendly interface. E-Sword is compatible with Apple Mac, iOS. It offers the parallel Bible, the integrated editor, the WYSIWYG PRINTING, Strong's tooltips, scripture tooltips, powerful searches, graphics, reference library, audio sermons, and user guide.
4. Wordsearch Bible:

The software has developed by LifeWay. It has a user-friendly interface. The app contains three options. The "Home tab," "Study tab," and "Library." The "Home tab" includes news and deals from the company. The "Library" has a collection of installed books. You can open your books in the "Study tab." Its latest version is Wordsearch 12. It helps to create sermons and personal study. Wordsearch 12 includes a NoteStack, a word processor.
5. QuickVerse:

The exhaustive Bible software offers 21 Bible translations, 42 commentaries, study notes, dictionaries, handbooks, concordances, Greek resources, theology sources, specialty references, church history, maps, pictures, and devotionals. You can learn how to learn pronunciation for more than 6,000 difficult Bible words. It includes three packages (Basic, Silver, and Gold).
6. SwordSearcher: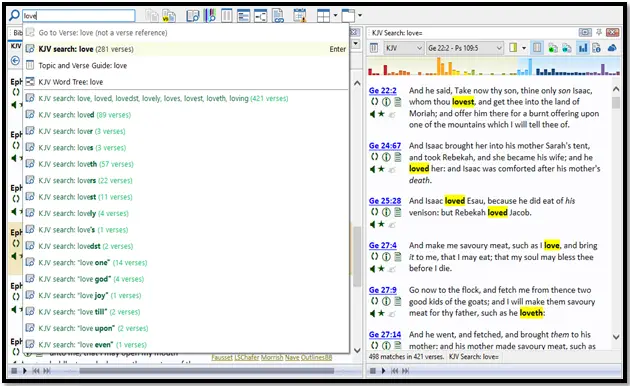 The Bible study application offers verse guide and technological tools. The software is available for Windows Operating System. It includes a library that provides books, dictionaries, and commentaries. It gives a Word Cloud Generator, a Word Tree Explorer, and cross-references, Commentary Panel, and Book Panel. It has a Bible Reading Schedule System. It also allows you to use its tools include Daily proverb, Morning and Evening devotions, printing, bookmarks, user-controlled fonts, and colors. It gives you a free month trial.
7. The BibleAnalyzer: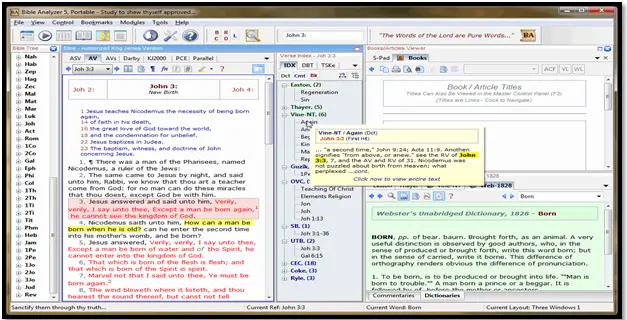 A cross-platform application has developed for us to read and study the holy book Bible. The software provides a Verse Index Panel, a Cross-Reference Panel, built-in Synchronized Bible Reading, Text Editor, a Unique Interactive Hit Chart, and many more. It supports an easy search for words and phrases. It offers 100 free modules and titles. It allows you to use its tools include book viewer, multi-window, scripture ad, Bible statistics, word lists, image viewer, dual bible view, Parallel Viewer, text generator, audio player, and many more.
8. PC Study Bible Version: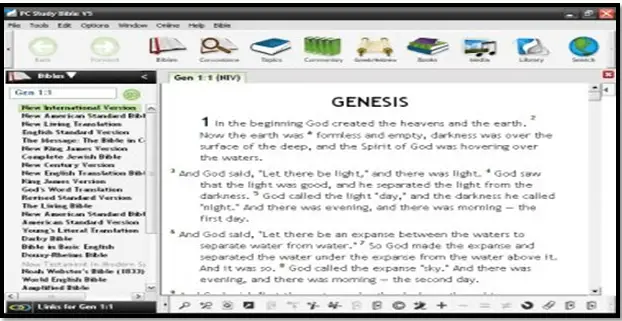 The PC Study Bible is affordable software. It comes with five library choices costs start from $37.9 to $449.95. The product has made for moderate devotees, stuffed with Bible-based editorials and reference works. The tool of the PC Study Bible is "Biblesoft Authoring System," which helps you to make your own Bible investigation materials that can organize into the product.
9. The Word:

The Word software is freely available for Windows, Mac, and iOS. The application offers verse lists, clipboard monitor, book search view, Greek and Hebrew support, cross-reference support, Unicode support, different translations including Arabic, Thai, Chinese, Spanish, Portuguese, and more. You can use its tables, pictures, footnotes, and hyper-linking system.
10. iLumina Gold: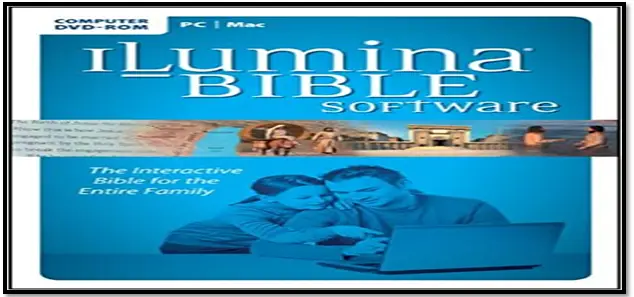 The Bible software has developed by Tyndale House Publishers. The application runs on Windows and Mac OS. You will love to have the multimedia experience in Bible study. It provides features includes Bible lessons, quizzes, the Book of Life encyclopedia, virtual tours of the Holy Land, the Tabernacle, the Nativity Scene, etc.