Best Free 5 Digital Image Viewers
What are Digital Image Viewers and why do we need them?
As the name suggests, digital image viewers are image viewing applications which comes with various capabilities depending on the manufacturer.
There are situations when you need to view, resize, recolor, edit or rename and when tired, delete images. This is when Digital Image Viewers come in handy.
What Are The Best Free Digital Image Viewers?
Digital image viewers come with different functions and have different capabilities. And 5 particularly stand out from the rest.
PhotoScape 3.5
At the top of the pack—a well-deserved position. This free image viewer is the choice of editors and users. Supporting 34 languages including English, French, Spanish German, Chinese, Japanese, Portuguese, name it all –this is the product to beat.
Photoscape is function packed. It views, batch edits, raw converts, screen captures, renames, corrects backlight and picks colors while allowing you to add balloons, frames, texts and filters. Brightness and color adjustments, white-balance adjustment, picture drawing, and spluttering all comes as standard. An additional feature includes creating fumetti, photo collages and Web comics.
IrfanView 4.27

Second in the list is IrfanView 4.27. It allows a wide range of functions ranging from  file search, color depth, toolbar skins adjustment to slideshow painting, batch conversion/editing , cut/crop, fast directory browsing, IPTC edit and multipage editing. Others include lossless JPG operations, capturing, EXE/SCR creation and a lot more. Of great interest is the application's plug in support for a variety of image, sound and video formats including audio CD, MP3, WMA and AVI. With IrfanView 4.27, you can draw an arrow, rotate, erase, pick colors and obtain screenshots. Above all, the program is 100% free.
FastStone Image Viewer 4.2 For Windows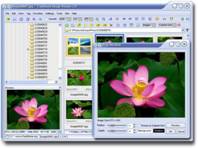 This great free image viewer with multiple functionalities supports all major formats such as JPEG, BMP, GIF, PCX, JPEG 2000, TGA, TIFF, PNG, ICO and  WMF.
The main feature of this product is it's easy to use tools with a touch of class. Capabilities of this marvelous tool include cropping, resizing, color adjustment, single and batch cropping, brightness and contrast adjustment and a host of others.
Lastly, effects and filters come in as extras enabling you to include lenses, morphs, multiple folder shows, red eye removal and waves.
Photo Pos Pro 1.82
Fourth on the list is an ideal tool for professional photo editing, Photo Pos Pro 1.82 presents an extremely powerful engine coated in a sleek user-friendly GUI. Equipped with hundreds of templates, this application makes the job of photo editing a delight by allowing you to switch between different styles and textures while adding various shapes, frames and patterns.

Roxio PhotoShow 6.0

This is story-telling FastStone Image Viewer quickly collects pictures which you can convert into screensavers, printable calendars and wallpapers. It is ideal for creating multimedia-rich project.
With Roxio PhotoShow, you can do whatever you like with your pictures like publish, embed in social networking sites, add photos, videos, captions, borders, stickers, music and add speech bubbles in the image. This product has one downside—its trial period is only for 30 days!
You can also use Picasa for viewing digital images. Here's how you can download and install it in your PC. Please watch the video below: