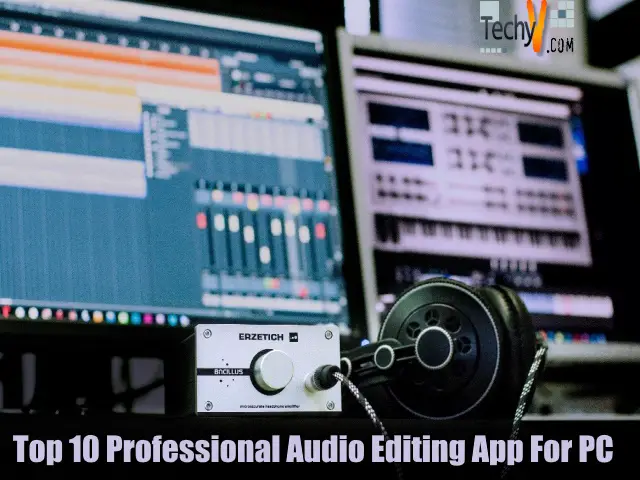 Audio editing software is used for either mixing audio, adding effects to the existing audio file, trim, crop, etc. Professional movie makers, music creators, video editors, etc. use audio editing software to give their video an immersive feel. If you are a YouTuber or freelancer who creates music, you use editing software. Music studios are the prime users of audio editing software because they need to edit the music in such a way that it sounds heart touching. There are lots of professional audio editing software available that you can use. But some software requires a high skill level, or has a steep learning curve or are expensive. It all depends on the purpose and your budget.
Here is the list of 10 best professional audio editing software that can be used by anyone if they have the required skills and money to afford them.
1. Audacity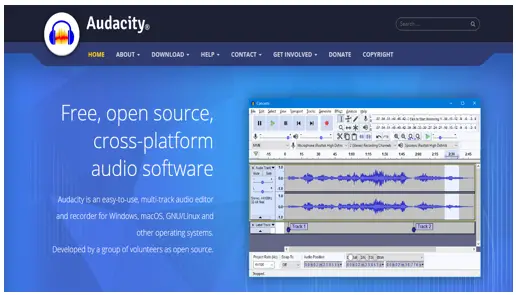 If you are looking for open-source and free software for audio editing, then audacity is the best software for the purpose. An audacity is an open-source software which is free to use. You can download it from the official website. Audacity is available for Mac, PC, and Linux. It is a powerful open-source software that can fulfill the majority of your requirements easily. Multiple tracks can be edited at the same time, and with an enormous library of plug-ins, you can create great music. There is a third-party plug-in called Gsnap; with this plug-in, you can add autotune to your audio file. You can record your voice or songs directly into the editor; you can import and export your audio in various file formats. Add effects, analyze, edit, your audio file effortlessly.
2. Adobe Audition

Adobe audition is one of the most popular audio editing software amongst editors. It is a powerful editing software with a wide range of plug-ins and features. In Adobe Audition, you can create, record, mix and design sound effects which can be used in movies, music, podcast, online streams, or wherever you wish. With audition, you can clean up audio files from noises, and perform the restoration. The editing tools in Adobe audition are precise and accurate and can help you to edit and create wonderful audio files. One of the best features of Adobe audition is the interconnectivity with other Adobe software like Premiere Pro and Adobe After Effects. The UI is very impressive and customizable. Audition has a wide range of which is very useful for professionals, but it can be confusing for beginners. You can get a free trial of Adobe Audition, the subscription costs Rs.1420/month.
3. Sound Forge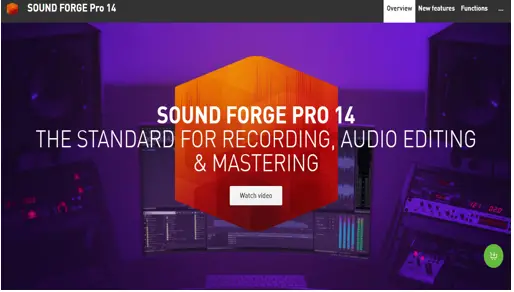 Sound Forge is also a very powerful audio editing software. It is available for Mac and PC. Many think that Sound Forge is not a good editing software but it is a very good editing software with a wide variety of features and plug-ins. Sound Forge is owned and developed by Magix, which is a German company. It was originally developed by Sony. There are different variants of Sound Forge available for different purposes. With Sound Forge, you can accurately edit audio files, add effects, perform cleanup and restoration, record audio in high quality. You can also make digital versions of old vinyl and tapes. Sound Forge has improved a lot and now contains a wide range of great features. The Sound Forge Audio Studio costs Rs.3990, and the Sound Forge Pro costs Rs.18,799.
4. Wavepad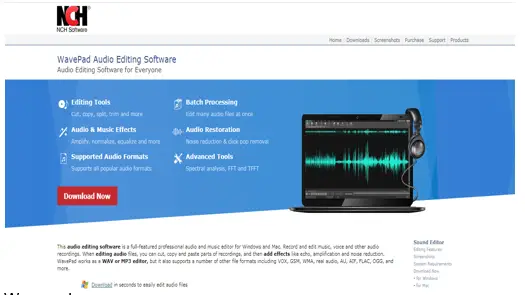 Wavepad is a simple to use audio editing software developed by NCH software. The user interface is easy to use and anybody and learn it with minimum efforts. You can perform all the basic and some pro tasks like cut, copy, paste, trim, add fade-in and fade-out, amplify, normalize, equalize, and many more. It supports all the popular file formats. Wavepad has features like audio restoration, audio and music effects, batch processing, advanced tools like spectral analysis, voice changer, etc. You can get the free version but with limited features. You can buy the license by paying Rs.3500. It is available for Mac, Android, PC, IOS, iPad, and Chromebook.
5. Ocenaudio
Ocenaudio is another free to use open-source software. The user interface is said to be simpler than Audacity and easy to learn. Ocenaudio supports VST plug-in, which provides access to various sound effects and can also support real-time preview to ease up the configuration of the audio file. Ocenaudio is available for Mac, PC, and Linux. It has a colorful UI, which is very interesting to watch. There is a feature called multi-selection; this tool lets you select multiple sections of an audio file simultaneously and perform different tasks like editing, adding effects, etc. You can download the file from the official website without paying for any feature.
6. Acoustica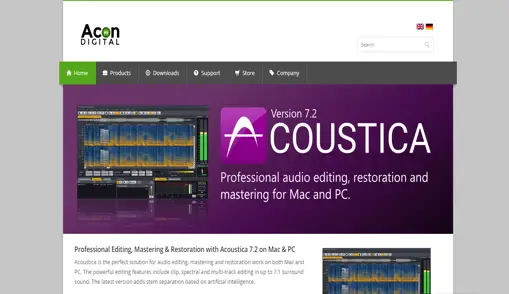 Acoustica is a professional audio editing software developed by Acon Digital. It is available for both macOS and Windows. You can get the free version of older releases; the latest release Acoustica 7.2.8 has a free version available. You can edit audio files, remaster them, restore them, add effects, and many more. Acoustica 7 is available in premium and standard edition. Both editions come with AI tools called Remix Tool. This tool will split a mix into five stems and then remix them in real-time. To remove background noises automatically, Acoustica has a tool known as an Extract dialogue tool, which will automatically remove background noises from the audio file. The premium edition provides features like spectral editing, multi-channel support, plug-ins like equalize 2, reverberate 2, etc. You can download the setup file for both Mac and Windows from the official website. The standard edition costs Rs.4,572, and the premium edition costs Rs.15,261.
7. Logic Pro X

Logic Pro X is an audio editor for macOS. You can create music in Logic Pro X with a great collection of instruments and effects. It provides tools that are best for creating and editing music. With live loops, you can add and arrange music in real-time. You can add DJ like effects and transitions like stutters, echoes, filters, and gating effects to your music wit Remix FX. The logic remote gives control over Remix FX, loops, and many more through your iPad. There are lots of exciting features available to use, such as multi-touch mixing of iPad, pair, and play, sampler, drum synth, drum machine designer, smart tempo, flex time, flex pitch, and many more. You can get the free trial from the website. The full version costs Rs.15,500.
8. Cubase Pro 10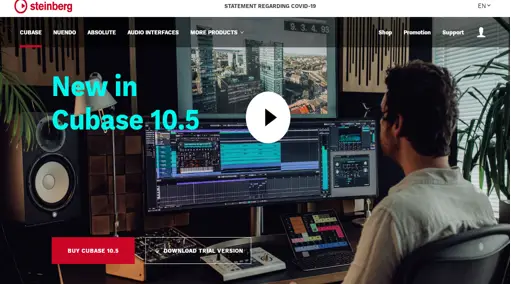 Cubase is another audio editing and music production software developed by Steinberg. This software is very powerful and rich in features. This software is not beginners, it has a very steep learning curve, and it will take a lot of time to learn and master it. Cubase provides features like Audio Warp Quantize, Advanced channel strip, chord pads, comping, mix console, sampler track, groove agent SE, next-gen audio engine, ARA support, and lots more. This software is available for both macOS and Windows. You can perform every kind of task that can be performed in audio making and editing. You can get a free trial from the website. The Cubase Pro costs Rs.50,691.
9. Reaper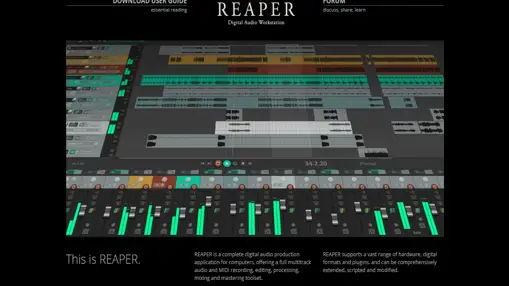 Reaper is another professional music production and editing software. Reaper is capable of full multitrack audio and MIDI recording, editing, processing, mixing, and mastering toolsets. It provides features like 64-bit internal audio processor, import and export to the majority of popular formats, support third-party plug-ins, sound effects, virtual instruments, automation, modulation, grouping, VCA, surround, macros, OSC, scripting, control surface, custom skins and layout and many more exciting features. Reaper is available for macOS and PC. You get 60 days of free trial or evaluation time with full functionality.
10. Studio One

Studio one is developed by PreSonus. Studio one can record, produce, mix, any kind of music. It is a professional audio editing software with studio-quality tools. Studio one provides features like 64-bit floating-point WAV recording, acoustic drum kits, and loops, Advanced audio editing, advanced grouping, analog delay, arranger track, articulation, and key switch editing, audio batch converter, auto filter, automation, aux channel, beat delay, bit crusher, built-in shop, and many more great features. The Studio one 5 Professional costs Rs.27,375, and Studio one artist costs Rs.6,841.