No more waiting for photographs to develop because instant cameras are there to help you with their instant capturing and printing features. These instant cameras meet every need of your little photographers and put a world of possibilities readily available at your fingertips. Instant cameras, unlike in the past, are no longer large and bulky; instead, modern instant cameras have a stylish and lightweight design with beautiful colors that your child will enjoy. if you are looking or searching for the best instant camera for your kids, then you can refer to our list of the top 10 instant cameras for kids.
1. Polaroid Snap
It is one of the excellent creative instant cameras that can capture your every moment. Polaroid Snap camera is capable to capture 10MP photos and prints them automatically after capturing the image. It also supports MicroSD cards up to 32 GB and has a rechargeable lithium-ion battery.
2. Fujifilm Instax Mini 11
It is a stunning instant camera that comes in multiple refreshing pastel colors. With Fujifilm Instax Mini 11, you can click amazing bright photos anywhere as its high-performance flash automatically measures surrounding brightness. You can also able to customize your instant camera with its two shutter button accessories and a strap.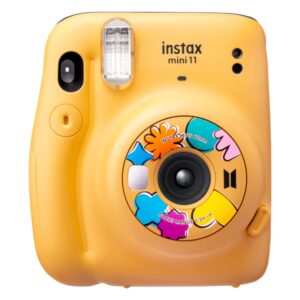 3. Kodak Smile Instant Print Camera
This 10MP camera makes it easy to take, edit, and share photographs anywhere. It includes all the essential features one should need, such as auto flash, two picture modes, fixed focus, LCD viewfinder, & built-in editor. And Kodak Smile Instant Print Camera also comes with rechargeable battery by which you can get up to 40 prints in one charge.
4. Dragon Touch Instant Fun 2 Camera
Dragon touch instant fun 2 camera is very lightweight and accompanies a protective silicone cover that is drop resistant, tough, and durable. This kid's camera is capable to shoot professional HD 1080P videos and 26MP photographs. It features 35 built-in photo frames, seven photo effects, and six color video modes.
5. Canon IVY CLIQ 2 Instant Camera
It is a simple& instant camera to capture your favorite moments with friends & family. Each print by CLIQ 2 is a sticker with an adhesive back. It has a large selfie mirror for clicking the perfect selfie & memory card slot, as well as it also offers filters & built-in frames for your photos.
6. Minibear Instant Camera for Kids
This has dual cameras; the front & rear are both 40 megapixels. This Minibear instant camera comes with 8X digital zoom, 1080P HD video resolution, 20 funny frames, 11 scene filters, and 2/5/10S time-lapse function as well. It is not just an instant camera for kids but in addition a kids' MP3 player as it has a built-in music player.
7. Polaroid Now I-Type Instant Camera
It is one of the excellent instant cameras with great features to picture up your favorite moments. I-Type has autofocused 2 lens system that helps you to click sharper & beautiful photos easily. With this instant camera, you can effortlessly frame your two moments in one with its double exposure feature.
8. Fujifilm Instax Mini 40
Fujifilm Instax Mini 40 comes with a superior stylish design by which you can click high-quality photographs. With its selfie mode, it can capture close up shots very clearly (range- 30 to 50 cms); you just need to pull out the lens & start taking selfies. It is also capable to quickly adjusting your surroundings' brightness to provide you with the best click.
9. Kodak Mini Shot 3 Retro
It is a fantastic instant camera a plus photo printer. Shot 3 Retro utilizes 4Pass technology for printing flawless photographs instantly. Each photograph is printed in layers of ribbon with a laminating process due to which it is fingerprint-proof & water-resistant as well for long-lasting quality. This instant camera can also be connected to any of your mobile devices through Bluetooth to print directly from your photo gallery.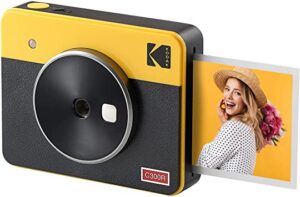 10. Fujifilm Instax Wide 300
It is another stunning instant camera that can shot up to 40 cm from the subject with its close-up lens. Instax Wide 300 has a built-in automatic flash that optimizes the luminescence around your subject. It also comes with a tripod socket that makes its mounting on the tripod simply.