The market has revived that nostalgic feel with the rise of instant cams. These are a specie of film making gadgets, once overlooked by the emerging digital technology. But a group of like-minded individuals brought it back on track and voilà!. Here they are.
It makes you stand out in the crowd, although they aren't as portable as your regular smartphones. These devices have a stylish design with a slight retro touch. The swift picture printing is best suited for capturing the beauty of a moment on the spot.
If you wish to collect such memories, then this list is for you.
1. FujiFilm Instax Mini 11
The FujiFilm area provides you some top-rated equipment with magical picture quality. This product line offers a vast diversity of cameras to pick from, starting from beginner to advance.
The Instax Mini 11 is apt for those who just stepped into the world of instant photography. It is cheap and easy to use. The device comes with a variety of colors. It has a 60 mm lens that captures prints the size of a credit card. It does not have any pro-level editing options, which is why it is ideal for beginners.
2. FujiFilm Instax Sqaure SQ6
This camera is a mix of modern, minimal, and magic that resembles the old Instagram logo. A built-in operable flash and a selfie mirror is a plus. It bears a compact structure that gives you a photograph with neat borders. It contains a vast range of colors that you can hand-pick. The filters and modes are a little something that brings out the creator within you.
3. FujiFilm Instax Mini 70
This camera is more of an intermediate level when operated. It runs with multiple focus modes, a flash, and a timer. One thing to take care of is the flash, as it could be slightly annoying when used vertically. Although it contains a few extra features, its price is almost equivalent to Instax Mini 11.
4. Instax Mini Liplay

A smart device that prints you a DSLR quality image. It has a compact design and portable enough to fit your jeans pocket. This camera not only points and shoots but also lets you select which photo to print. This camera also allows you to take pictures with sound. All you have to do is click on "Print" that prints the photo with a QR code that you have to upload to the cloud. Then scan the QR code with your phone to hear the sound.
5. Lomo'Instant Wide

It is one of the most trending brands in the market, alongside FujiFilm. It comprises several aspects like different exposure, programmatic shutters, wide-angled macro conversion lenses with different focusing zones. These cameras are the most prized possessions of amateur photographers. Just shoot and get creative.
6. Leica Sofort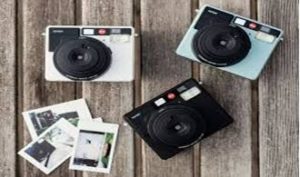 This camera bears both retro and classy look that gives a perfect white finish. The user has control over the features for an impressive picture. It is a total package worth every penny. The compact and elegant structure lasts for a long time. The film can also be pricey, but it is worth the investment.
7. FujiFilm Instax Wide 300

This camera shoots Instax Wide film with features including focus and exposure control. The only drawback is that there is no control over the flash. The built quality is exquisite, with an advanced design inspired by the 80s. It is well known as a party camera that shoots retro-looking low-resolution pictures handed to you at a reasonable price.
8. Polaroid Originals OneStep Plus
Another most popular and retro brand in the market that has somehow reserved its place for providing excellent shots is the Polaroid Originals. Exceptionally designed for vintage lovers and still to this day stands as one of the best ones out there. If you want something that offers you prime quality, then you need to look at this. This camera enables Bluetooth connection to the Polaroid app that lets you customize your pictures.
9. Lomography Lomo'Instant Automat South Beach
This Instax square camera is fully analog with an ultra-sharp glass lens. It has a fully automatic adjustable shutter and flash that lets you at ease. It has tons of cool features that resonate with the artist within you with every click.
10. FujiFilm Instax Mini 9
This camera stands as the most prominent one when taken into consideration by its low price and ease of use. It delivers exceptional aesthetic shots with a solid build. It is lightweight and comes with a cool design worth carrying around. The camera lets you shoot pictures with precise color details that give off a vintage vibe. Everything on this camera is top-notch from design to performance.