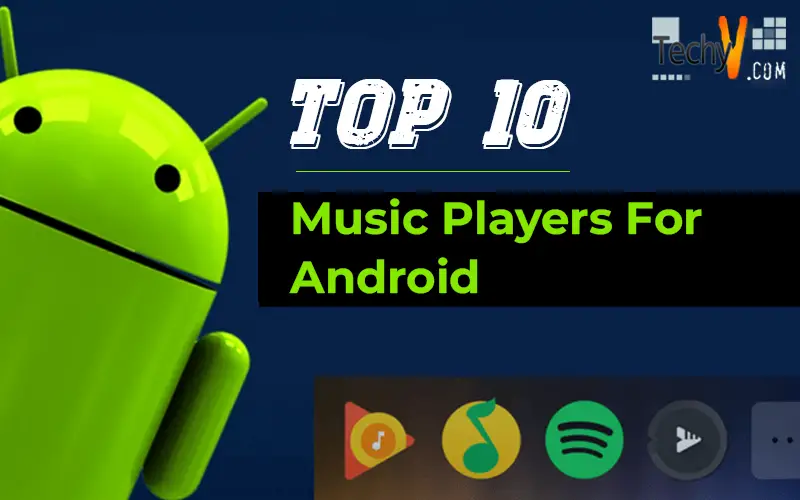 The beauty of Android is that the Play Store has hundreds of music players to choose from. It is impossible to go through all of them to find out which app is the best suited for you. Here is a list of 10 music players which are the best in the market right now.
Blackplayer Music Player
It is a minimalistic, elegant and free music player. It has a tab structure, and you can choose which ones should be displayed.
Features
Support for popular music file types
Built-in equalizer, bass boost, and 3D surround visualizer
Gapless playback
Sleep timer
Crossfading
Themes, fonts, and colours
FLAC support
It also comes with a premium version which adds more features like folder view, extra themes, customizable crossfading, and more. It only costs ₹34.95 which is quite the deal.
DoubleTwist Music Player
It is a free music player and podcast manager. You can sync Itunes and windows music player playlists from your PC. It's user interface is easy to use.
Features
Magic Radio (Mix of songs based on your library)
Artist bios and photos for your favorite tracks
Plays lossless FLAC files
Built-in video player
Supersound
Auto download podcasts
The premium version is ₹35, unlocking AirSync, ten band equalizer, and casting support making your purchase worthwhile.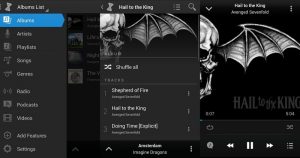 GoneMAD Music Player
GoneMad is a feature-rich, personalized music player. It has over 250 options for customization, letting you listen to music the way you want to.
Features
1000+ themes
Flawless gapless playback
Auto and manual crossfade
16 built-in EQ presets
DSP Limiter to prevent distortion
Smart playlists
Built in file browser
Supports popular audio formats
It has a 14-day free trial and costs ₹250.00.
Muzigrid
With a modern materialistic design, it is a music player with a slight twist. You can add icons to the playlists and move songs across them with ease.
Features
Play multiple playlists together
Lyrics support
5-band music equalizer with sound booster
Turns on/off when the car engine is turned on/off
Dj party mixer
Customizable Album artwork cover
Skip songs in lock screen mode by clicking power button twice
Easy to move around folders in storage
To access all the features, the unlocker can be purchased for ₹195.20.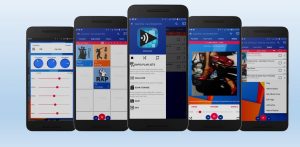 n7 music player
It is the most innovative music player available in the market. It uses tag cloud layout instead of the traditional UI. Artists are arranged alphabetically, and the size of their names depends on how many songs you have for the artist.
Features
High-quality audio due to 10-band equalizer
Control music using gestures
Customize everything
Stream music to other devices
Own music visualizer
Automatically grabs missing album art
Ability to add lyrics to all songs
Plays all popular file types
It has a free 14-day trial before purchase. It will cost you ₹250.00.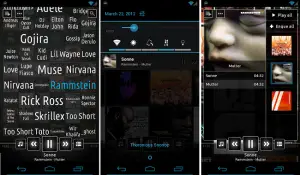 Phonograph
It is probably one of the best-looking music players available. It gets the material design spot on, and the UI is smooth. Primary and accent colours can be changed, adding a little personality.
Features
fm integration
Dynamic colors
Customizability
Tag editor
Gapless playback
Sleep timer
If you really like this app, you can support app development by as little as ₹75.04 to ₹891.71.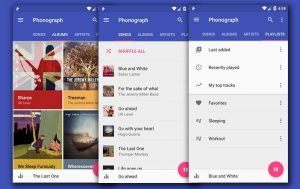 Poweramp
It is one of the oldest players out there but that doesn't mean that it isn't one of the best. Packed with features, it suits both audiophiles and the casual user.
Features
Replay gain
Dynamic queue
Crossfade with manual adjustments
Gapless playback
Stereo eXpansion, mono mixing, balance
Can customize using skins
Scrobbling
Automatic resume on headset/Bluetooth connection
The list will seem endless if all the features are listed. You get a fully featured 15-day free trial before purchase. It costs ₹99.00 and it's worth every rupee.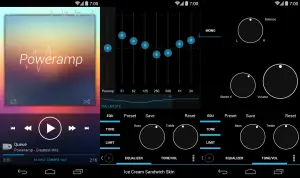 Stellio Music Player
It might not be well known, but it is a good music player nonetheless. The UI is beautiful, and it comes with smooth transitions. It has a lot to offer.
Features
High-resolution audio playback
12-band equalizer with 13-sound effects
Beautiful lock screen
5 configurable Homescreen widgets
Sleep timer with smooth audio fade
Shake or hold volume button to change tracks
Full support for Android Wear
Player changes appearance by track's cover art
It has a 10-day free trial. The full version costs only ₹29.00 which is good value for money.
Shuttle Music Player
It is an intuitive, lightweight and powerful music player for Android. Unlike most heavy duty music players, it offers a portion of features and customization with a minimalistic look and feels.
Features
Nice material design
6-band equalizer with bass boost
Automatic artwork downloading
Sleep timer
Chromecasting on your TV
It has a free version and a paid version which costs ₹100.00 It contains everything a music player should have with little extra features.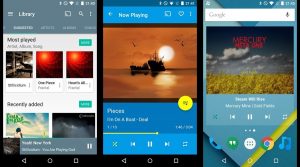 Xenoamp
Xenoamp is a music player which functions differently from other players. Its UI is easy to use with one thumb. You can pause by tapping anywhere; draw a circle to increase or decrease volume, swipe to your next song, etc.
Features
Voice commands
Remote control using web interface
Unlimited number of equalizer presets
Different sound profiles
Viper Audio equalizer supported
Can create playlists using folders
FFmpeg playback engine
Browse collection faster-using gestures
There is a key which you can purchase which removes ads and supports the developer. It's available for ₹60 in the Play Store.