Browsers are the key application on any device whether it's iOS, Windows, Linux or Android. The presence of right features and performance while browsing the web can change your entire experience. Android being the most famous and widely used OS for smartphones and Tablets has various web browsers and Google Chrome is one of the most famous ones as it comes pre-installed in pretty much all android devices, after-all Android is owned by Google itself. It's believed to be the best because of the functionalities and trust users have in Google. All right we know how Google Chrome is reliable but can't we have any other options? Let's look at some other top 10 browsers that android has to offer.
1. Google Chrome
With 5B+ download, Google Chrome is the most downloaded android browser and as of June 2021, it accounts for the 37.4% global web browser market share. It comes pre-installed with every android device and is also the default browser for most Android Phones. Its interface is clean, comes with a dark mode, is easy to use and comes with many very useful extensions. It has an ad-blocker and pop-up blocker which blocks malicious sites ruining your browsing experience. The best part of chrome is its sync feature which allows syncing all your mobile data with your desktop chrome edition. Its password manager is quite handy if you keep forgetting your passwords.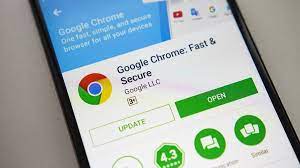 2. Mozilla Firefox
Mozilla Firefox is a cleaner and modern UI based browser that aims for a fast and secure browsing experience and claims to be the best in terms of user privacy "Do what you do online. Firefox browser isn't watching". It blocks online trackers by default and there are ad blocker add-ons available if you want to customize your browser even more. From a developer perspective, it's best suited for web developers as it gives more control while inspecting elements of the sites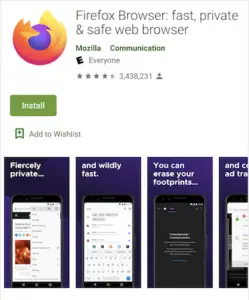 3. Brave
If privacy is your biggest concern then Brave might be your solution as it's one of the best secure browsers available in the play store. Brave enables you to enjoy fast, secure, private browsing. It reduces page loading times, improves web browser performance and blocks ads infected with malware. Also, it comes with a dark mode which can be helpful while using at night reducing strains on your eyes. Although it's fast and secures many users have a complaint about the app causing the battery to drain faster.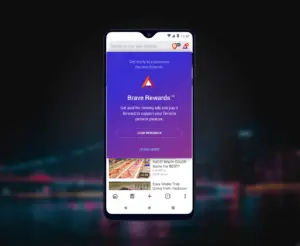 4. Opera
Opera is super fast and light in terms of loading web pages. There's a data saving mode ensuring less data is used in browsing. It ensures complete online privacy and security on public networks. Opera also offers a free VPN in the app itself. Turn on the VPN to protect your personal information, and switch to different virtual locations if needed.
5. DuckDuckGo Privacy Browser
As the name suggests it is meant for privacy. DuckDuckGo has been designed to create a privacy-focused environment where no IP addresses or user information is stored. It automatically blocks hidden third-party trackers which stops the companies behind those trackers from collecting and selling your data. It enforces encryption in which it forces sites to use an encrypted (HTTPS) connection where available, protecting your data from prying eyes, like from Internet service providers and unwanted snoopers.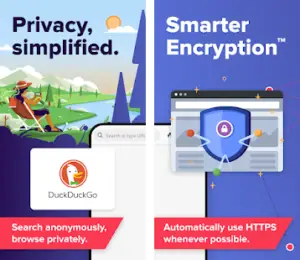 6. Microsoft Edge
Microsoft Edge is built on chromium, unlike the previous Internet Explorer which uses Trident(MSHTML).  Microsoft has been trying hard to enter the browsing industry ever since its Internet Explorer was dethroned by Google chrome and it seems Edge has been filling the gap slowly. It comes with cool features like read out load, immersive reading, AdBlock support etc. Overall it's a great browser but you'll have to use a Microsoft account instead of a Google account for syncing all your essential data across other devices.
7. Samsung Internet
What many people do not know is that Samsung internet is a free browser available for all android devices, it's not limited to just Samsung devices. Originally made for native devices the company released it on the play store in 2015. The browser has lots of features like AdBlock, QR scanner, autoplay videos, tab swipe, dark mode. The dark mode not only changes the browser interface to a dark theme but also turns the web pages dark.
8. Tor Browser
Tor Browser is built specifically for getting rid of annoying ads and Spywares. Tor Browser for Android is one of the world's most robust browsers for privacy and freedom online.Tor Browser isolates each website you visit so third-party trackers and ads can't follow you, it also clears your cookies when you're done browsing. Traffic is relayed and encrypted three times while in use. It's basically used for surfing deep/dark net where privacy is very important because it's full of hackers and malwares.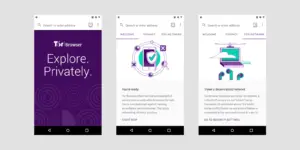 9. Stargon Browser
This browser is lightweight with lots of options like reader mode, dark mode, custom fonts, Background Play, DNS VPN, etc. The best thing is that it comes with a dedicated video downloader so that you don't have to use third party websites and a built-in translation service powered by Google Translate. Its secret incognito mode is pretty good. It lacks bookmarking but if that doesn't concern then you are good to go with this.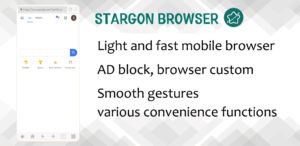 10. Vivaldi
Vivaldi Browser helps in browsing faster by adding your favorite bookmarks as Speed Dials on the new tab page to keep them one tap away. It has lots of tools like QR Scanner, Adblocker, Notes which helps to take notes as you browse and sync them securely between all your devices. It also has a page capture which lets you to take custom snapshots. The Search engine nicknames is a cool feature to be noted it simply allows user to switch search engines while typing in Vivaldi's address field (like "w" for Wikipedia or "d" for DuckDuckGo).