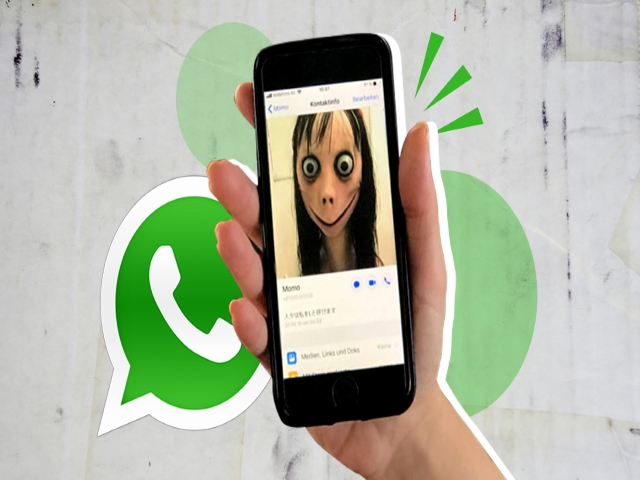 It hasn't been long since the horror and bewilderment of the infamous Blue Whale Game, an online game that seized numerous lives across the globe has become bygone, when here comes another akin to it: The Momo Challenge
Let's Start With What Exactly Is This Momo Challenge:
Momo Challenge is altogether a form of cyberbullying where potential victims are contacted on online messaging application WhatsApp and are asked to communicate with a stranger via an unknown number. Once they are established and accept the challenge, they are intimidated to carry out a series of gory, violent task and revert to them after photographing themselves. Each task is succeeded by a different task with the level of gore notched up higher, which directly provokes the prey to self-harm and ultimately suicide.
If the victim refuses, he is blackmailed with dire consequences and threats like their data being hacked and compromised, personal information made public, inflict physical harm to them and their family members. There have been reports of threatening with supernatural black curses as well.
Why Is The Name "Momo Challenge":
Momo is a social media handle present on popular social platforms with the display picture of a woman with spooky facial features, monstrously protruding eyes and a wide mouth meant to catch the attention of its victims that include mostly curious teens. The artwork image was named, "Mother Bird by Link Factory."
A Brief On Its Inception:
It is speculated that the game was first started on a Facebook group in Japan and later swept into Latin American states like Mexico and Columbia. It had turned up within a Minecraft server and gained public attention when a certain YouTuber had uploaded it on his YouTube Channel.
Who May Be The Targets?
The perpetrators of the Momo Challenge regularly look out for people on social media who might be emotionally weak, depressed, dejected or might be on mental turbulence. Such folks are easy to be manipulated and can be driven to harm themselves.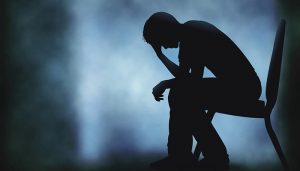 Death Tolls in India:
Till mid-August 2018, at least three deaths, 2 in West Bengal and 1 in Ajmer are suspected to be related to this online game. The CISCE has requested parents to keep an eye on their wards whereas the Government has already issued an advisory warning with a list of do's and don'ts for the parents.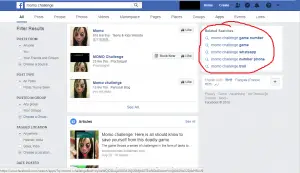 Search Result for Momo Challenge on Facebook
How to Guard Yourself And Your Family:
Do not open any unfamiliar links received either by e-mails or messaging services.
It is advised to change your passwords for your social accounts and emails frequently.
Do not get lured by any 'invitation to play' games.
If you happen to receive any unsolicited or suspicious text message, you should immediately block the number.
Look out for people who are observed to have a sudden change of behavior. Try making them confide in you and always listen to them even if it sounds irrelevant, it might provide you with some clue. If nothing helps try contacting with a counselor.
Don't underestimate the younger children and teenagers. Keep the bridge of communication open. Make them realize they can have faith in you and share everything without worrying about the consequences.
Note: If you have received any text message that might be related to the MOMO Challenge, straightaway gets the number blocked and report to the Cyber Police Department of your city.