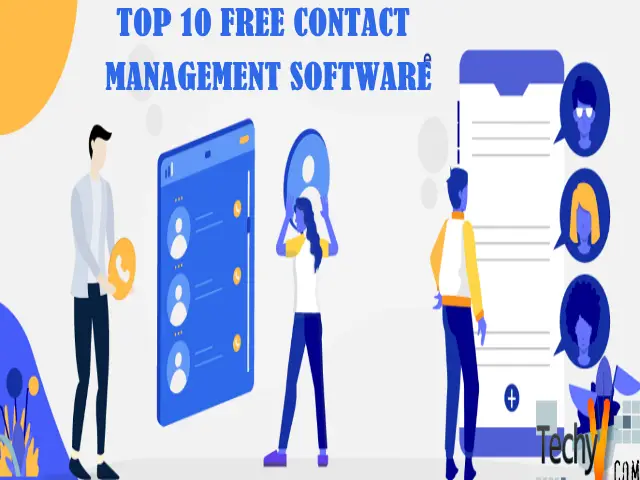 A contact management software allows you to synchronize all your contacts to one. Record the interaction between customer and employee to refer to for future use. Improve the service you provide your customer as customer service agents require less effort to provide better performance to their customers. Get reports and analyze your customer data.
1. Monday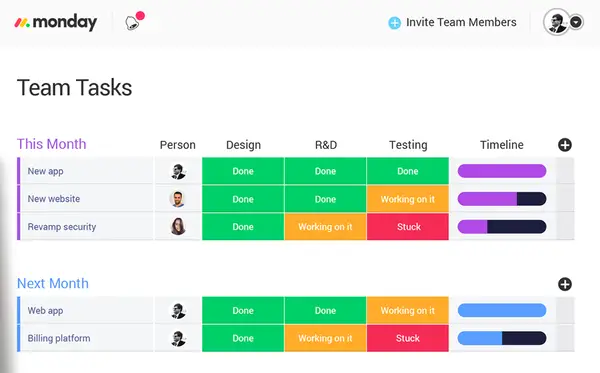 Monday.com is a free contact management software that you can set up in minutes. This platform can capture calls and emails anytime. You can even capture your meetings to access them anytime. A built-in time clock is available to track contacts in multiple regions as time zones will be displayed. Colorful accents are available to let you focus on important information.
2. Copper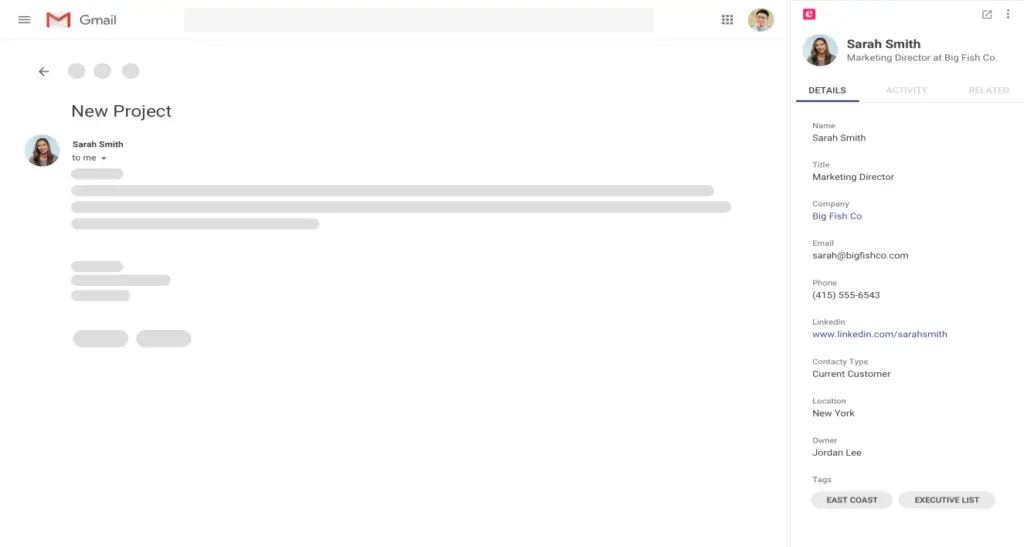 Copper is a contact management software where you can store your customer information in spreadsheets. Integrate this software into G Suite such that you synchronize customer information between all your tools. Data entry of contact information is not required as it gets updated automatically. Add new contacts easily using this software in one click. Get the history of email and other pipeline details easily.
3. Pipedrive

Pipedrive is a contact management software that helps you to track communications. Track calls and emails using this software. Keep a record of the contact history to have full visibility of all the contact information. Control your schedule of calls. Store an unlimited number of contacts in your database. Get a timeline of contact activity by looking at history through this software. This software keeps your contacts organized. Keep a link with your contacts once you add them to this software.
4. Nimble

Manage customer relationships using Nimble, which is a contact management software. Build relationships and find opportunities using this software to maintain your contacts. Locate contact information easily and view the interaction history of your customers. Add notes to a record and update the deal status. Send a group email to a list of contacts. The dashboard of this software is designed for tracking activity and makes work easier for you.
5. Maximizer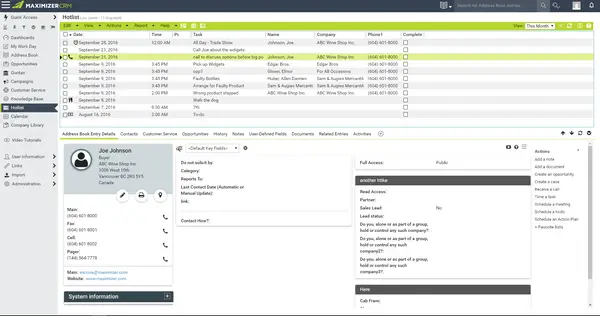 Maximizer is a contact management software that organizes your communications. Simplify contact data using this software and ensure that you give importance to sensitive events. Watch the demo video available to learn how to use this software. Automate your process by using built-in workflows to improve productivity. Sort your call log by keeping your contacts within a range of dates. Attach a file to address book contact for easy retrieval of information.
6. Nutshell

Nutshell is a contact management software that helps to import your contacts from any source. This software offers free data importing assistance to help you. See updated communication information of any person from your desktop or phone conveniently using this software. Reduce the amount of time you spend on entering data manually. Nutshell will fill the job title and social media accounts of a person every time you add a contact.
7. Freshsales

Freshsales is a contact management software that helps to manage your contacts. You can foster a healthy relationship with your contacts using this software. Get a 360-degree view of your contacts using this software. Make calls and send emails with the help of this software. Track your sales activities using this software. Perform all your tasks and fulfill appointments easily using this software.
8. Insightly

Insightly is a contact management platform that integrates everything. Get your email and social media platforms integrated with the help of this software. A relationship activity history is available to view all your contacts with others. The linking of contacts is dynamic in this software. Collaborate within organizations and improve the productivity of your business using this software. Drag-and-drop custom layouts are available to make record-keeping appropriate. Add unique information to customers in specialized fields.
9. Contacts+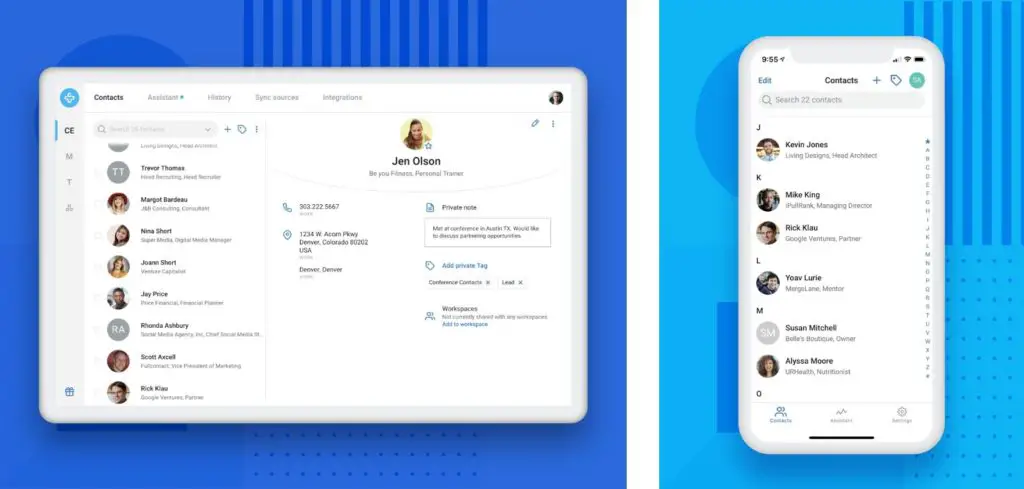 Contacts+ is a contact management software for small businesses and teams. Synchronize this software across various accounts. This software will help you to create an address book for yourself. Get all your contact information easily with the help of this software. Automated scanning options are available to ensure that you have accurate and up-to-date information. This software helps to eliminate duplicates. Access your contacts from anywhere and manage them anytime.
10. Salesmate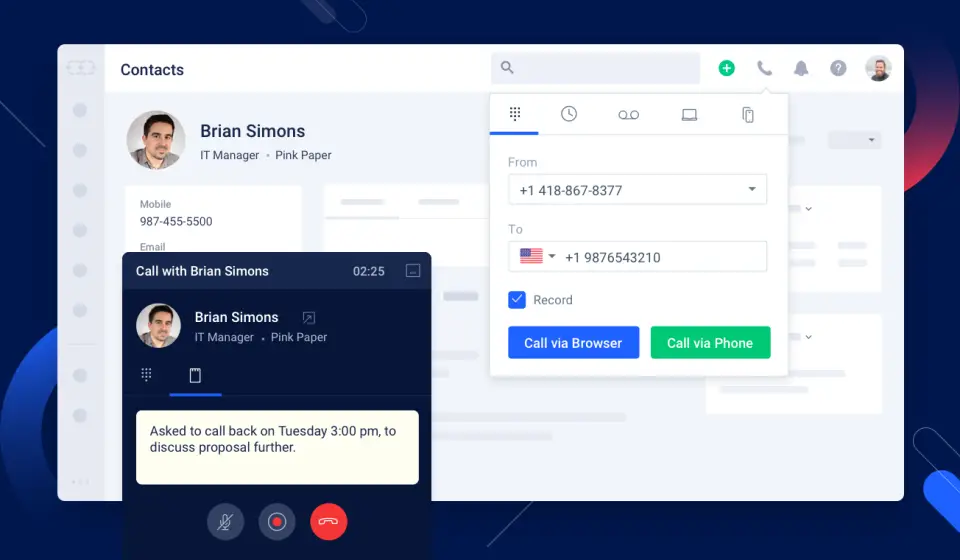 Nurture your relationships using Salesmate contact management software. Find out the conversation to prioritize using this software. This software will optimize the performance of your sales. Monitor the status of your contact and view all activities of your contacts. Message multiple contacts at a time using the bulk activity feature in this software. Make personalized greetings to send to all customers in bulk activity feature and save time.