It is a saying- 'from the experts.' Experts' suggestions are prioritized initially whatever topic it is concerning. Having data in real-time about your webpage is also an essential value since so many sites helping in thriving a user to the fullest. To this end, we have the following ten best Google analytics custom reports which are from the exerts for your web page's optimization.
1. MOBILE PERFORMANCE REPORT:

The total number of mobile users is increasing than desktop users. The Google Analytics website is to be mobile-friendly. The phone performance report will tell you where to make improvements. Even you can judge the type of visitors who are using your site, the time of their visit, pages they view, and time spent over these.
2. CONTENT EFFICIENCY REPORT:


If you have a lot of contents on your website, it is difficult in getting track of all. But the content efficiency report tells you about your page views, bounce rates, which content your visitors like the most, and also, the content which is shared in the majority by the customers.
3. REPEATED VISITORS:


When a visitor comes to your page for the first time, Google Analytics will tell you either they visited again or they became followers, or customers. You can find it in your Analytic account just by clicking on the Audience.
4. BOUNCE RATE AND EXIT RATE:

Here 'Bounce Rate' refers to the percentage of a visitor leaving your page. They move out of the page without taking any action. 'Exit Rate' means the percentage of visitors who browse more than one single page. You can check it out on the Behavior section. If your first page has too many ads or links on the sidebar, then automatically chances are high for a visitor to go for the second page.
5. TRAFFIC ACQUISITION REPORT:

Traffic acquisition report will tell you about the visitor's views to the ads on your page along with a strategy for your SEO. The data of many marketers are similar to this. The Acquisition in Google Analytics will tell give you data in a standard report. Referring website shows the pages used by the visitors.
6. KEYWORD ANALYSIS REPORT:

The Organic Traffic from Google will give you information reports on the tracking of encrypted keywords. The inward search of your site's keywords on the site is given from the consultancy analyses. Using this data, you can check which keyword has been more in use by visitors.
7. LANDING PAGES REPORT: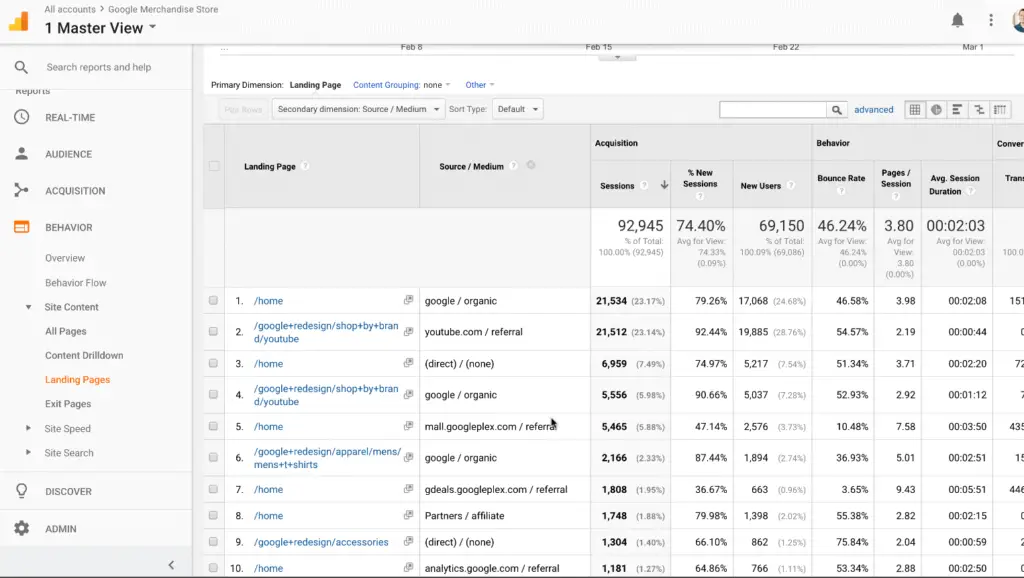 When a visitor comes to your page, they may type directly on your URL, or by search engines, or even a link shared. The landing pages report shows how a visitor comes into the page and what type of interaction is with your page. If the bounce rate is higher, then your site may need some improvements.
8. HOURS AND DATE REPORTS:

The date and hours analysis data are given by Dan Barker. It shows which day of the week and what time of the day your site was or is busy. If a page was engaged more than a couple of months, then you may use this site for your post blogs.
9. PAGE TIMING REPORT:

The page timing report reveals the problem faced on pages which needs your immediate attention. The comparison table shows you the load time rate to bounce rate accurately.
10. BROWSER REPORT:

Browser report will give a report in which device your page was searched mostly. Search engine links into their list in time-saving custom reports.