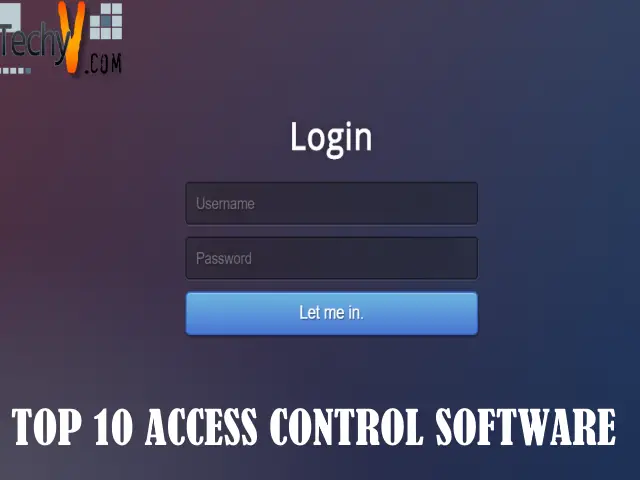 Access control systems are for security purposes that ensure security technology by granting access to authorized persons and denying access to unauthorized persons. Access control systems vary according to needs and complexity. Users gain access by access cards, card readers, and access control keypad, whereas Admin interacts with access management dashboard, integrations, or API (Application Programming Interface). Its infrastructure includes electric door lock hardware, access control panels, and access control servers.
It is of three main types:
• Discretionary Access Control (DAC)
• Mandatory Access Control (MAC)
• Role-Based Access Control (RBAC)
Benefits of Access Control include monitoring who enters, at what time to the secured area, securing sensitive data, and reducing the chances of theft, etc.
Let's see the Top 10 Access Control Software,
1. ISONAS

Isonas is a budget-friendly access control system, founded in 1999. It is simple, reliable, and requires a very simple network connection. It eliminates the use of control panels, separate power supply, and dedicated hard-wiring. It suits best for small businesses and provides IP access control. It also sells hardware systems to convert older systems into IP systems.
2. Kisi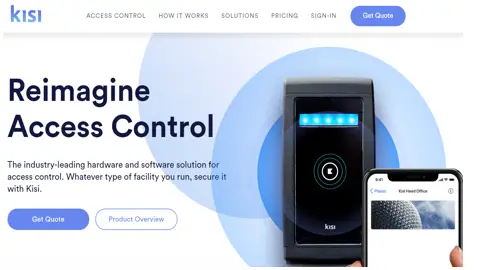 Kisi is the popular industry-leading software and hardware solution for access control. It provides access via employees' mobile phones rather than using badges or keys; for this, employees need to download Kisi app on their mobile phones. It provides Tap-To-Unlock technology by deploying a Kisi reader at each door. Kisi has a deployment setup to keep your building safe, whether it is a single IT room or multiple offices.
3. Johnson Controls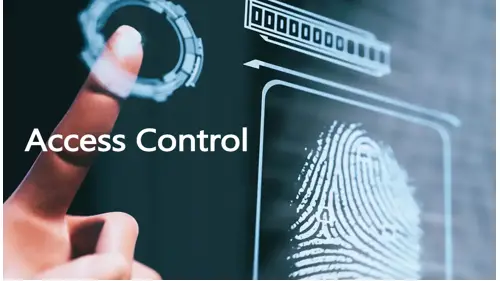 Johnson controls is a high-performance access control solution with real-time security which helps organizations to prevent intrusions and provides five types of access control: Electronic access control, Hosted access control, and Physical access control, Managed access control, and Biometrics access control. It provides a centralized and automated security system that helps you to manage employee and visitor access and allows to access remotely by using cloud technology.
4. IDentiCard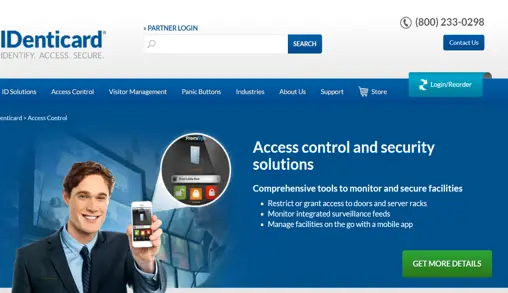 IDentiCard is an industry leader in access control that provides it has been developing security software and hardware for over 30 years. It provides customizable access control and security solutions, which include Physical access control hardware and software, biometric readers, card readers (scan or swipe), and visitor management systems.
5. Brivo
Brivo is more convenient access control with more than 20 million users. It provides cellular solutions to deploy access control anywhere, video for real-time use and recorded access events, and wireless locks for more security control. Easy-to-use as a single tap to gain access via the closest door. It supports Siri's voice commands for hands-free operation. It expands physical security with the brivo API.
6. Honeywell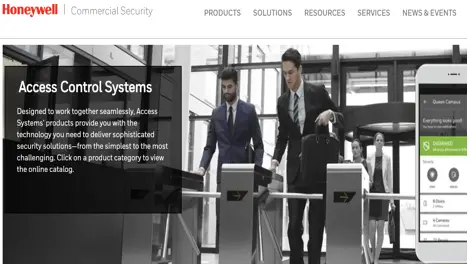 Honeywell is a massive corporation that offers reliable security and standard access control. It provides four access control solutions – WIN-PAK (Integrated Security Software) that allows you to control multiple accounts from the in-house system, WIN-PAK CS 4.7 (Managed Access Control Solution) that supports 50 to 2,500 accounts, MPA2 (provides solutions for installations of any size), and NetAXS-4 (Hybrid Access Control Panel) that helps you to secure doors, manage employee access, and manage sites remotely. NetAXS-123 is the updated version of NetAXS-4 that manages two or three doors with door add-on boards.
7. ADT

ADT is the best video surveillance system that helps you to minimize threats. It allows access to your business only during certain periods. It helps to monitor when and where cardholders enter your business, set doors to lock automatically for more security, quickly de-activate card keys if the employer left your company, get reports on who accessed your business, and remote control.
8. Lenel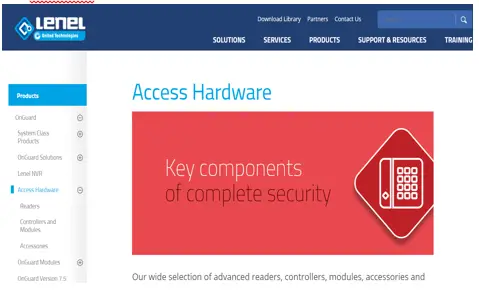 Lenel delivers a reliable and flexible access control system of almost any size. It provides advanced readers, modules, accessories, and electronic locking systems for more security. Its readers and keypads include tamperproof and dual-verification options. It is a simple and cost-effective access control system. Its accessories provide additional convenience and functionalities.
9. Vanderbilt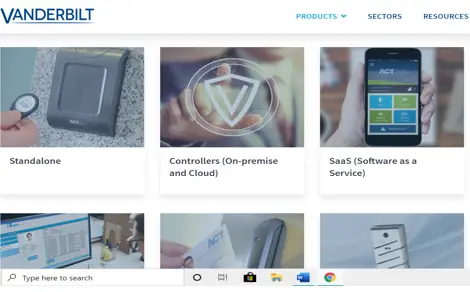 Vanderbilt is cloud-based access control that provides security from simple IT room to enterprises at multiple locations. It offers high-quality hardware with intelligent card readers, encrypted smart cards, and video surveillance. Hence easy to integrate the two systems. It supports up to 5000 cards, monitors up to 32 doors, and provides unlimited memory.
10. Stanley

Stanley provides effective access control systems to protect your business, property, and company information. It allows you to utilize security data from your access control system to gain situational awareness for your business. It provides Electronic access control to gain access by card reading instead of key management. It is integrated with intrusion systems, video surveillance systems, HR databases, and so on.