Security of your home is your priority, and in this advanced technology era, the security of the house is not just limited to lock & key. These days everything is smart as same the home security system. The smart security system brings better than ever ways for homeowners and renters to safeguard their property. The best home security systems will offer you a variety of features to make you tension free. There are various types of security systems are available in the market, and you need to select the best home security system for your home, office premises or at any place where you want security according to your requirements. Here, we will help you know about the top 10 home security systems that will help you.
1. ADT Command
It is one of the most popular security systems. ADT Command provides wireless, smart security at your fingertips and offers one system and one application to simplify & further improving the customer experience. It offers better protection with multiple features, including HD video security, voice control integration, smart home automation, advanced encryption technology, and many more.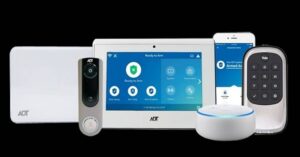 2. SimpliSafe
It is a flexible and easy-to-use smart home security system. SimpliSafe offers DIY protection at affordable prices. It provides three cameras: first the SimpliCam indoor camera, second an outdoor camera, and the video doorbell pro for proper security. SimpliSafe offers different plans with different pricing with more equipment.
3. Vivint
Vivint smart home security systems not only record crime but plays a role to prevent it with its outside surveillance cameras, a doorbell camera, smart locks, lighting, and security sensor. It also provides brilliant safety alarms that detect leaks before they become floods and smoke before they become a major fire. All in all, it offers 24/7 monitoring for your safety.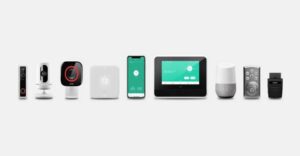 4. Ring Alarm Pro
It provides you better protection with its built-in eero Wi-Fi 6 router that covers up to 1500 square feet, which means ring alarm pro protects it all—inside, outside, and on your network. With this, you can arm, check, and manage your whole Ring home security system in a single intuitive application from anywhere. You will get every single movement, like if a window opens, motion is detected, or if a new device joins your network, you will know as fast as it happens.
5. Cove Home Security System
Cove is a very effective and easy to set up home security system. The Cove security system offers Burglary & Intrusion Sensors (for the detection of a door, window, motion, and glass break to protect your home), Environmental Sensors (to safeguard your home against fire, smoke, indoor leaks and floods etc.), Remotes & Medical Alerts, and Cameras to keep you secure.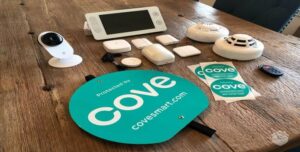 6. Wyze Home Monitoring
Wyze provide new security-focused hardware for automated professional monitoring of your home to keep you secure. It gives an Entry sensor& motion sensor and also provideWyze sense keypad by which you can arm and disarm the security system directly. And its Sense Hub connects all sensors to the Wyze application and has an in-built siren to ward off would-be intruders.
7. FrontPoint
It is a great and convenient home security system. All the products of FrontPoint come pre-configured, so you can quickly & easily set up your system and monitor your home & nearer premises right out of the box. It has a built-in voice control by which you can lock your doors & turn on lights direct from the FrontPoint app or with your voice using Google Assistant, Alexa, or Siri.
8. Adobe Iota All-in-one Home Security Kit
Adobe iota all-in-one home security kit provides a full proof security system. It incorporates a built-in HD camera, motion sensor, 93db siren, and two-way voice. It offers Wi-Fi & 4G cellular connectivity that permits you to take advantage of its features by placing it in the spot that makes the most sense for you. To get started, buy an iota starter kit and add any extra devices & accessories as required.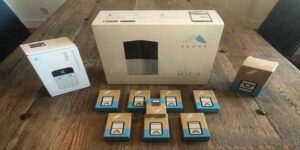 9. Deep Sentinel
Its works like your personal virtual guard to protect your premises. It delivers a next-generation approach for the security of your home as this system provides live surveillance by remote professionally trained security guards who are armed with artificial intelligence. Deep Sentinel offers affordable plans for home security, so you can consider it.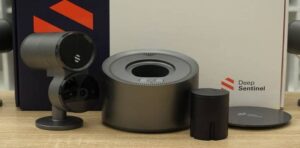 10. Link Interactive
It offers simple, easy, and DIY installation; this means it is best for the people who would prefer to put their security system on their own without worrying about hefty installation fees. An enormous array of home automation features gives homeowners and renters the privilege to integrate with Amazon Alexa. It also offers affordable hardware pricing and a 30-day money-back guarantee to assure you.