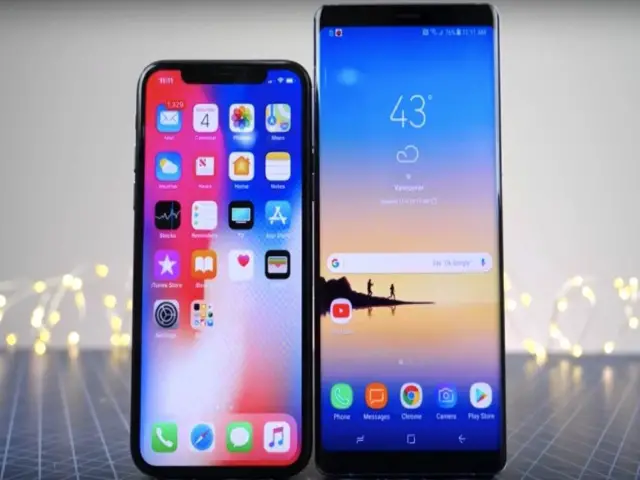 In this article, we are going to talk about those Smartphone which a maximum number of people only dream about. These phones are really going to make your pocket feel light as they are quite expensive. The features offered in these devices are also worth the price
User Rating And Processor:- Galaxy Note 9 has been rated 4.6 out of 5.0  not much behind the iPhone X has been rated 4.5 out of 5.0.
In terms of performance, the Galaxy Note 9 defeats iPhone X as the processor for the Apple device is Hexa Core and that of the Samsung device is Octa Core.
Screen And Storage:- The Screen size for the Apple variant is of 5.8″ inches and that of the Samsung device is massive 6.4″ might not fit in every pocket. The RAM in iPhone X is 3 GB and in Note 9 it's 6 GB.
Camera And Battery:- The Camera quality is quite good in both the devices and we have a tie with 12MP in both variants. The battery has a lot of difference in Ampere per Hour in the Samsung device the battery is 4000 mAh and in iPhone device, it's 2716mAh that is quite a low number.
Display:- OLED for the iPhone and amazing AMOLED for the Samsung device. For iPhone the pixel density is 463 parts per pixels and for the Samsung device, it's 514 parts per pixels. Nominal screen protection has been given in the iPhone device but the Samsun device gives Corning Gorilla glass protection
Connectivity And Charging:- Quick charging is available in both the devices but in terms of connecting the 3.5mm jack of your headphones there is no space in the iPhone device as it supports lightning connectivity.
The Price of the iPhone X is between 86,000 Rupees to 92,000 which is way beyond the reach of a common man in India and the Galaxy device costs between 68,000  to 86,000 Rupees. Both the devices are in the range of premium devices. In terms of user reviews, the camera quality of Galaxy Note 9 is slightly higher than that of iPhone X. Asking me, my personal favorite is the Samsung device being a gamer always want ample amount of storage space as well as fast processing speed and Octa Core Processor does it all for me.
According to the NDTV gadgets reviews the money for Gadget rating for the iPhone is quite low (6 out of 10), whereas the Samsung device outshines and earns 9 out of 10. Such a high price for the iPhone with half the Ram and battery a true Gamer or a performance seeker would go for Samsung device but the brand freak who wants to get in touch with a premium device and has a lot extra to spend on will go for the iPhone X.
Although these devices are costly but are reasonably better than the obsolete versions of the respective variants that were previously present in the market. These devices truly reflect the shine of day by day advancing technology. The ultimate choice of the user in his own hands but both machines are worth a purchase.