Intro-making software is used to introduce videos that you are going to upload on social media. This type of software allows you to make impressive video clips and create an intro without much hassle. Lets us take a look at the top 10 intros making software that social media creators can use to make their intro video. The intro will help you to promote your brand on any social media platform.
1. Renderforest

Renderforest is an intro making software that allows you to create videos of high quality. This software requires minimal time and effort to create videos. This software contains video templates that you can use for many purposes. Find video templates for various categories. This software contains many customizable scenes that you can use to make videos engaging. This software offers useful tips on video production and explains its new features in its blog. Learn more about how to use this software from videos and blogs on its website.
2. OFFEO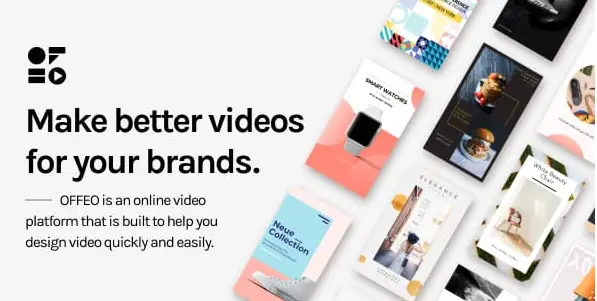 OFFEO offers many tools that can help to transform your ideas into videos. Impress others with your intro making video by adding in animations and colors to your video. Promote new products through intro making videos. Announce deals and discounts using the videos you make. The tools in this software allow you to use creativity with freedom. Create your video from scratch using custom dimensions.
3. Panzoid

Panzoid allows you to make clips for your intro video. It contains a powerful 2D and 3D animation tool that you can use online. It is also a video editor that you can use to make your videos. Use this online editor to edit audio and video clips. You can add effects to your video too. Create custom graphics and Youtube channel art to use for your videos.
4. Wideo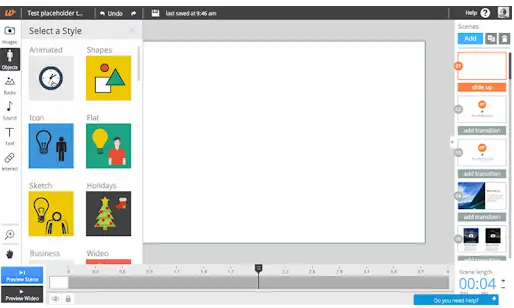 Wideo is an intro video making software that allows you to create animated videos and presentations in a short duration. This software is simple to use and gives professional output. Try out this software for free. This software contains many templates that you can use to create professional intro-making videos to post on social media. This software has a free video library with thousands of stock footage. You can even drag and drop graphics into your videos. Export your video into MP4 to share online.
5. LightMV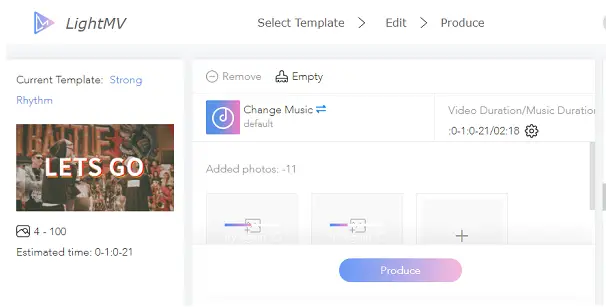 LightMV allows anyone to make videos online. It contains many professional templates and allows you to add videos in a single click. Download this software for free or start using it online. View the templates of different categories to make your intro video. The website of this software contains a guide on how to use this software.
6. MotionDen

MotionDen is an easy software to start making your intro videos. Choose your video template in this software and customize it online. The software will then generate the video for you immediately. Get help and support from the team if you require help. This software contains blogs on its website where you can learn to make a YouTube intro for free.
7. Biteable

Biteable allows you to make stunning intro videos to post online. Learn how to make a video for free using this software. View real-life stock footage clips and animations in the studio of this software. Create your video from the templates available. Download the video you make and share them easily on any social media platform. You can even mix pictures and videos in your clip.
8. Ivipid

Ivipid software allows you to create good quality videos. Choose your theme and enter your text to enter into your video. Place pictures and videos into your clip and choose the quality of your video. Watch your video, share it, and you can even download it. Get your video in a few minutes in simple steps. Customize your video and get it all saved in your cloud.
9. Flixpress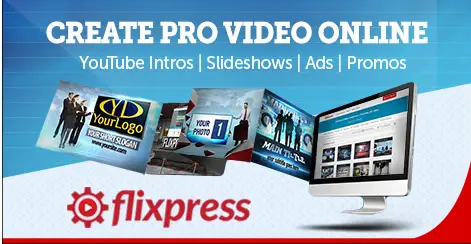 Flixpress allows you to create a video in minutes. Start using this application for free. This software is easy to use. It is affordable as you only need to pay $1 per month to use it. This software gets your video ready in two minutes. It gives a studio-quality effect and allows you to present rich content in your videos.
10. IntroCave

Introcave is an intro maker software that allows you to build a customized intro video. Browse through video templates using keyword, duration, or customization options. Customize your video by using different background images, logos, and many more options available. Make logo animation or promote your gaming intro using this software. Preview your video and get full HD videos. Choose the quality content of your video.