Email client software helps to send, receive, and write emails. It helps to keep your email messages. Let us take a look at the top 10 email client software available. All this software will help you in your email process.
1. Microsoft Outlook

Microsoft Outlook is an email client software that helps you to connect and organize everything. This software will make you productive as you can perform your work from anywhere. Create a free account in Outlook and start using the service it provides. Get your email and calendar in a single place in this software. Get all your important messages and events using this application through your mobile phone. This software protects the privacy of your emails and automatically deactivates unsafe links.
2. eM Client

eM Client is an email client software that boosts the productivity of your email. Use this email client software in the Mac or Windows operating system. Download this software for free. This software enhances your email communication. This software has a simple design. It combines all your email accounts on various platforms. It organizes your contacts and allows you to chat with others. It has a fast search engine. You can snooze incoming emails and encrypt messages using this software. Watch for replies in emails easily.
3. Mailbird Pro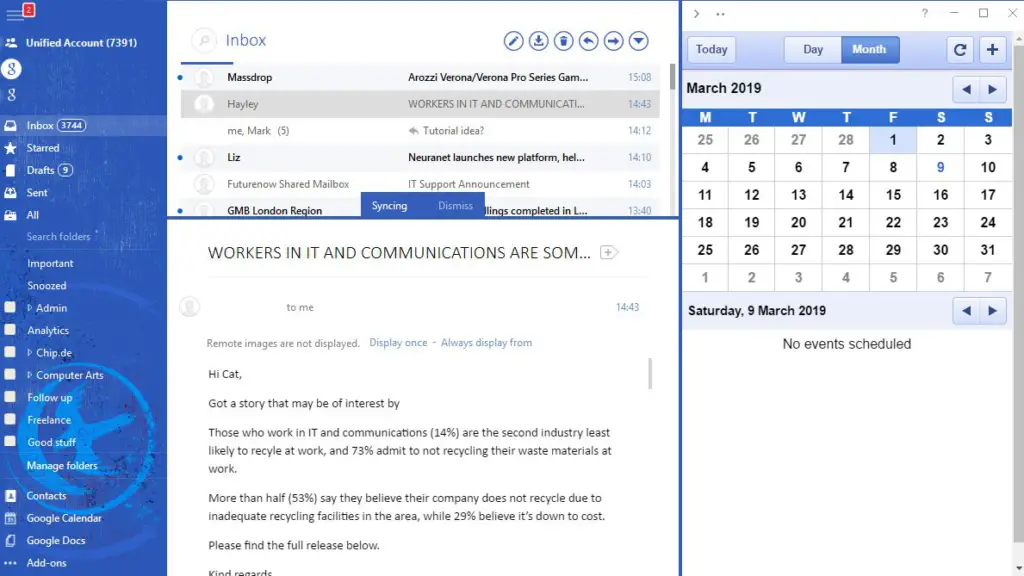 Mailbird Pro helps to make email easy and beautiful. Save your time as you can manage multiple accounts with the help of this software. Use the unified inbox in this software to synchronize all your emails and contacts from multiple accounts. You can choose the color theme to customize your layout in this software. You can integrate other applications like Whatsapp and Dropbox into this software.
4. Inky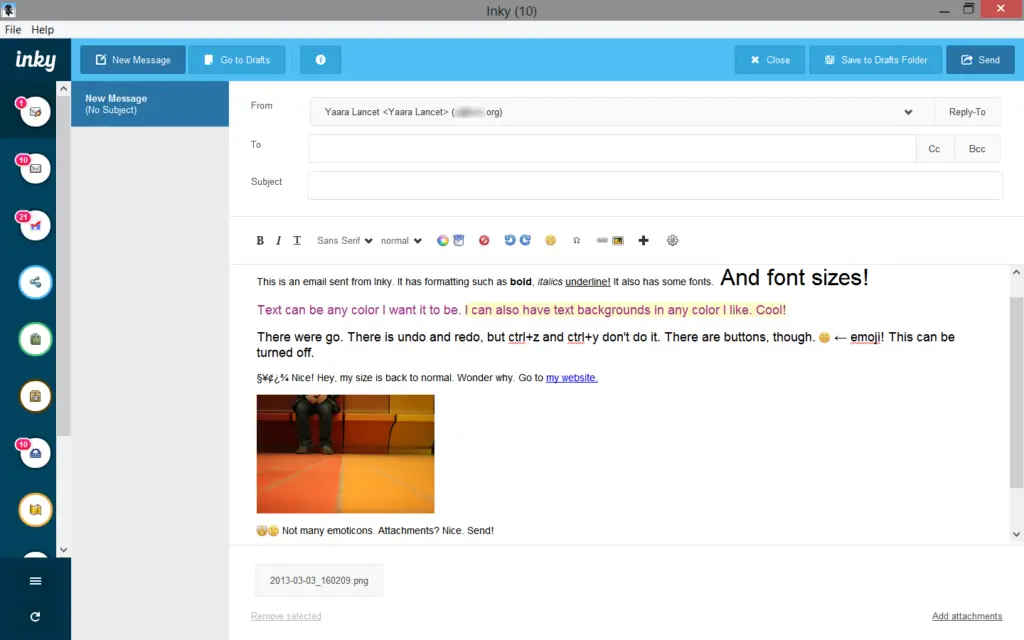 Inky is an email client software that has a simple and customizable interface. It is an email client for Windows. Manage all your emails in this software using the big buttons that allow you to switch between accounts. Many keyboard shortcuts are available for you to use in this software. Create an account in inky and login to various email services like Gmail using this account. This software has a quick search and allows you to prioritize your inbox.
5. Hiri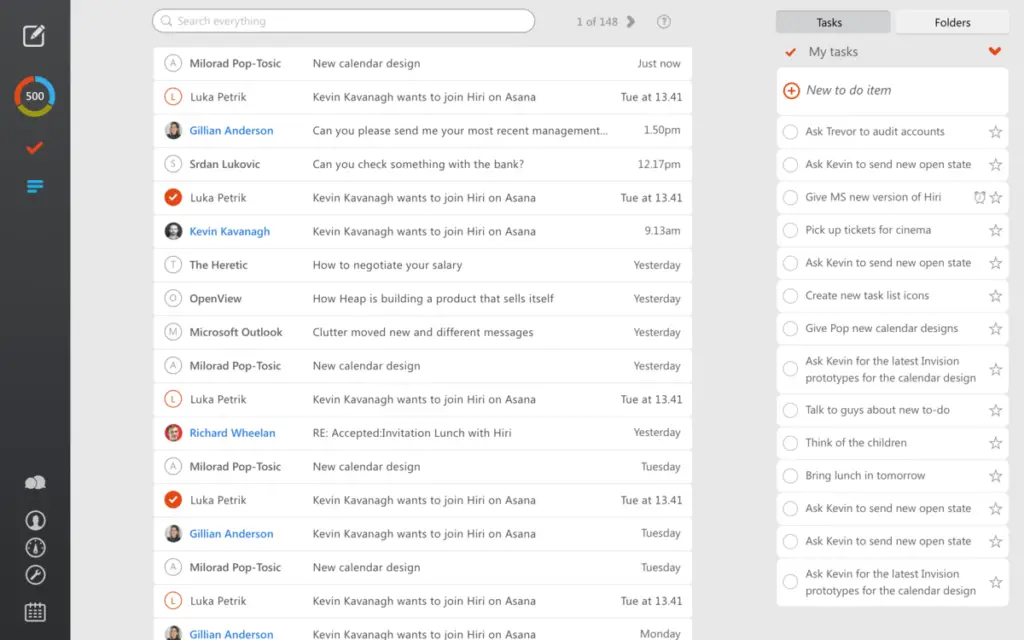 Hiri email client allows you to view emails and tasks. View the calendar and contact using this software. This software supports the Microsoft email system. Get to see what you want in Hiri as it has the UX principle of progressive disclosure. The center pane in Hiri will be of the same width to make every sentence readable. Send tasks to your team members using this application. You do not need to check the dashboard of this software and focus on your work as it helps you keep track of important emails.
6. Spike

Spike is an email client software that connects you with your team members. You can manage your clients and team in your inbox. Try using this software for free. You do not need to confuse the email threads. Use this email software like a chat. Get email and messaging facilities in this single application as it transforms email into an easily readable form. The priority inbox option in this software allows you to focus on important messages.
7. Gmail

Gmail is an email client software that you can use easily and save your time. Get instant messages through notifications. You can respond to the emails, both online or offline. Organize your inbox by sorting out promotional messages. Get fewer spam emails as Gmail blocks spam before it reaches your inbox. Gmail has 15GB of storage space, and it allows you to use multiple accounts at a time.
8. Thunderbird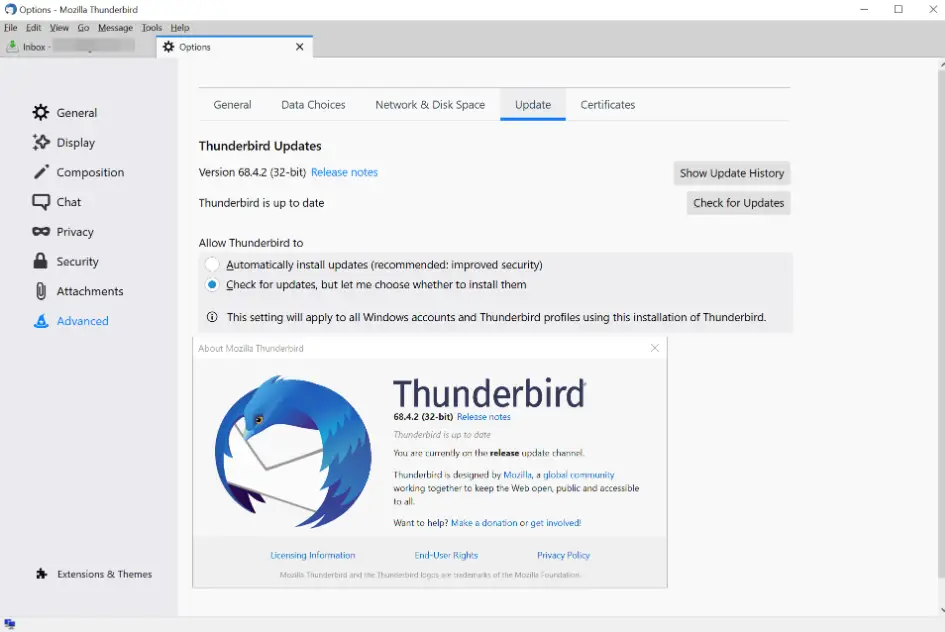 Thunderbird is an email client software that is easy to set up. Customize this application to suit your needs. These applications work at high speed and help to maintain privacy. This software used the latest technology to help you view your emails. Enter your details into this application, and it will check the database to find the right email settings for you. Add people to your address book in a single click. This software reminds you to add an attachment before sending your emails.
9. Rambox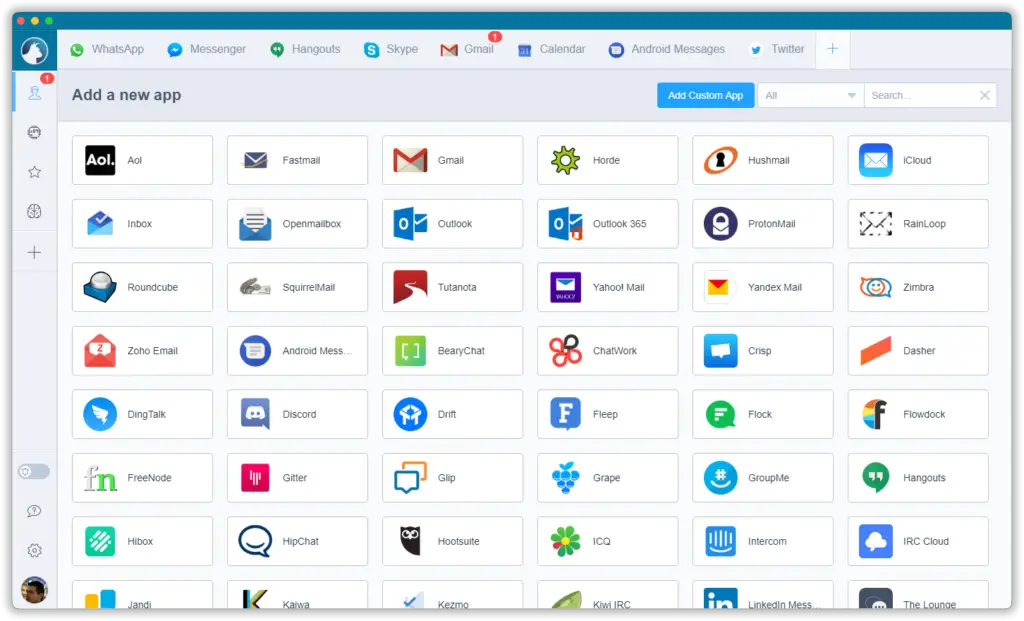 Ramboxis an email client software that brings all your web services together. It is a cross-platform tool that is available for Windows and Mac operating systems. Rambox for Linux is compatible with Ubuntu. This software displays various web services on the left column when you log in. Enable the services you want to use, like Gmail, to view your emails. You can lock the services you use to maintain privacy.
10. MailSpring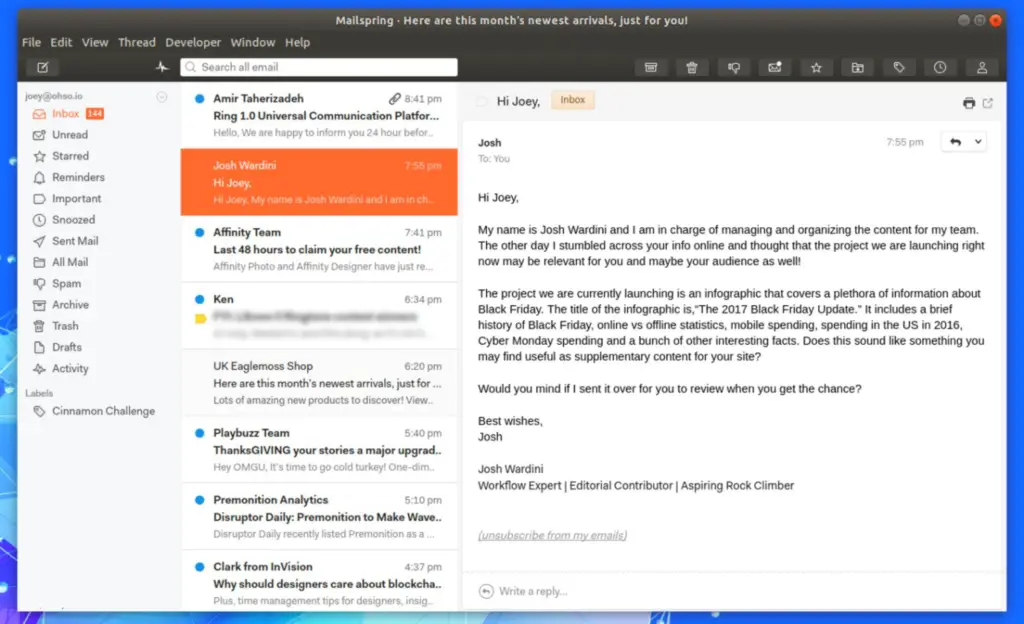 MailSpring is an email client software that helps to boost your productivity by sending emails easily. This software supports multiple accounts. It has touch and gesture support. Use advanced shortcuts in this software to make work easier for you. There is an option to undo the email you have sent. This software supports nine languages. It contains many themes and layouts that you can choose from.