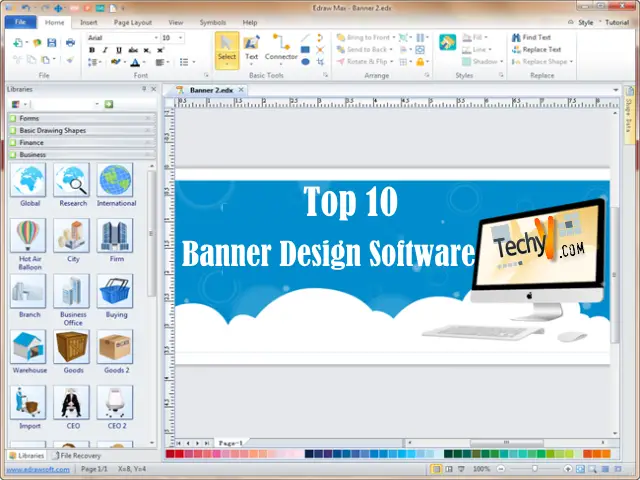 Banners are the foremost popular sort of advertising, which includes pictorial representation to promote something. Use banner design software for creating the plan of your banners. You can make gif banners and other graphic designs too. Use the available templates, icons, and visual effects to create your customized banners.
1. Banner Design Studio

Design animated banners using this software. You do not need any graphic design knowledge to create these banners. Numerous templates are available, which makes Banner Design Studio very comfortable to use. You need to select some of the features like background type and images to get your Banner ready. Import many fonts, and effects to add to your text. You can even add hyperlinks, edit the Images, and create many shapes using the shape generator. Export the final Banner easily.
2. GIMP

It is a free and open-source editor for working with photos. GIMP is called a GNU Image Manipulation Program. You can get it in many operating systems like Linux, Windows, and OS X. Tools for high-quality image manipulation are available here. Transform your thoughts into unique images to make original banners. You can work with multiple layers using the brushes available. Its color management feature is excellent. Many graphical design elements are available in GIMP, and you can use them to create unique ideas for your pictures. Many programming algorithms are pre-defined in GIMP, such as C, C++, Perl, Python, and many more. You can work with other software, too, using GIMP.
3. Bannersnack

Bannersnack is a cloud-based application that is easy to use without any coding. It is best suited for creating the design of web banners. Use this animated banner maker with many professional templates available. Timeline based animation feature allows you to animate without sophisticated tools. Use the templates to inspire your work using HTML5 animations and download them to have your banners ready. Many fonts are available in it. Various button styles and presets are available in this software. Many pre-defined vector clip arts are also available to personalize your banners. Promote Banner advertising across many online channels using Bannersnack.
4. Inkscape

Inkscape has many drawing tools for you to create your banners. If you are a beginner, then this tool will undoubtedly be comfortable for you to use. Use this powerful and free tool to create many exclusive banners. The creation and manipulation of objects have become more accessible through Inkscape. Clone features are available to create a clone for patterns and arrangements. You can have a fully anti-aliased display with alpha transparency support for the screen. It is compatible with many file formats. Its text tool is powerful in producing unique text designs.
5. My Banner Maker

Make banners for any website like Facebook or Youtube through My Banner Maker. Even if you are not a banner designer, you do not need to worry as there is a step-by-step guide to help you create your designs using the templates available. If you don't have any idea, that is not a problem. Many images are already available for you to work. Make changes to them to get your banners uploaded wherever you want. Worrying about the size of banners is not a problem anymore as default templates for YouTube, Facebook, and many other websites are available here. Use the models according to the website you are going to post it.
6. Banner Now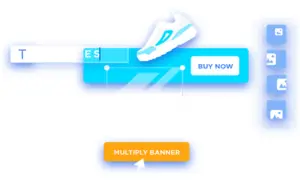 Want to advertise something? Need to make banners? Banner Now is there for you to make them is a few steps. Design one poster and create them in multiple sizes using the options available. By creating one design, you can multiply it to post on various websites in their respective sizes. This feature will surely save you lots of time. Transfer your banners into multiple languages too. If your banner is in English, then you can translate it into Spanish or French using Banner Now. Advertise worldwide to attract more audience. Create dynamic banners to make your advertisements live. Design one template and display different data.
7. EximiousSoft Banner Maker Pro

Create banners using this software. Vector-based drawing tools are present, which allows you to edit web graphics. Editable Vector banner templates are convenient to use, and layer editing is supported here. Use the available web button templates to make your banners. You can distort your text to be of different shapes using a text- wrapping tool. Build animations using visual transition effects for GIF banners. Pre-designed clip arts are available to be included in your emblem. Produce high-quality images that take up less space using this software. Preview your banners directly from the browser before exporting them.
8. Banner Designer Pro

Banner Designer Pro is similar to paint, and it requires less storage space. Download and use it in windows. It is an entirely secure software to use. You do not need knowledge in design to use this software. Hence, beginners can easily use this. Filter effects are present for you to edit your plans. You can import an animated or static background to add to your banner. Save your output in 14 different formats. You can rotate multiple banners at the same time and perform loop action to put various Banners into a single file.
9. Adobe Illustrator

If you are a professional in making banners, then you can surely use adobe illustrator. Create your perfect advertisement design by adding your logo, images, and graphics. Adobe has a massive list of fonts available. Choose your preferred one from that to be put in your banner. Its vector illustration features are amazing. Use the artboard to shape your vision. With its modern interface, you can choose the correct design tool and build your Banner design skills. Experiment with various color variations. Export and save the design in your ideal format.
10. Photoshop

Are you looking for a variety of design tools? Then Photoshop is the one you can use. It has 3D design features. Its slick user interface allows you to have a good user experience. Beginners can refer to the video tutorial available to learn how to use Photoshop. Many students use Photoshop for creating flyers and banners. Use Photoshop to enhance images. Creating graphics using Photoshop is easy.