Top Five 3D Video Players 2013
Technology has led to define our generation. It is quite easy to identify this era as the era of technology. Whether it is high-tech gadgets, easy to use and handy apps, smart phones, smart TV, tablets and other similar paraphernalia, we cannot imagine our lives without these things. Even in the case of cinema, we have leaps and bounds of improvement. From black and white to colour and now we have 3D.
3D technology is not only restricted to cinema halls, it has reached our homes with television sets supporting 3D entertainment and our laptops and computers are now loaded with video players that can play 3D movies. There are 3D games too. And they are a gamer's escape. This technology is so popular in today's times that almost all the films which are releasing and involve even the slightest of action with things flying around on screen, are coming out in 3D.
So, if you are also into technology and movies and always desired to be able to watch 3D movies at home, do not worry. You can now enjoy 3D movies at home even on your ordinary desktop, or laptop. There are softwares available that can be easily downloaded and installed in your laptops and computers
We reviewed the top five 3D Video Players of 2013 – 3D media player, KMPlayer, Power DVD, NVIDIA 3D Vision Video Player and TriDef 3D – to help you choose the one that suits you the best.
#1 – 3D Video Player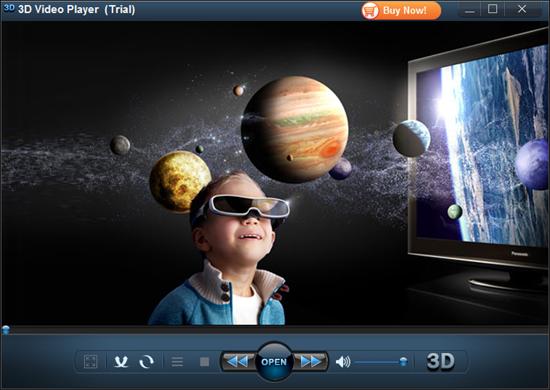 At number 1 in our list, 3D Video Player definitely stands out in the crowd with amazing features and an easy-to-use interface. The key feature of 3D Video Player is its 3D button that allows you to activate 3D playback in no time and select the desired extent of 3D Shift and 3D Depth to impart an optimal 3D effect to your 2D video or movie. 3D video player is easy to install and run in your computer. You can use the trial version and then after clicking on the buy now option, you get the license code and after entering it, it is activated. The process is simple and quite user friendly. It has proven to give a slick performance. It is easy-to-use 3D software because of its classic anaglyph stereoscopic technique. It not only plays the regular 3D videos but converts the videos into anaglyph stereoscopic playback. It is loaded with some basic controls like a big, central open button with the most basic features like fullscreen, repeat, playlist, volume and mute.
Specifications:
Version Reviewed – 3D Video Player 3.4.6
Video Formats Supported – 3D videos, MKV (.mkv), AVI, MP4 (.m4v, .mp4), WMV (.asf, .wmv), FLASH (.flv), QuickTime (.qt, .mov, .m4v, .mp4), RealMedia (.rmvb, .rm), HD video (.mts, .m2ts, .tod, .wmv, .mov, .mpg), 3GP (.3gpp, .3g2, .3gp2, .3gp), DVD (.ifo, .vob).
Operating Systems Compatible – Windows 7, Windows 2003, Windows 8, Windows Vista, Windows XP, Windows Server 2008
Price – Free Trial for preview with actual 3D feature disabled; $11.94 to purchase
Where to Download/Buy – Official SoundTaxi Website
#2 – KMPlayer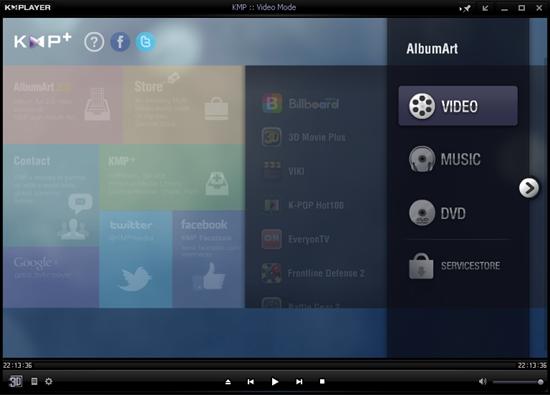 This player has always been among the popular ones. This version comes as an eye opener in both, good ways and bad. KM Plus which is a new addition acts as the window to the whole program. An interactive home screen appears at the start up where the user can watch promoted videos, advertisements and can go through his/her library. With a slick interface, KMPlayer is as good as it gets. It has evolved into a basic media centre and the large buttons help you navigate and add content to your library. The menu transitions that take place are also really beautiful. The font choices can be difficult at times to read but apart from that it is still the loaded-with-features media player that it has ever been. The brightness, color, rotation of a moving picture and motion blur can be easily added in this player.  It also has additional capability to play compressed audio albums (rar, zip), locked media files, and even the damaged or incomplete AVI files. This player has definitely got a new look and some extra flashy buttons but still it has a long way to go. It looks great on the paper but the execution still remains a little flat.
Specifications:
Version Reviewed – KMPlayer v3.6.0.87
Video Formats Supported – 3D videos, VCD, AVI, DVD, MKV, OGM, Ogg Theora, 3GP, WMV, MPEG-1/2/4, RealMedia, and QuickTime.
Operating Systems Compatible – Windows 98/ NT/Me/XP/2000/Vista
Price – Free Download
Where to Download – Official KMPMedia Website
#3 – Cyberlink PowerDVD 13
As Cyberlink describes it, "PowerDVD 13 is the perfect universal media player for all your entertainment needs. It is an innovative media player and library manager that go beyond just standard disk playback.  With features like "true theater" enhancements, it sets itself apart from other media players.  Presentable media browsing, and customizable playback tools are also part of the package."
PowerDVD creates thumbnails for each movie file and also presents your video library in a typical photo-gallery type mode on a dark layout. As default functionality, PowerDVD separates all your content by sorting your files as movies, videos, and photos by type and size. It also scans the entire movie library on your system and cross-references all your listed files with a certain online database to provide you with related movie information, such as reviews, thumbnails, and summaries. Besides faster performance gains and enhanced support for different movie file types, new features like DLNA support, TrueTheater, and 3D conversion have truly set the new version apart from the rest.
Key Features:
User Interface/ Player feature:
Starts photos, videos and music instantly
Cinema mode file playback support
TV refresh rate auto-synced to DVD frame rate
High DPI – auto scale interface
Instantly hide controls in full screen mode
Keyboard arrows to skip forward / back
Customize interface, hotkey & mouse controls
Multimedia Support:
BD-Live Bypass
AVCHD 2.0 1080p/3D support
Dedicated Movie Library
Display file-based movies with cover art
Customize subtitles / multiple subtitles
View PGS subtitles in MKV movie files
TrueTheater Technology:
TrueTheater HD for Full HD video
Specifications:
Version Reviewed – PowerDVD 13 Ultra
Operating Systems Compatible – Windows 7, Windows 8, Windows Vista, Windows XP
Price – Free 30-day trial; $89.95 for purchase
Where to Buy – Official Cyberlink website
#4 – NVIDIA 3D Vision Video Player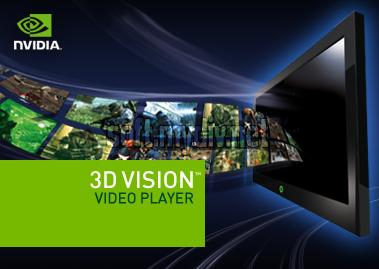 NVIDIA 3D Vision Video Player allows you to enjoy stereoscopic movies on your home computer. It can not only play both regular and 3D movies but also open digital photos for you. Although, it supports most video file formats, some video types might require you to install additional filters and decoders. Its basic and user friendly UI is very similar to that of any other classic media player, featuring just the basic buttons like play, stop, repeat, and pause, in addition to buttons for switching from 2D to 3D view. Cropping, rotating, and zooming are other editing options available. Despite its dependence on the codecs, the NVIDIA 3D Vision Video Player is certainly a simple and easy solution for 3D video playback.
Specifications:
Version Reviewed – NVIDIA 3D Vision Video Player 1.7.5
Operating Systems Compatible – Windows Vista / Vista 64 bit / 7 / 7 64 bit / 8 / 8 64 bit
Formats Supported – Supports Video for Windows (*.avi), MPEG-1 (*.mpg), MPEG-2 (*.mpg, *.m2ts, *.mts, *.ts), MP4 (*.mp4), 3D Blu-ray files (*.ssif), Windows Media (*.wmv, *.asf), QuickTime (*.mov), Material Exchange Format (*.mxf), Matroska (*.mkv) and Flash (*.flv)
Other Requirements -Intel Core2 Duo/AMD Athlon X2 CPU or higher; 1-2 GB system memory; 100 MB free disk space
Price – Free
Where to Buy – Official NVIDIA website
#5 – TriDef 3D Software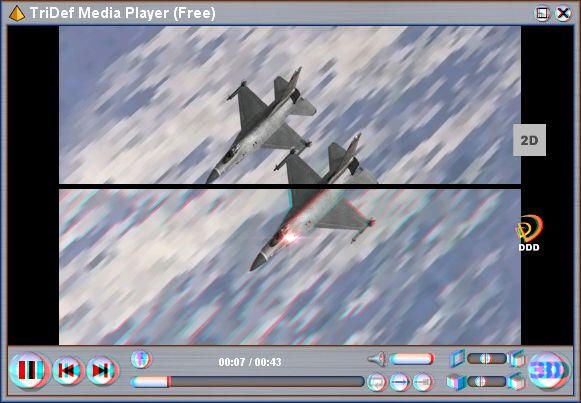 TriDef 3D is designed to automatically convert PC media files, photo files and DVDs to 3D. You can also play the original 3D content that has been encoded in different 3D formats – side by side, 2D plus depth, top/bottom. It can also play hundreds of PC games, converting them to 3D automatically.