Skyping on your phone? Tab? You bet
Is that one thing you do not like about phone calls bothering you again? Are you dissatisfied with the amount of time you talk on the phone, because of the phone bills you receive? Well now you don't have to worry, because your troubles are soon to become a thing of the past. That is, provided you take certain steps and convince others to do the same too. Hey, the world begs for more free stuff, no one has time to pay the bills, and no one wants to anyways. What I am referring to here is the involvement of Skype, an application that lets you talk over an internet connection, to slowly replace your phone call woes.
Skype is just one of those marvels that never made to the Seven Wonders of the World. Once you start using the application you would probably bang your head on the nearest wall and ask yourself the same question, "Why, oh why". This is because you get the opportunity to talk over the phone for free, by using this app! Yes, all you need is a secure internet connection, a Wi-Fi router so that you can connect your phone to the internet, and wah-lah!
Downloading Skype is that much easy. Just Google up Skype for your phone (Symbian, Android, iPhone) and make sure you download the right version. You will probably be provided with the Android and iPhone versions of Skype for your phones when you buy them. All you have to do is connect your phone to the internet through a Wi-Fi device, open the Skype application, enter your username and password and you're logged in. Once you log in, you have access to video calls, as well as normal voice calls (simply termed 'Call').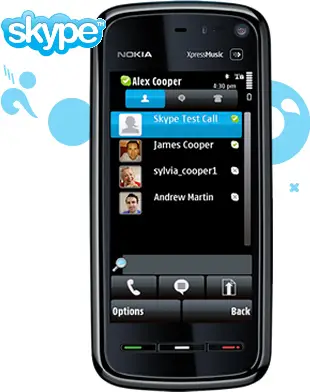 Now the hard part is getting your friends to do it. You could suggest to them to download Skype for their computer, if they don't own a Smartphone. Skype for mobile phones can be used to call Skype for desktop users, so that is a relief. If you're planning to call people free of cost, just let them know that you will be calling on Skype, if they can chat over the microphone, they can come online anytime. This small phone bill should be enough to provide you hours of free talk time over the phone through Skype, and you can even video conference with each other through the use of that option on Skype, provided your Smartphone has a front-view camera (iPhones and Samsung Smartphone users do not have to worry, Symbian phone users however, will be unlucky).
All in all, Skype for your mobile phone is a highly useful app to talk to people, especially when you cannot connect with them locally as they're staying abroad, and since ISD calls are pretty expensive, Skype will provide you that free chance to talk to them all you want. Even local phone bills will be a thing of the past if you can just own a Smartphone with Skype installed, and then away you go talking with everyone for free!