Microsoft has launched prototype version of Windows 8
Windows is one of the most demanding operating system, people all around the world uses it as an operating system and this demand is due to the great ideas of Microsoft employers and shareholders. Microsoft has launchedlot of improvements in Windows 7, which got the attention from all over the world. Now, Microsoft is going to launch its update version of Windows, which is known as Windows 8. After Windows 7 was released , now it's a great challenge for Microsoft to get the attention of public towards this new operating system.
Toprovide benefits totheir users, Microsoft is bringing new and innovative features in Windows 8, which was never seen before. Microsoft has released its proto type version which is available online and everyone can download it for free, but the complete version is still in the process. Its proto type version is coming in three different packages.
64-bit version – For Operating System.
32-bit version – For Operating System.
64-bit version with developer tools.
Microsoft is doing all these to provide convenience to their users and tried to make it easier for everyone. Windows 8 will be available also for tablet computers, there will be a mobile operating system and no doubt it will be beneficial for their users. Microsoft has launched its beta version, but on the other hand they have also warned their users that the incomplete version can be harmful for their computers. Therefore, those who are skilled in using the operating system can only use it, but in spite of this warning, no one is caring, because the users cannot wait longer enough to look at the features of what Microsoft has launched for them.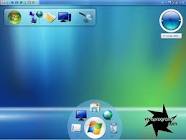 Microsoft makes improvement in lot of things and launched some new features like; "Windows To Go", by this feature one can easily be able to boot Windows 8 through their USB. It will be workablethrough USB 2.0 as well as USB 3.0, but hibernation is not possible in this feature. So, one can do every thing through this feature without hibernation. Windows Stories also a new feature in Windows 8, they had basically launched this as to compete with Apple, which is similar to Mac App Store. There are also many other innovative features which Microsoft is bringing this year as to continue their increasing demand.
As Apple is the only company who competes with Microsoft, now it's a great challenge for Microsoft to beat Apple and increase their demand against its competitor. Well, rumors have been spreading that Microsoft will launch its final version in the holiday session of 2012. So then, we can only be able to see how much success it is really getting after it's launched. Microsoft has worked enough for Windows 8 and still they are trying. Expectations are high that Windows 8 will get a huge demand from their users like ever before.