Best 5 Free Network Analysis Tool
Network analyzer is a tool used to analyze the properties of electrical circuits, especially those which are connected with the reflection and transmission of electrical signals known as scattering parameters. A Network Analysis Tool basically diagnoses specific problems that occurred in the computer hardware network and helps to explore it thoroughly. There are three types of network analyzers:
Port Scanners
Packet Analyzers
Hardware Scanners
A Packet Analyzer is required to display and capture messages in particular that are processed by the network card of your computer. Hardware scanners supervise the network in order to detect malfunctions or threats if any. Port scanner is used to search for interesting information available from other computers on the same network. Overall Network analyzer tools are required for the planning, supervision and regulation of projects as it depicts an x-ray vision of the network.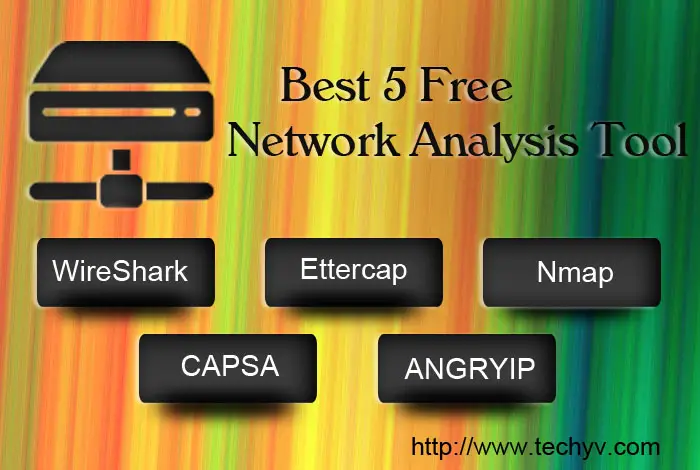 Following are the Best 5 Free Network Analysis Tools:
1. WireShark
WireShark is considered the best Network analyzer tools across the globe. Educational and industrial organizations have accredited WireShark for its de facto standard. Skilled and professional networking experts have invested their talent and effort in developing and enhancing this tool through a project which was initiated in 1988.
Features:
In-depth inspection of more than hundred protocols
Offline analysis and live capturing
Runs on all systems including Windows, OS X, Linux, NetBSD, FreeBSD
Packet browser with three pane
High quality analysis VoIP
Multiple format support
2. Ettercap
Ettercap is a powerful network analyzing tool, it supports both active and passive segments of each and every protocols. It runs on various operating systems. It is ranked number 11 in the Top 100 Network Security Tools list released by insecure.org in 2006.
Features:
Dissects various protocols (including ciphered protocols) both actively and passively
Compact and user friendly interface with gtk
Supports all platforms (Mac OS X, Solaris 2.x, Linux, Windows 2000/XP/2003, FreeBSD, NetBSD)
3. Nmap (Network Mapper)
Nmap inspects each and every IP address and scans any large network successfully. It is a flexible, portable, well-documented yet simple tool. This open source free tool is popularly used by network and system administrators to manage schedules of service ur-graduation and monitoring service uptimes and hosts.
Features:
Sophisticated technology enabled features to map networks protected by firewall, IP filters and routers.
Supports almost all OS including Windows, Linux and OS X.
Supported and assisted by a large worldwide network of users, developers and network experts.
White papers and tutorials are available.
4. CAPSA Network Analyzer
CAPSA Network Analyzer is one of the best accessible Ethernet network analyzer for network monitoring and troubleshooting. The best features of CAPSA includes network traffic monitoring, automatic professional network investigation and advanced convention analysis, in-depth packet decoding, protracted statuary of each host, multiple network behavior investigation, useful & valuable built-in tools.
Features:
Extended analysis for complete network security
All-around bandwidth and traffic statistics
Extensive packet decoding
Multiple behavior monitoring for the network
Powerful analysis of conversation
5. ANGRYIP
ANGRYIP is an open-source network analyzer designed to work faster and also in an easier manner. It scans a wide range of IP addresses on a network. All active and open ports are highlighted by this tool.
Features:
Checks and reports the status of all IP addresses under a particular subnet
Reduced system load and scanning time
Multi-layer scanning
Great TCP connection tool