Which is better iPhone or Android? It is the most over rate question of all time. We all know that both the brands have unique features and every one of us ought to have different uses for their phones, and there are various options out there in the market, So, why fight for who is better? Why compare them? But, if you need the comparison, here it goes.
1) Hardware
Hardware is a point where first things become apparent. As Apple is the only companies that make hardware for iPhone. So, it has quite a control over its hardware and software together. But, that is not a case in Android, Google tends to offer its software to a lot of phone makers like Samsung, Motorola, Lenovo, etc. So, Android phones vary when it comes to size, weight, features, user interface, and most important, quality. It is very common to hear issues like low-quality Android phones which makes them cheaper. But companies like Mi are making Android smartphones more affordable as well as standard quality. Moreover, Android gives you the overwhelming options whereas iPhone only has a single model, like the iPhone 5, iPhone 6, iPhone 7, etc.
In this case, it's a tie.
2) OS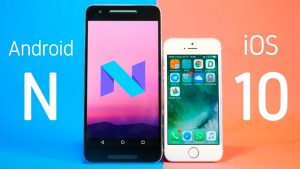 Now, the pointer comes to OS. In the case of an operating system, Android developers are slow, and sometimes It never rolls out for older devices. So, if you need latest features on your phone as soon as it comes to market iPhone is only your choice.
For, e.g., iOS 10, did roll out for iPhone 6 and iPhone 7 but the latest version i.e. iOS 10 is available on 50% of iPhones in the first week of release. But when it comes to Android, Android 7, codenamed Nougat, was running on just 10% of Android devices almost months after its release.
In this case, iPhone takes the award.
3) Application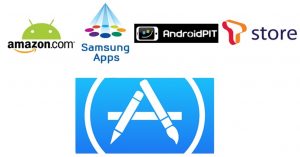 When it comes to apps, we all know that only choice we have on iPhone is AppStore. But, that's not true for Android phones, as we can download apps from the web externally and install. Also, we can use the crack version of apps and games. So, if one can't rely on only one app to download other apps and games, Android will be their choice
In this case, Android takes the cup.
4) Gaming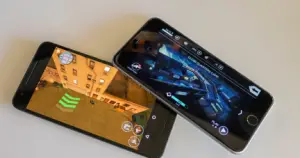 There was a time when gaming was handy on Sony's PSP and Nintendo's DS. But that's not the case for almost a decade. People choose a phone over these gaming devices now, and that makes the developers of these phone think about the high-graphics. When it comes to high graphics both Android and iPhone are competing on the peak.
But when it comes to developing games iPhone trumps Android, because some game developer companies completely stopped making Android games due to some issues. So, here iPhone took a hand. But, Android still has a fair amount of hit games and people all over the globe still values it.
In this case, it's a tie.
5) Support Centers
Both the phones will work fine in day to day lives, but there's nothing in this universe which will not break so at that time you will need support centers. When it comes to getting help from customer service or visiting support centers, Android and iPhones have different games altogether. In centers of Android, you have to wait and wait for your number, and if you visit an iPhone support center, you will be overwhelmed by the services they provide.
In this case, Apple wins.
6) Virtual Assistant
All of us ought to have a feeling after seeing Iron Man, why don't I have my own Jarvis? So, here it is Siri for iPhone users and Google Now for Android users. Both the virtual assistant is not as similar to Jarvis, but there are close.
Google Now, is the most prominent and helpful virtual assistant it has an answer to all your queries. It uses everything Google knows about you. For, e.g., You have a meeting at your workplace (Suppose the workplace is feed in my Google Maps), and I am still at my home, and there is traffic on the route from your home to the workplace. In this scenario, Google Now will notify me to leave early, so I will not be late.
On the other hand, Siri is not so powerful and intelligent as it is limited to the simple task, but it is surely improving with every iOS update. In this case, Android wins.
7) Battery Life
With every new model of iPhone battery life is constantly increasing but still, it can't beat Android. Thanks to large number and varieties which runs on its different hardware. All the new phones coming into the market these days have great battery life. With great hardware and intensive use of software on Android phones makes it more reliable to use than iPhones.
It is not unheard of that Android phones can work much longer than Apple Phones on a single charge.
In this case, Android wins.
8) Storage and Customization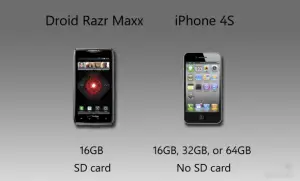 Android trumps iPhone when it comes to storage. As you can't get the external slot to increase the storage space on your iPhone but you will get an extra slot on Androids. Also, Androids are more open to the customization you can replace many apps which come inbuilt. Also, you can change different ROM's on Android, but when it comes to Apple, there are no such customization options available.
In this case, apparently Android have raised the bar.
9) Peripheral Compatibility

Come on we all know the winner of this section. Of course, it is Android. We all owns a smartphone these days, and we all need a phone with great peripherals with it. When it comes to Android, it supports universal Ports to connect to computers and chargers, and wherever we go we can find an USB port or cable quickly. But not in a case of Apple, which supports Lightning Ports, surely it has its benefits but not when it comes to charging your phone right away, people are most likely to have USB rather than Lightning ports.
In this case, Android wins.
10) Resale Value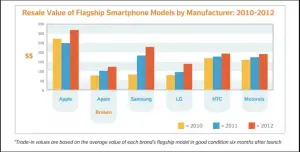 With the upgrading of technologies on a daily basis there are new phones crowding the market which lures us to buy them as they have latest features tends to sell our old phones.
When it comes to selling old phones iPhone keeps its worth. Old iPhones fetch more money than old Androids.
In this case, iPhone wins.