Android being open source has millions of things that we can do to acquire the best of our phone. However, there are times when the Android experience feels unpleasant. Here are a few tips to get the best of the Android experience.
What To Do
• Enabling Android Device Manager: Android device manager is an app which helps you to track your phone in case you misplaced or lost your phone. It is a very handy application which can not only track your phone and show you its exact location on Google Maps but it can also make your phone ring, lock it and wipe your data if necessary. To enable it, go to Settings>Security>Device Administrators and tap on android device manager to give it access.
Enabling Android Device Manager
• Disabling Wifi And Bluetooth Scanning: Wi-Fi scanning and Bluetooth scanning are always enabled to improve location accuracy. However, the battery drain due to these is quite significant and battery life can be increased by disabling them. To disable them on Android 6.0 and above go to Settings>Location>Scanning and tap on Wi-Fi scanning and Bluetooth scanning to disable them. If you are running Android 5.1.1 and lower, go to Settings>Wi-Fi>Advanced, over here you will find Scanning always available. Tap on it to disable it.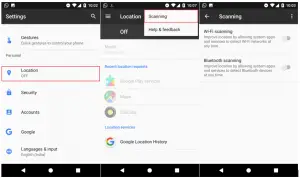 How to disable Wi-Fi and Bluetooth scanning
• Regularly Updating Android And Applications: Updating your Android version and applications when updates are available is a must. These updates usually contain bug fixes, improved battery life, new features, better performance, etc. These updates will also contain security updates which plug major security issues if there are any. Your phone will inform you when an Android update is available in your notification bar. Simply tapping on it will show you all the information about the update and it will then proceed to download the update. If no message is shown, you can manually check for updates by going to Settings>About Phone>System updates. For applications, you can go to the Google Play Store>My apps & games to check for updates. If you want to automatically update your apps, go to Settings in Google Play Store and change the option for Auto-update apps.
 Checking if the apps are up to date and enabling auto update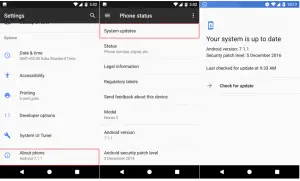 Checking if the Android System is up to date
• Using Launchers And Icon Packs: Android is all about customization. You can customize the way your phone looks and works by using various launchers like Nova Launcher, Action Launcher, Themer, Google launcher, etc. Each launcher has its own set of features making it unique. Try installing a few launchers from the Play Store to see if you like them. Also, icon packs are available in the Play Store which changes the way your icons look. There are a lot of cool icon packs like Moonrise, Belle UI, Polycon, Umbra, Rondo, etc. There are thousands of packs available and you can install the icon pack you like. However, to use icon packs, you need to install a launcher which supports icon packs.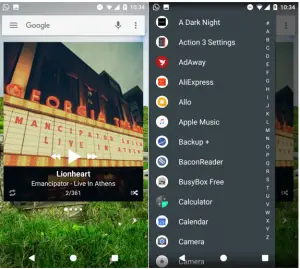 Action Launcher with Pixel Icon Pack
Nova Launcher with Rondo Icon Pack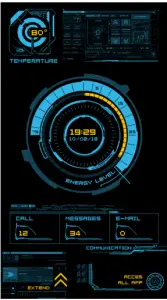 Themer launcher
• Disabling/uninstalling Apps: Manufactures install bloatware on your system which takes up a lot of space, drain your battery, slow your phone down and clutter your app drawer. Sometimes these apps are directly integrated into your system and make it impossible to uninstall them, however, you can disable them. To disable/uninstall applications go to Settings>Apps, select the app you want to disable/uninstall and the disable/uninstall option will be there.
How to disable/uninstall apps
• Regularly Backing Up Data: There are a lot of apps which regular backup your data. This can be good as if you lose your phone, your data is always safe and can be downloaded onto your new phone. Your messages, call logs, contacts, photos, and videos can be backed up using different apps. A few apps which can help you back up your data are Google Photos, G Cloud, Google Drive, Dropbox, etc.
What Not To Do
• Closing Apps To Save Battery: Most Android users tend to clear apps from their phone's memory by swiping them away from the Recent screen. Doing this doesn't save your battery and make your phone faster. Even Google confirmed that closing apps don't do anything to improve your battery life, in fact, it makes it worse. Android system has algorithms which automatically close apps which haven't been used for a while or have been consuming excess power or memory. The android system is more efficient when apps are in the memory as it opens it more quickly rather than starting the application from scratch.
It's better to keep the apps open rather than closing them
• Installing Apps Outside The Play Store: A common thing for Android users is to install paid apps for free by downloading them from outside the Play Store. This can be dangerous as such apps may have been tinkered with to steal data from the users who installed them. Always be careful when downloading apps from random websites and whenever possible avoid doing so.
• Installing Anti-virus Apps: It really isn't necessary to install anti-virus apps as Google thoroughly checks the apps before making it available in the Play Store. The risk of getting infected or using malicious apps is really low unless you install your apps from various sites other than the Play Store.
• Draining Battery Completely: Avoid draining your battery completely and then charging it from 0% to 100%. This is really bad for your battery. Instead, charge your battery a little bit whenever you can and try to keep it above 50% at all times.
• Saving Contacts On Phone Only: Saving your contacts only on your phone rather than Google is detrimental. If you happen to lose your phone or your data gets wiped, you lose all your contacts also. It's always better to sync your contacts to your email id so that your contacts are always backed up.
Always save your contacts to your email id.
Following these tips will help you to use your phone properly and ensure that your Android experience is as wonderful as ever.