Managed service provider software is known as MSP software. It is an IT service platform that manages services for its clients. MSP software works like a virtual assistant, and it acts as a computing framework platform to manage the IT infrastructure of customers remotely. MSP focuses on remote management and monitoring.
1. ConnectWise Automate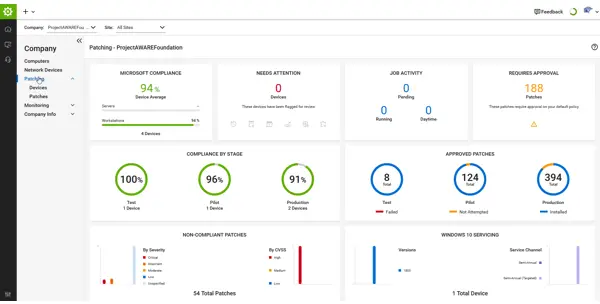 ConnectWise Automate is an MSP software that allows you to manage the assets of your clients easily. It detects devices on client networks automatically. It allows you to manage all devices quickly. Resolve issues quickly and keep the downtime minimum. This software keeps your system secure. This software automates repeated tasks to reduce cost. This software provides proactive support and gives insight into what technology you should be selling.
2. NinjaRMM

NinjaRMM is an MSP software that allows you to scale your IT service delivery. Watch a demo on how to use this software. This software is fast and accessible from anywhere. It is intuitive and simple to use. It gives a consistent user experience when you use it on mobile or web. Ninja provides training and support to provide customer satisfaction. It releases stable solutions in minimum response time.
3. Auvik

Auvik is a managed service provider that provides network management solutions. This multi-vendor solution can manage nearly 250 Cisco products. It monitors these products and delivers powerful network management. It contains automatic network topology and troubleshooting tools in a single dashboard. You can install this software quickly and it provides free support. Get alerts and notifications from this remote monitoring software when something goes wrong.
4. Domotz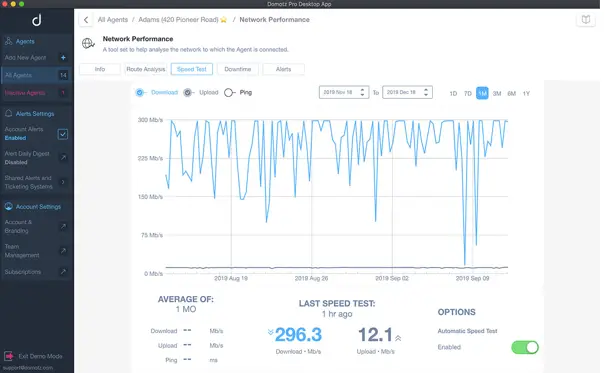 Domotz is an MSP software that provides remote network monitoring services. Get a 21-day free trial to learn how to manage this software. This software prevents connectivity issues and helps to solve problems in real-time. This software analyzes bandwidth and provides alerts when something goes wrong. It has a remote power management feature and provides high security using two-factor authentication.
5. LogMeIn Central

LogMeIn Central is an MSP software that allows you to control your IT infrastructure and improve productivity. Try this software for free. Save time using the automated environment in this software. Access this software service from mobile and desktop. It allows you to resolve issues from anywhere. This software helps to optimize resource allocation and help remote workers to be productive from anywhere.
6. Atera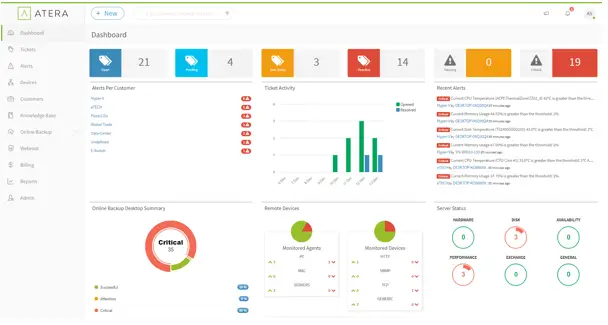 Atera is a simple solution for MSP that offers help desk, reporting, and billing in a single platform. It remotely monitors and manages all processes. The dashboard of this software is simple to use. This software provides more control and less hassle for managed service providers. This software provides multi-screen support and makes transferring of files easy.
7. Naverisk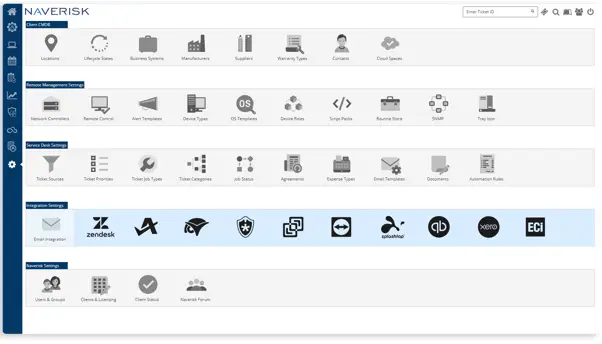 Naverisk is an all-in-one IT service automation platform that is useful for MSP. Get a demo to know how this software works by viewing its website. This application has nearly ten years of experience in remote monitoring. This software makes your IT services efficient and powerful. You can use this software in Windows, Linux, and Mac. The collaboration feature of this software allows teams to work together in this integrated platform.
8. WebTitan

WebTitan is a business solution for MSP's and business people. If any business requires security at the HTTP layer and if they want to control the web content, then they can use this software. This software provides DNS based web content filtering services. It blocks cyber-attacks and phishing. It contains features like endpoint management, remote access, scheduling, and patch management. You can have a live chat with the support team if you need any help.
9. Dark Web ID

Dark Web ID is a monitoring software for MSP. It protects clients from a cybersecurity breach. It monitors the dark web in real-time. It gives automatic alerts when it is necessary to change passwords. This software presents data after analyzing and validating it. It delivers employee security training and provides a simple platform for everyone to use.
10. Splashtop Remote Support

Splashtop Remote Support software provides remote desktop for individuals and businesses. You can access computers from any device remotely. This software is fast and reliable. Remote desktop sessions are highly encrypted, and you can protect access using two-step verification. This software is easy to deploy, and you can migrate easily from other remote desktops to this software.